Women living in Refugee Settlements call for more Psycho-social support in Humanitarian Interventions
Date:
Members from the Executive Boards of UN Women, UNDP, UNFPA, UNOPS, UNICEF, and WFP were in Uganda from 30th April to 4th May 2018 and visited West Nile in Uganda. This mission was to assess the UN Women's work in supporting the country's development efforts.
Some of the Board members from UN Women were Mr Jyrki Juhana Terva, Ms Christine Kalamwina, H.E. Ms Ivana Pajevic, Ms. Desirée del Carmen Cedeño Rengifo, and Mr Jean-Luc Bories. The team visited UN Women's projects with the refugees in Bidibidi Refugee Settlement, the world's largest Refugee settlement. The women from South Sudan showcased livelihood projects in arts and crafts and narrated how they have benefited from UN Women's Humanitarian Response programmes. The refugee women also pleaded for calm to return to South Sudan.
In terms of psycho social support, UN Women has provided support through a revolving fund to enable them to start businesses, and vocational skills training in hair dressing, tailoring, catering and agribusiness.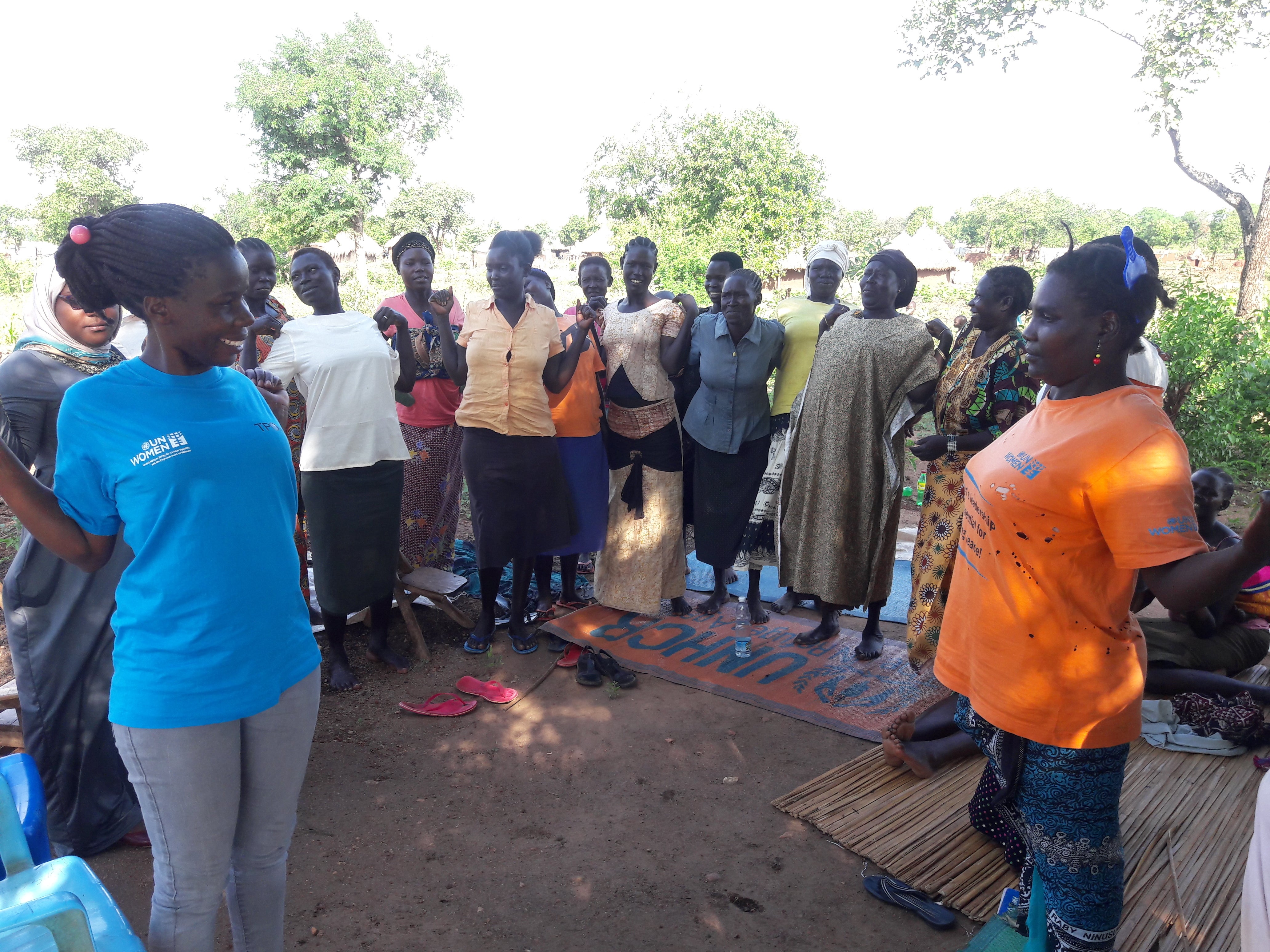 Dr. Maxime Houinato, Designate UN Women Representative to Uganda noted that the humanitarian interventions should go beyond delivery of services and into sociological setup including vulnerability of women and children. To echo his words, Robert Baryamwesiga, the OPM settlement commandant at Bidibidi decried the few female policers deployed in the settlement, a factor that makes it difficult to handle sexual and gender based violence cases.
Among the refugees that met the delegation was 68-year-old Jackeline Tabu, a reformed alcoholic and resident of Zone One Bidibidi settlement. She left Jebele Zone in Juba in June 2016 after her husband and son were brutally murdered. Pondering on what to do next, Tabu together with her grandchildren, headed to Uganda.
"It didn't take long before I remembered that I had to save my life and that of my grandchildren. We embarked on the journey until we reached the Ugandan boarder," Tabu narrated.
Upon reaching the camp, Tabu resorted to alcohol due to the immense pressure combined with the challenging living conditions. Her turning point was in September 2016 when she was screened for psychosocial stress disorders Transcultural Psychosocial Organization (TPO)- UN Women's implementing partner in the region. She was enrolled in a Cognitive Behavioral Trauma Therapy (CBTT), along with 12 other women who also suffered from severe trauma and post-traumatic stress disorders. She went through 10 sessions of CBTT and entrepreneurial and leadership trainings. Through her recovery, her group members helped her construct a house.
The group received a small grant from UN Women which the women use as a revolving fund. She also got a loan from the group and she is now dealing in selling cereals like beans, maize within the settlement. Tabu acknowledges that the psychological support and training has improved her life.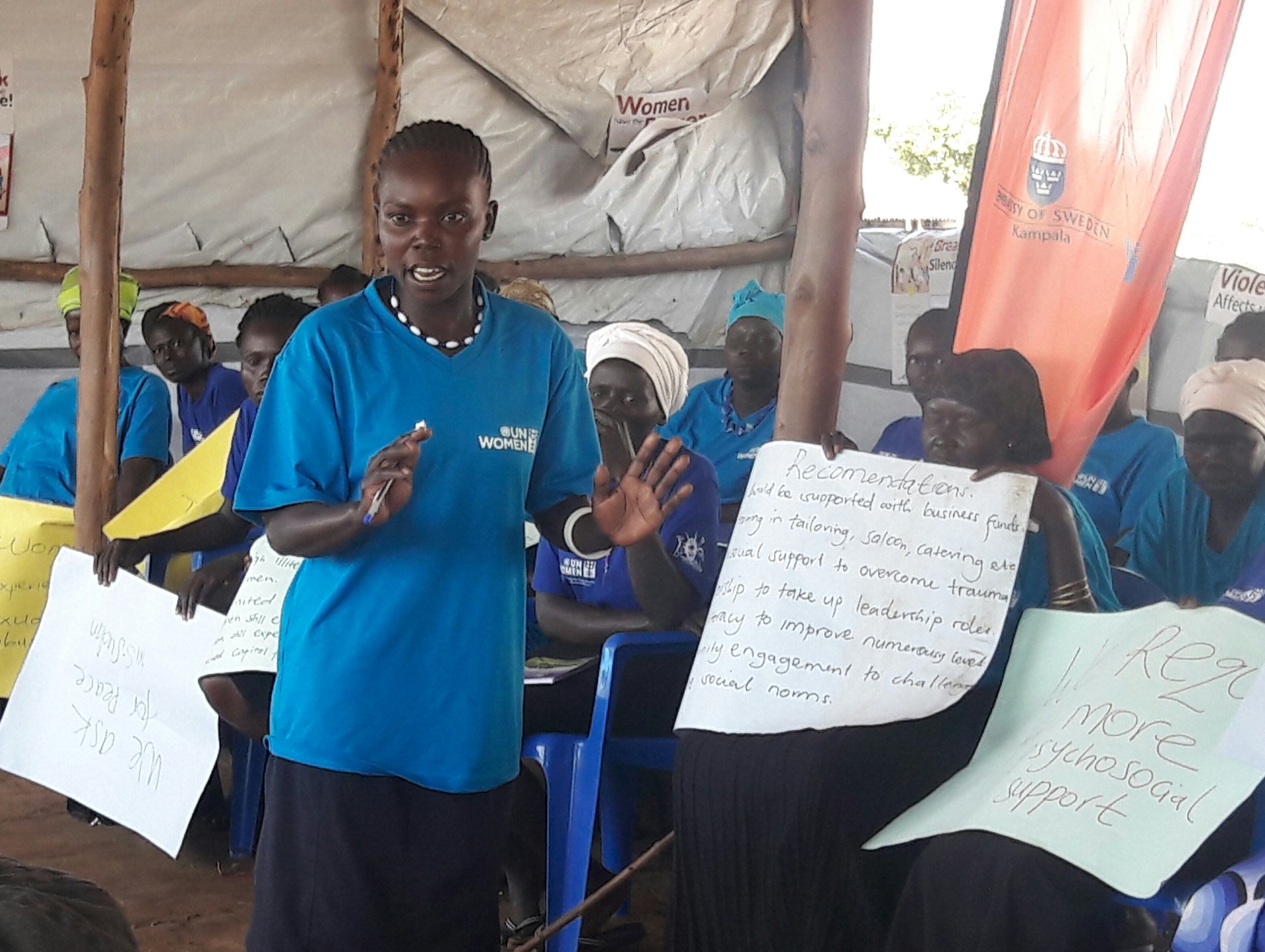 Ms. Desiree del Carmen, the Vice President of the Executive Board of UN Women for Latin America and the Caribbean called for more assistance to Uganda to enable it to meet the needs of women especially those fleeing the civil war in South Sudan. "It is a wonderful experience as we got to see the reality that women from South Sudan are facing. There is need for more financial support. As in interacted with the women, the constant message was that the amounts of food and cash was dwindling. It is evident that there is need for more international cooperation for UN to continue supporting these women. We must strengthen our programmes from relief to self-reliance. Women need empowerment programmes to do businesses, speak up and participate in leadership," she commented.
Mr Jyrki Juhana Terva, Finland representative said, "It was enlightening to see and have discussions with the beneficiaries of our projects. We shall take this message back to New York. UN Women is a strong operator in the humanitarian response and will further discussions on how to continue empowering women especially in the refugee settlement."
Bidi Bidi Refugee Settlement is the largest refugee settlement in the world with over 270,000 South Sudanese refugees fleeing the ongoing civil war. Bidi Bidi covers 250 square kilometers of the eastern half of the district of Yumbe, stretching southward from the South Sudanese border and spilling over into Moyo District along the western bank of the Kochi River.