THE INTRODUCTION OF THE GENDER DIMENSION IN THE AGRICULTURAL VALUE CHAIN DEVELOPMENT PROJECT (AVC-DP) WITH UN WOMEN TECHNICAL ASSISTANCE
Date:
A total of 31 managers, coordinators and sector experts took part in a capacity building session of the staff and partners of the Agricultural Value Chain Development Project (AVC-DP) on gender mainstreaming into projects planning and programming cycle. The training was organized by UNWOMEN, from the 26th to the 28th of June 2019 at Hôtel le Paradis in Kribi. The main objective was to provide participants with tools and techniques for effective and efficient integration of the gender dimension in the value chains of the three sectors supported by the PD-CVA, namely: Oil palm, Pineapple and Plantain banana.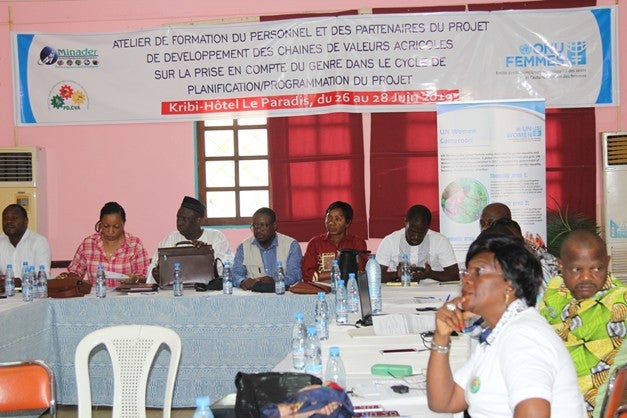 During three days, participants were drilled through exposés and practical exercises, on basic gender notions including, key concepts and gender stereotypes, the importance of gender approaches in development projects as well as agricultural projects, gender responsive planning and budgeting, tools for gender analysis and mainstreaming within projects (planning cycle), programs and budgets as well as, the formulation of gender sensitive indicators.
At the end of the workshop, participants expressed their satisfaction regarding the newly acquired skills. According to Mr NANGA BIKOULA Eric (pineapple expert, from Center region), "The training was interesting and important, especially when we consider the key role of women in development activities in our localities". Mrs METSOA ENAMA Bernadette (Pineapple chain expert, South region) goes further saying : "thanks to this training, I will endeavor to mainstream gender in all the future activities in the value chain of my sector".
It should be noted that this training session marked the official launch of the gender component activities in the AVC_PD, as part of the technical assistance agreement signed on December 2018 between UNWOMEN and the Government of Cameroon. According to the key results of the component II of this project : 100 cooperatives including 50% led by women are expected to be functional and have access to credit at the end of the project.
The working session was co-chaired by Mr Abakar Mahamat, Coordinator of the AVC_DP and Mr Joseph Ngoro, Program Specialist at UNWOMEN.