Generation Equality Take Five: Women have so much potential that can be leveraged for the development of our communities
Date: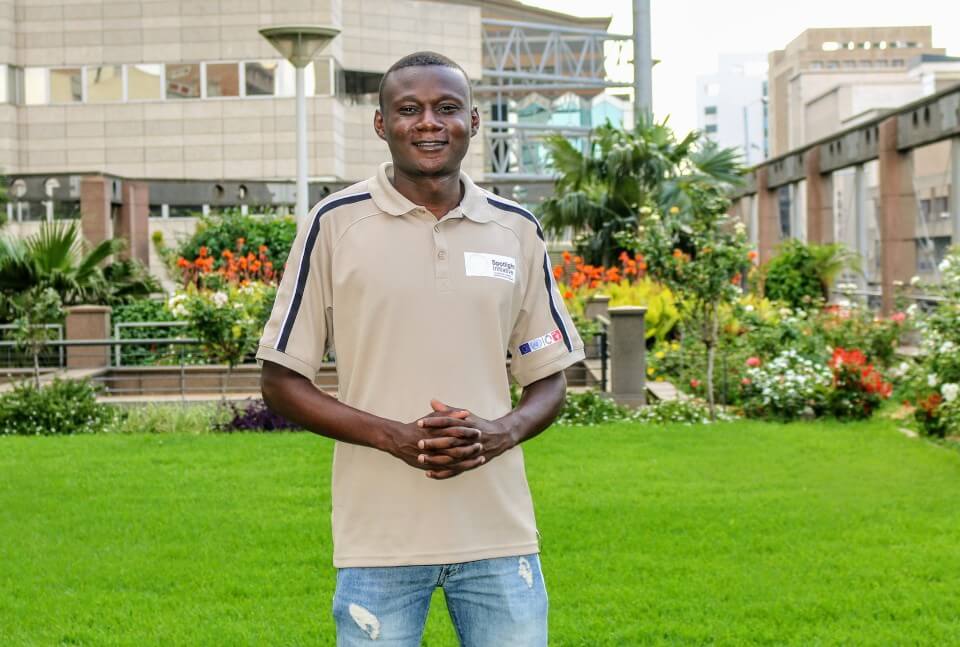 Young women and men, boys and girls are at the heart of the UN Women-led global campaign Generation Equality: Realizing Women's Rights for an Equal Future, launched in 2019 to engage a new generation of feminists in reimagining economies, societies and political systems so that they achieve gender equality leaving no one behind. The campaign will culminate in the Generation Equality Forum from 30 June to 2 July 2021 in Paris, France. Heads of state and government, leaders of international organizations, civil society and the private sector will reveal their commitments on concrete and transformative actions that will be implemented during the next five years through the Generation Equality Action Coalitions.
"Gender-Based Violence" and "Technology and Innovations for Gender Equality" are part of the themes of the six Generation Equality Action Coalitions. UN Women Rwanda spoke to 31-year-old Zanorashe Muchena, a Spotlight Innovator against gender-based violence based in Zimbabwe, whose work contributes to both of these Action Coalitions.
Why do you speak up for women's rights? How did you start this work and why?
I speak up for women's rights because I believe that women have so much potential that can be leveraged for the development of our communities. I started this work at our family level by supporting my sister's quest for higher education since she is academically talented. She now holds a degree in business management. I wanted my sister to be empowered enough to rise above factors that contribute to the abuse of women, like the lack of education and economic independence. I believe that if women are empowered through their rights, our families and communities will be well developed. In short, I strongly believe that community development hinges upon gender equality.
What are the most pressing challenges that young women face in your community?
Women in my ghetto community face challenges such as period poverty, child marriages and sexual abuse. The current COVID-19 pandemic has compounded these challenges so that parents and young women can no longer afford providing for the sexual and reproductive health needs of young women. This has resulted in parents marrying off children, young women engaging in risky behaviours to earn money, and increased vulnerability to sexual exploitation and abuse.
How are you helping address those issues?
To mention one specific achievement, I have managed to mobilize groceries that included sexual and reproductive health needs for young women like sanitary hygiene packs for a total of 60 families. I also use social media like WhatsApp, Facebook, and Twitter to raise awareness on sexual abuse and the rights of women and children to educate my peers and assist those in need of any emergency help. Due to COVID-19 health guidelines, I mainly use the digital platforms, but I also do in-person advocacy and awareness-raising with my local communities and churches, targeting young people.
Please tell us more about Spotlight Innovators? What do they do?
Spotlight Innovators against gender-based violence are young professionals who volunteer their skills and knowledge to contribute to new strategies to end violence against women at a grassroots level. They work under different Spotlight Initiative Implementing Partners and UN Women to build grassroots movements through training and supporting community-based organizations and advocates in Gender Programming. Different movements are being run across Zimbabwe like the HeForShe, Catch them Young, She Matters, Taking a Stand Against GBV and others. For example, in Manicaland, we have started the Peace Begins at Home Movement that uses the Peace Hut concept to address gender issues at the village level. Peace Huts are a source of information, community-based conflict resolution and prevention, preliminary psychosocial support, and referrals. The model draws on the cultural significance of a 'hut' as a home in the Shona and Ndau cultures, and it seeks to inspire community stakeholders to address GBV issues collaboratively as if they are one family. The movement also uses digital platforms like WhatsApp and Facebook as advocacy tools to deal with GBV issues.
What actions do you think are most needed to advance your work?
There is a need to enhance the mobility of Spotlight Innovators and community advocates to reach out to communities in need, especially in hard-to-reach areas where the Innovators work. This will enhance advocacy efforts and improve access to services for individuals and communities in need. Continuous trainings for the Spotlight Innovators will also help in updating and enhancing existing knowledge and skills in tackling Violence against Women in the rural areas. In most communities that I work in, access to information and communication networks remains a challenge due to the level of poverty in those communities. Most community-based organizations efforts are hindered by the lack of simple gadgets like cell phones and bicycles to enhance communication and mobility.