I got my smile back: providing much-needed support to survivors of violence in Ethiopia
Date:
*Name changed for privacy
Woynshet is a 13-year-old girl living with her parents in the Amhara region in northern Ethiopia. Not long ago she was attending grade 4 despite her parents' meager earnings from smallholder farming. Life became so hard for the family that her father decided to send Woynshet to nearby Debre Tabor to work as a domestic helper while continuing her education. After awhile, her parents found she was not attending school so her father took her home. One of the family's close neighbors suggested sending Woynshet to his daughter's house as a housemaid. Woynshet's family were comfortable knowing their daughter would be living with an educated woman and hoped she would do well in school and earn money. They had no access to their daughter except through the employer's family. They could not get full information except she was well. After four months, Woynshet's father was worried and took action.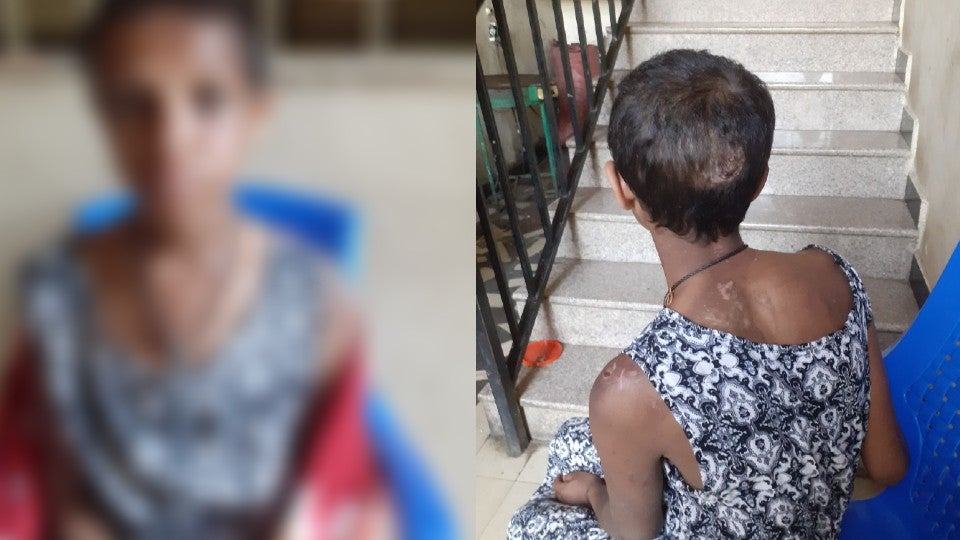 "One night I had a bad dream about my daughter, I felt she is not well. I went to my neighbor and asked him to give me the phone number and address of the employer so I can see my daughter but his response was not as I expected. He said he did not know the phone number of his daughter but he was sure that Woynshet was doing well. I was not satisfied by the response and I decided to search for Woynshet's address myself. I had information that the employer was living in a condominium in Debre Tabor. I searched for a day but could not find the address. The next day I was lucky. I met a person who helped me locate the address. The owner of the house denied her identity when I asked and told me that I was at the wrong house. While we were arguing, my daughter heard and recognized my voice and came to the door crawling on the floor trying to whisper 'father.' When I saw her, I was shocked and entered the house forcefully. Finally, the employer told me that my daughter had epilepsy and she was taking her to get holy water rather than taking her to the hospital. I carried my daughter on my back, like a baby, and took her out," he said.
"When I found my daughter she was not able to talk and move, her skin was burned. I directly took her to Debre Tabor police department to report the case. The police referred me to DebreTabor Women and Children Affairs Department for further reporting of child abuse. Woynshet was crying and was in fear when I took her to the police because her employer threatened she would kill her and her family if she told anyone. She was referred to Debre Tabor hospital for medical care."
Woynshet has endured physical and psychological abuse at the hands of her employer. The abuse includes throwing cleaning liquid on her face, cutting her body with a knife and sharp materials, denying her food, hitting and trying to insert metal objects into her private parts. Woynshet was locked up in the house for three months. She was also psychologically hurt. The abuse became severe after the perpetrator separated from her husband following a disagreement.
Woynshet's case was discussed thoroughly by Debre Tabor Women and Children Affairs Office and the police department. They linked the case to Amhara Regional Women and Children Youth Affairs Bureau and tried to access rehabilitation centers. On 4th September 2021, they linked her with Agar Ethiopia Bahirdar city branch. When Woynshet arrived at Agar Ethiopia Safe house, the first intervention was therapeutic treatment and for her to learn to trust. The center referred her treatment for medical care to address her health issues, for physical exercise and to improve her nutrition deficiency and work on her psychological trauma.
Agar Ethiopia safe house staff worked jointly and selectively based on professional areas. The nurse counselor and house mothers worked jointly to recover her psychological trauma. Staff worked on her depression and hopelessness. One nurse said, "the first day we saw her smiling is the day that I was happy about my job."
Woynshet's legal case was followed up by the Debre Tabor police department and local attorney. Woynshet helped the legal process by testifying against her perpetrator. Medical evidence from Bahirdar Felege Hiwot Hospital was also helpful and the perpetuator was sentenced to eleven years in prison.
Across the country, Woynshet's story is not unusual. Women and girls remain vulnerable as they are victims of violence and taken advantage of. UN Women with its partners work to provide safe havens for those women and girls in need.
The Association for Women's Sanctuary and Development (AWSAD) officially opened its emergency shelter in Semera town in the northeast of the country on 23 September 2021. In her welcoming remarks Mrs. Maria Munir, the Executive Director of AWSAD, acknowledged UN Women's support and the engagement of other stakeholders for establishing the safehouse providing holistic services such as safe accommodation, food, counselling, medical and legal care as emergency response to internally displaced women and girls survivors of violence due to the ongoing conflict in northern Ethiopia.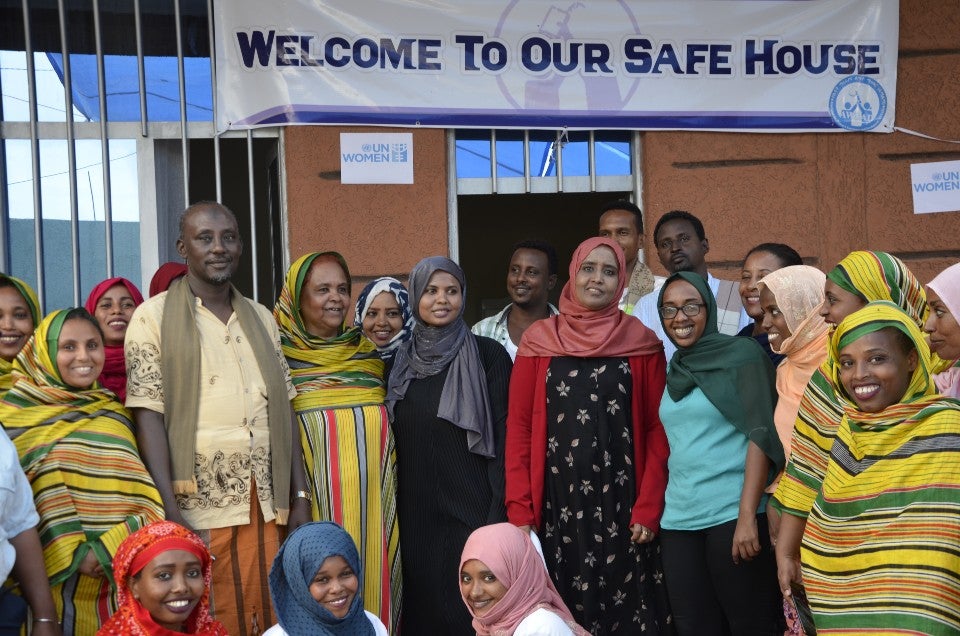 "At the government level, we recently established a center to response to the basic needs of GBV survivors. However, lack of a holistic rehabilitation center has been the main challenge. AWSAD's safehouse is the first of its kind with such rehabilitation service in the region and our collaboration will make the support sustainable," said Ayisha Yasin, the head of the Afar Region Bureau of Women, Children and Youth Affairs.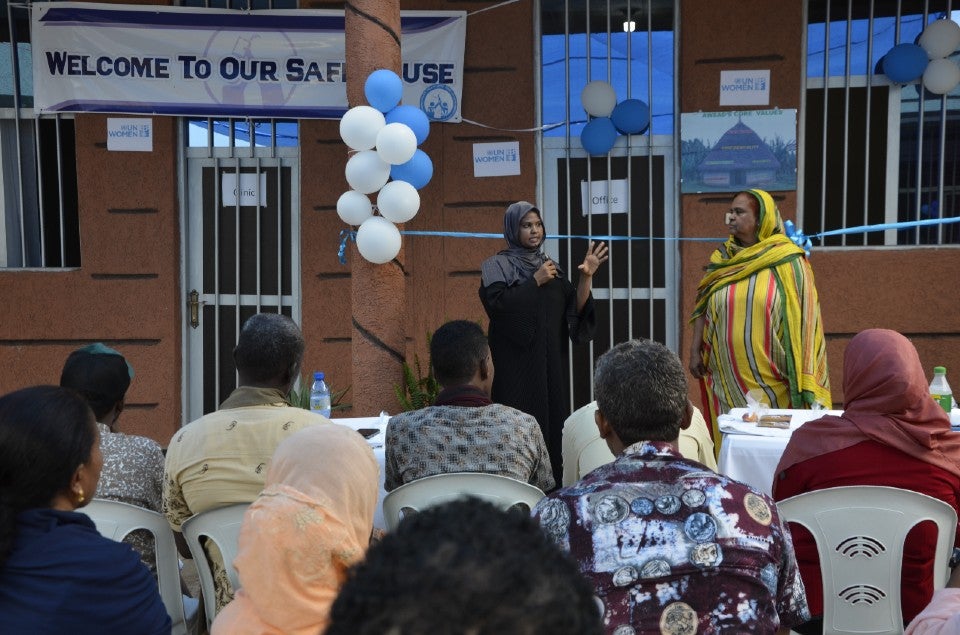 The shelter in Semera town, located over 670 km from Addis Ababa, has a starting capacity for 30 beneficiaries and is a response to the humanitarian situation in the north. It aims to protect women and girl survivors or those at risk of violence through rehabilitation and reintegration services. The shelter is funded by the Government of Denmark and UNOCHA. It is part of the UN Women's initiative supported by the Central Emergency Response Fund (CERF) to mitigate, prevent, and respond to GBV among crisis -affected communities including Internally Displaced Persons (IDPs).
UN Women Ethiopia has been working in collaboration with AWSAD for over ten years. The shelter in Semera is the seventh to be opened by AWSAD and UN Women supported five shelters of AWSAD in different regions with different capacities. In Ethiopia there are close to 20 shelters. Opening shelters in different regions is one of the approaches to prevent as well as respond to violence against women and girls in the country.