From Where I Stand: "We have been using drama skits and sports to challenge our cultural practices, inform communities and initiate discussions."
Date:
Dorcas Mwendwa has been the head teacher of Kitoo Secondary School for 17 years. She is a community leader prioritises the protection of her students. The school is one of 90 in Kenya's Kitui County targeted by a UN Women project to raise awareness about gender-based violence (GBV) issues and strengthen protection mechanisms.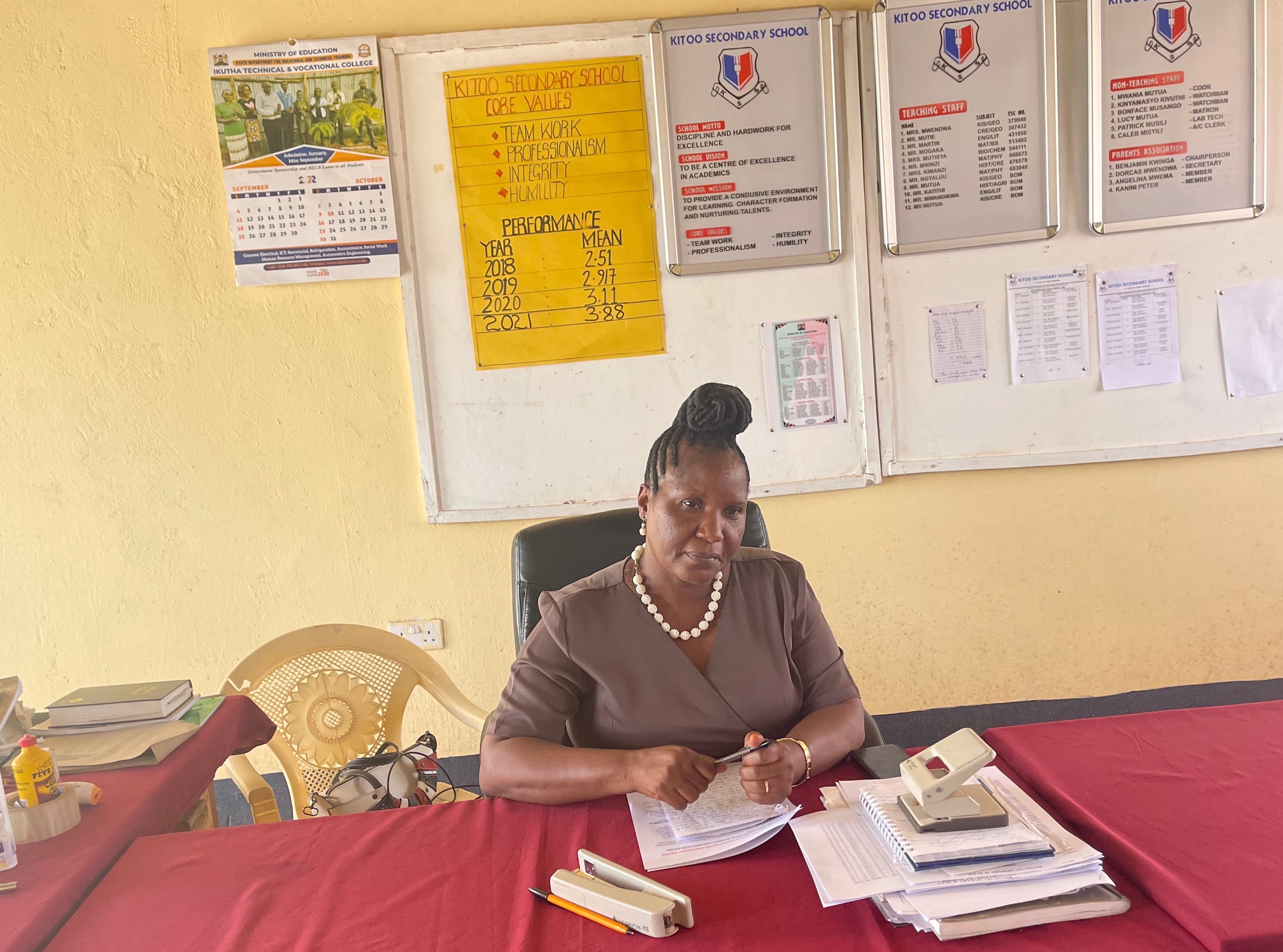 The culture is changing, as we see more girls going to school now. In Kitoo Secondary School I have 114 female and 91 male students. The school is both a day and boarding school, so when constructing the boarding facilities, we looked at the gender requirements, and we have measures in place should violence arise.
The school counsellor came to me with a case of a girl who joined mid-secondary school, who was suffering from psychological violence. Her mother recently remarried but her partner's family, including the step grandparents, did not accept her. They were abusing her, telling her constantly to go back to her maternal grandparents, so most of the time she feared going home after school. I met with the mother, and we worked out a solution that the girl could become a boarder, but remain paying daily school fees. It protected her from a home where she felt unwanted and would then only have to go home when school was closed. 
To mitigate issues inside school, such as teacher harassment, I have made sure that they -  and the students - know about the various laws that exist in Kenya including the Children Act 2022,  Basic Education Act 2013 and our own school's code of conduct that we abide to. The school has a guidance and counselling teacher too to support our students and I have also printed some of this information to be shared around.
We have been working in partnership with UN Women, World Vision and State Department for Gender, who have been working with teaches and learners. We have been using drama skits and sports to challenge our cultural practices, inform the audience on rights and education and initiate discussions. We integrate messages on GBV during these activities, which attract both girls and boys. 
It's a fun way of learning and engaging and the students are able to reach their peers and the community at large. We believe everyone has a right to live a life free from any form of violence, we must teach our children that.
Working with schools and local football clubs, community advocacy on GBV issues has reached 1840 adults and 1300 youths since 2021. The project, supported by the Government of Finland operates in the counties of Kwale, Marsabit, Turkana as well as Kitui in partnership with of World Vision and the State Department for Gender.