From Where I Stand: I want to see a world where the rights and dignity of people with disabilities are fully respected.
Date: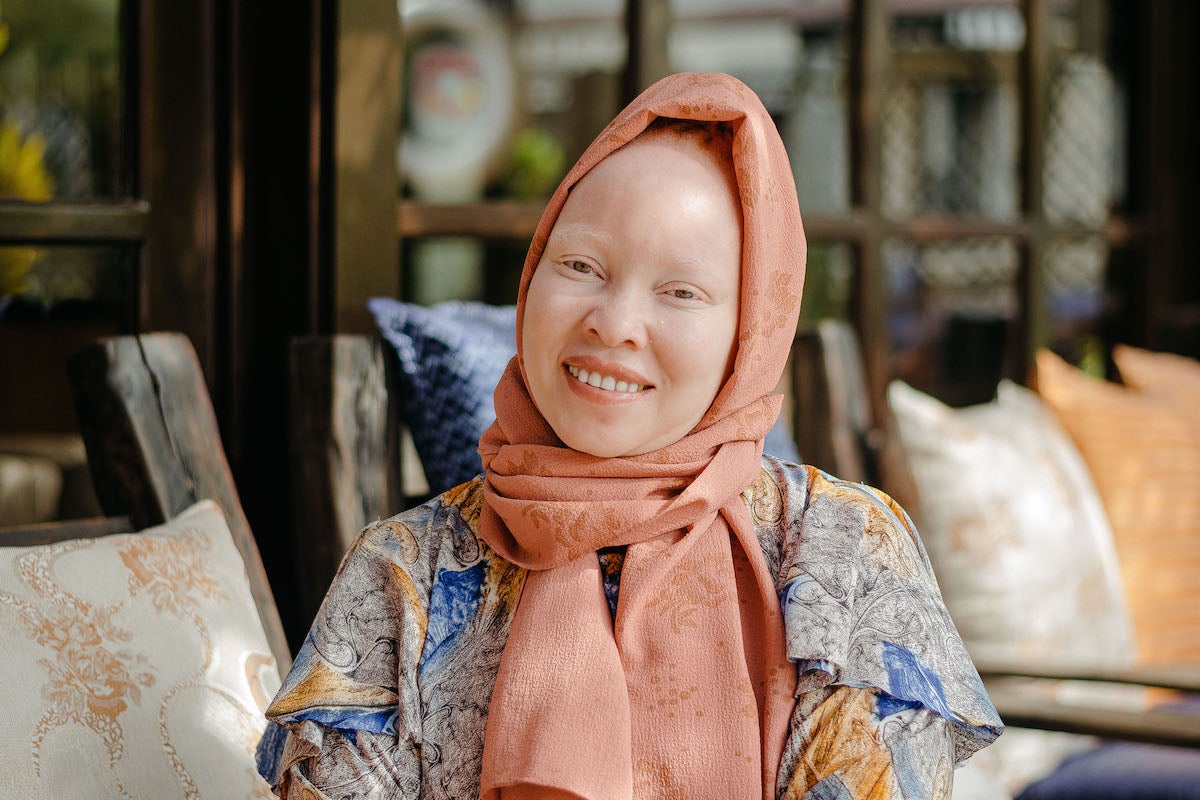 Christina Silas Williams, 32, is a member, and works as a helpline officer at the Tanzanian Albinism Society. She is also a member of the Movement of Women with Disabilities in Tanzania. Through initiatives organized by the UN Women and UNFPA joint programme under the UN Partnership on the Rights of Persons with Disabilities (UNPRPD), she was able to participate in a number of key government consultations geared towards ensuring inclusive policies, legislation, plans and budgets, and improving the implementation of disability-inclusive SDGs at the country level.   
Growing up in Arusha, in the northern part of Tanzania, I was fortunate to have a family that made sure I never felt different. They intentionally created an environment for me where I was accepted and able to live and experience my childhood just like any other child.
When I was about 13, my parents passed away and I had to move to Dar es Salam for my secondary education. It was then that I had my first experiences of discrimination, and when I realized that because my skin was different, people didn't view me as an equal. Soon after, I was introduced to different networks of people living with disabilities, and it was an eye-opening experience. I started to see and hear what other people with disabilities were going through on a daily basis. This period coincided with a time in Tanzania where there was a significant rise in violent crimes against people with disabilities, including the intentional killings of people with albinism. It was extremely hard to even rent a house, and even harder to go out and feel safe and protected.
When I joined the Movement of Women with Disabilities in 2016, I started to have important discussions with other women with disabilities, which went a long way towards helping us deal with the challenges we collectively face.
I also realized that there is a great need for awareness raising in our community. As much as we all face daily discrimination, physical and verbal abuse, and a disregard of our interests and rights, many of us still don't know what we should ask for, what we should fight for, and what our rights even are. And if we don't know, how can we even demand it? That's why movements such as the Movement of Women with Disabilities in Tanzania are key, for us to have one voice, and make sure we are heard.
Thanks to UN Women, we have been able to come together and contribute to different national policies and processes that affect us. The inclusion of our views is essential in ensuring that those frameworks will be impactful and relevant to everyone's needs.
As a mother of two children with albinism, I also understand the challenges that other parents of children living with disabilities face, so I'm also pursuing a degree in social work so I will be able to do more to help others like me. To continue to raise awareness and support those families.
I want a life free of discrimination, and all acts of violence against people with disabilities, particularly our children, so that the next generation of people leaving with disabilities can live their lives without fear.