UN Women in Rwanda relieving the care burden on caregivers in public hospitals in response to the COVID-19 pandemic
Date: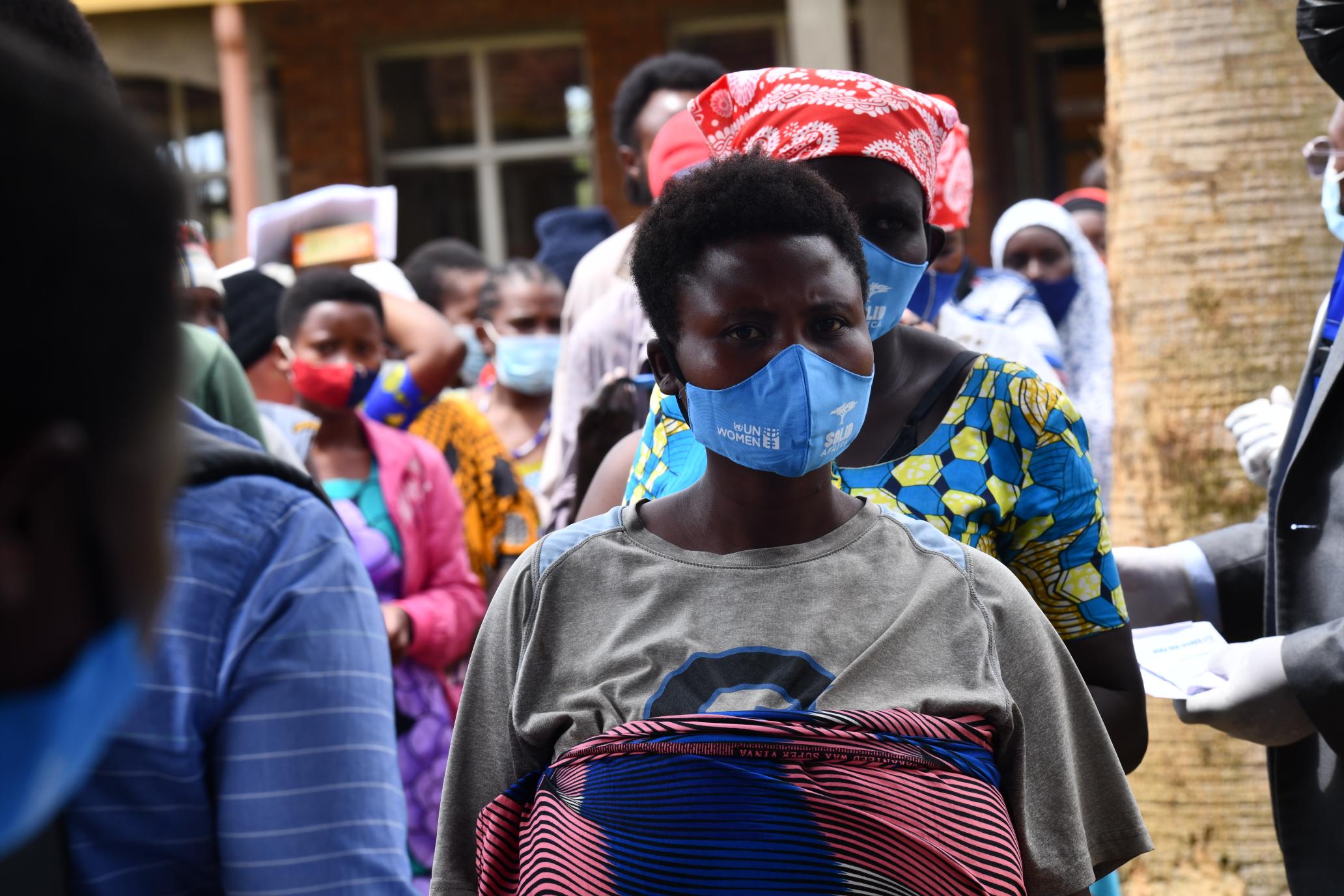 Women make up 80 per cent of the caregivers in the hospitals in Rwanda. This figure illustrates how Rwandan society relies on women to care for patients. Unfortunately, this means women are disproportionately exposed to the dangers of COVID-19.
Undeniably, 2020 was a challenging year for everyone worldwide, but especially for women. When the COVID-19 pandemic broke out, people's sources of income were significantly affected. Some lost their jobs, and others were unable to work due to the Covid-19 restrictions.                        
These effects placed a burden on caregivers, who still had to find food, hygiene products, and personal protection equipment (PPE) while also taking care of patients and family members.
To ease the care burden on caregivers, UN Women partnered with Solid'Africa to expand social protection services to families affected by COVID-19. The partnership entailed the provision of food to in-patients and caregivers, provision of PPE and basic hygiene items for women patients and caregivers as well as raising awareness of COVID19 to increase their knowledge on how to mitigate risks of infection.
The initiative sought to reduce the care burden, particularly for women, who made up 75 percent of the total number of patients and caregivers.
With financial and technical support from UN Women, Solid'Africa enhanced the health conditions of over 3,017 patients. Additionally, it relieved caregivers and patients' families of their burdens by providing three highly nutritious meals a day for eight Kigali public hospitals and Covid-19 treatment centres. Some of these centres included Masaka, Kibagabaga, and Muhima, the University Teaching Hospital of Kigali, and Nyarugenge district hospital.
In addition to the nutrient-packed meals served for the three months, COVID-19 hygiene products and PPE were provided for inpatients and caretakers. This included soap, toothpaste, sanitary pads, fabric for patients without clothes, diapers for babies and adults, baby bottles, etc.
"UN Women's support has helped us to expand our reach, on average. Solid' Africa reached 99.8 per cent of targeted patients and caregivers and 998 patients and caregivers received three meals daily from September to December 2021," said Kamariza Isabelle, President, and Founder.
Uwamahoro Jaqueline, one of the beneficiaries who was admitted to Kibagabaga hospital for over five months said that, "no one goes hungry at the hospital, even people without caretakers to deliver meals for them get food. Getting soap and other essentials is hard while at the hospital. I thank Solid'Africa and UN Women for bringing us food and hygiene products."
Mukeshimana Marie Solange was the sole caretaker for her daughter and her daughter's premature baby, treated in different wards.
"I came to the hospital unexpectedly and my daughter had a premature delivery, I did not even have baby clothes. I did not know how I and my family would survive here." Mukeshimana said.
She said she did not expect any other assistance other than the doctors treating her daughter and grandchild.
"The food and hygiene products we received helped us a lot. I do not know what I would have done without them. I am grateful for the support and care." Mukeshimana added.
Niyonsaba Annonciata, another beneficiary for the COVID-19 relief, who had been admitted at Kibagabaga hospital for over three years with a chronic illness, said that the support to get meals tailored to their needs was a huge relief for her with no caretaker, a situation that was already hard for her as a prisoner. "I would have had to rely on the prison for soap and food, yet the prison only provided one meal a day with no special balanced diet.
Although the campaign primarily focused on women, male patients and caregivers also benefitted from the partnership.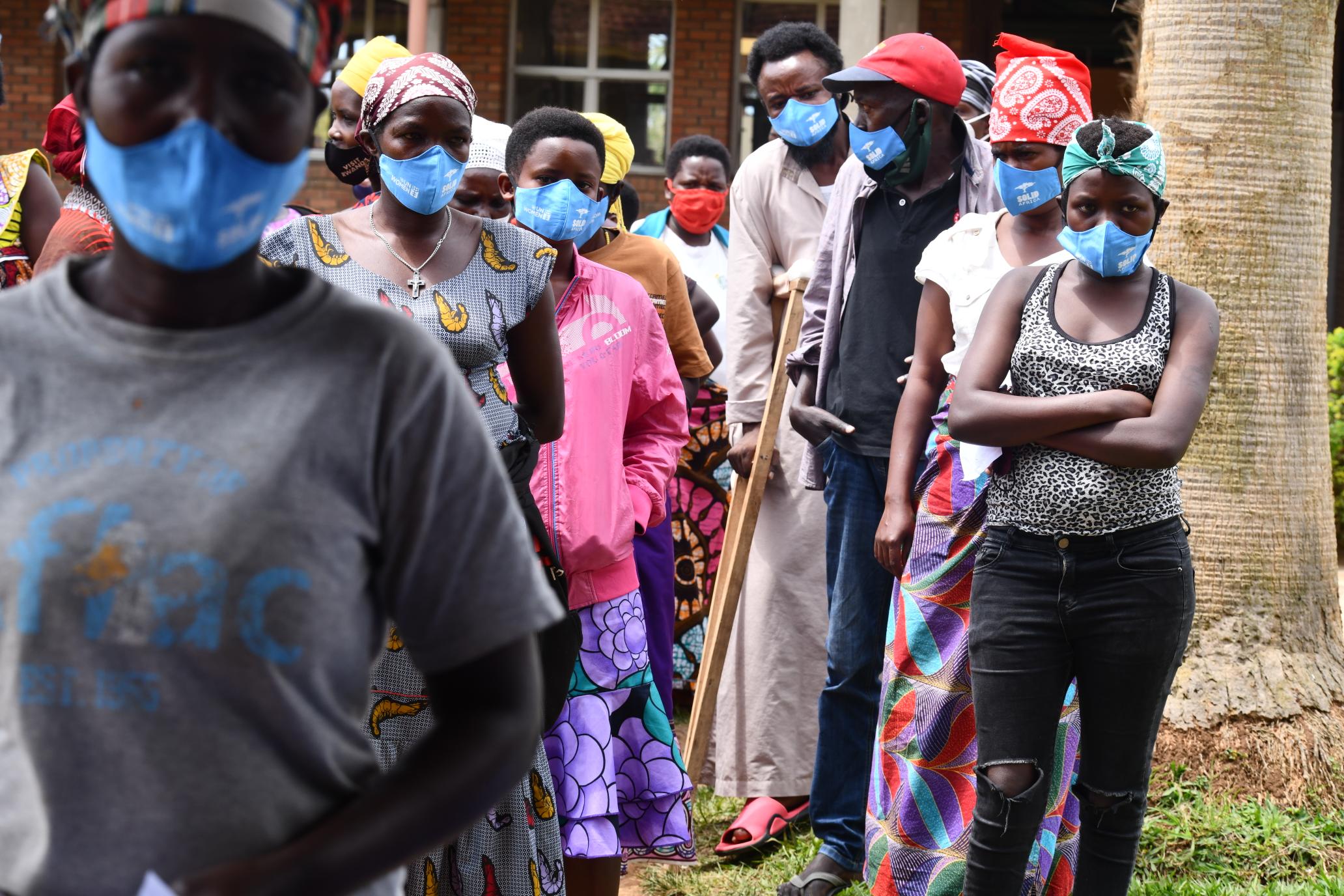 Mugisha was one of the male caregivers who benefitted from the response, "During our time at the hospital, we were served breakfast, lunch, and dinner which relieved us of the burden of finding food. I thank UN Women and Solid' Africa for serving both patients and their caregivers," he said.
This distribution was the second phase of the COVID-19 response by UN Women and Solid'Africa; the first phase focused on reducing the economic impact of COVID-19 on women. Eight hundred patients and caregivers received three meals daily, and 4,100 masks were distributed in the first phase. In addition, Solid' Africa's female staff and volunteers received financial aid as part of the initiative.
The partnership between Solid'Africa and UN Women gave inpatients and caregivers much-needed peace of mind during the trying period of the COVID-19 crisis.
This work is supported by UN Women under the "Recovering Better and Inclusively from COVID-19 Through Gender-Sensitive Social Protection System in Rwanda" programme to unlock new opportunities for vulnerable women, girls, and refugees to recover together and better through the provision of social safety nets and addressing gender-based violence in all its forms. The project is funded by the Multi-Partner Trust Fund (MPTF) and implemented in cross-border districts ( Nyamasheke, Musanze and Nyagatare), Gatsibo district, City of Kigali and Secondary cities.