How UN Women led social protection programme helped vulnerable women in Rwanda overcome impact of COVID-19
Date:
UN Women Rwanda recently concluded its One UN joint programme "Recovering Better and Inclusively from COVID-19 through a Sensitive Social Protection System in Rwanda". The eight months project aimed to help socially, and economically vulnerable people recover from COVID-19 through a two-pronged but complementary approach: provision of targeted gender-responsive social safety nets and addressing gender-based violence in all its forms, because violence and deprivation are closely linked within the context of COVID-19. The programme was implemented in the cross-border districts of Nyamasheke, Musanze Nyagatare and Gatsibo.
 Globally, the COVID-19 pandemic caused a health and socio-economic crisis that saw millions of people lose their jobs and livelihoods, while the crisis disproportionately affected the lives of women and girls. To mitigate these challenges, Rwanda, like many countries across the globe, took preventive measures to curb the spread of the virus, including various lockdowns and curfews, which limited different activities while allowing only essential ones to continue.
There is no doubt that in Rwanda and across the globe, the COVID-19 pandemic affected women and girls more than men, leaving them not only socio-economically vulnerable, but also exposed them to increased violence and sexual abuse.
The rapid gender assessment conducted by both UN Women and UNFPA in collaboration with the Ministry of Gender and Family Promotion (MIGEPROF) in November 2020, showed disproportionate impacts for women in terms of unpaid work, care burden and lost income, particularly for those relying on informal businesses.
 Alphonsine Mumporeze, a resident of Cyuve Sector, Musanze district, was earning a living through informal trade before the pandemic broke out. When the Government of Rwanda imposed restrictions, including lockdowns and curfews, to curb the spread, life became difficult for Mumporeze, whose household depended solely on her trade activities.
 "When the pandemic broke out, everything came to a standstill. We were required to stay home and the kind of business I was involved in was considered non-essential, so we were stuck at home with nothing to eat," Mumporeze recalls.
 As the pandemic persisted, Mumporeze found herself in a vulnerable position together with the people in her household. It is a situation that was shared by many women across the country, whose lives were hard hit by the outbreak.
Findings from the Labour Force Survey (LFS-2019) indicated that over the past three years, more females were informally employed with 92.5 per cent in 2017 and 91.2 per cent in 2019, compared to males with 89.5 and 88.3 per cent in 2017 and 2019 respectively.
Informed by these findings, in August 2021 the UN Country Team launched this joint programme to effectively address the challenges faced by women like Mumporeze and many others.
The programme was developed and implemented under the leadership of UN Women Rwanda in partnership with the United Nations High Commission for Refugees (UNHCR).
New lease on life
Mumporeze was lucky to be selected among the beneficiaries of the programme. She received a grant of RWF 150,000 (148 USD), which she used to start a small-scale liquid soap manufacturing business.
Today, Mumporeze earns at least RWF 200,000(198$) from the liquid soap she manufactures and sells in her locality. Currently she is looking for ways to increase her output and expand her market.
Specifically, the project targeted female-headed households, sexual and gender-based violence (SGBV) survivors, teen mothers, domestic workers, and refugees, among others who were disproportionately affected by COVID-19 pandemic.
Speaking on behalf of UN Women at the closeout workshop, Emma Carine Uwantege, UN Women Rwanda Representative ad interim said the project had benefited over 1,774 selected poor women-headed households in the border districts, previously dependent on informal trade, which were heavily affected by the pandemic.
Similarly, 509 selected poor teen mothers and their families from Nyagatare and Gatsibo districts were given small livestock and toolkits including a tailoring machine. Those who returned to school,500 teen mothers received school materials to improve their condition of learning among other things.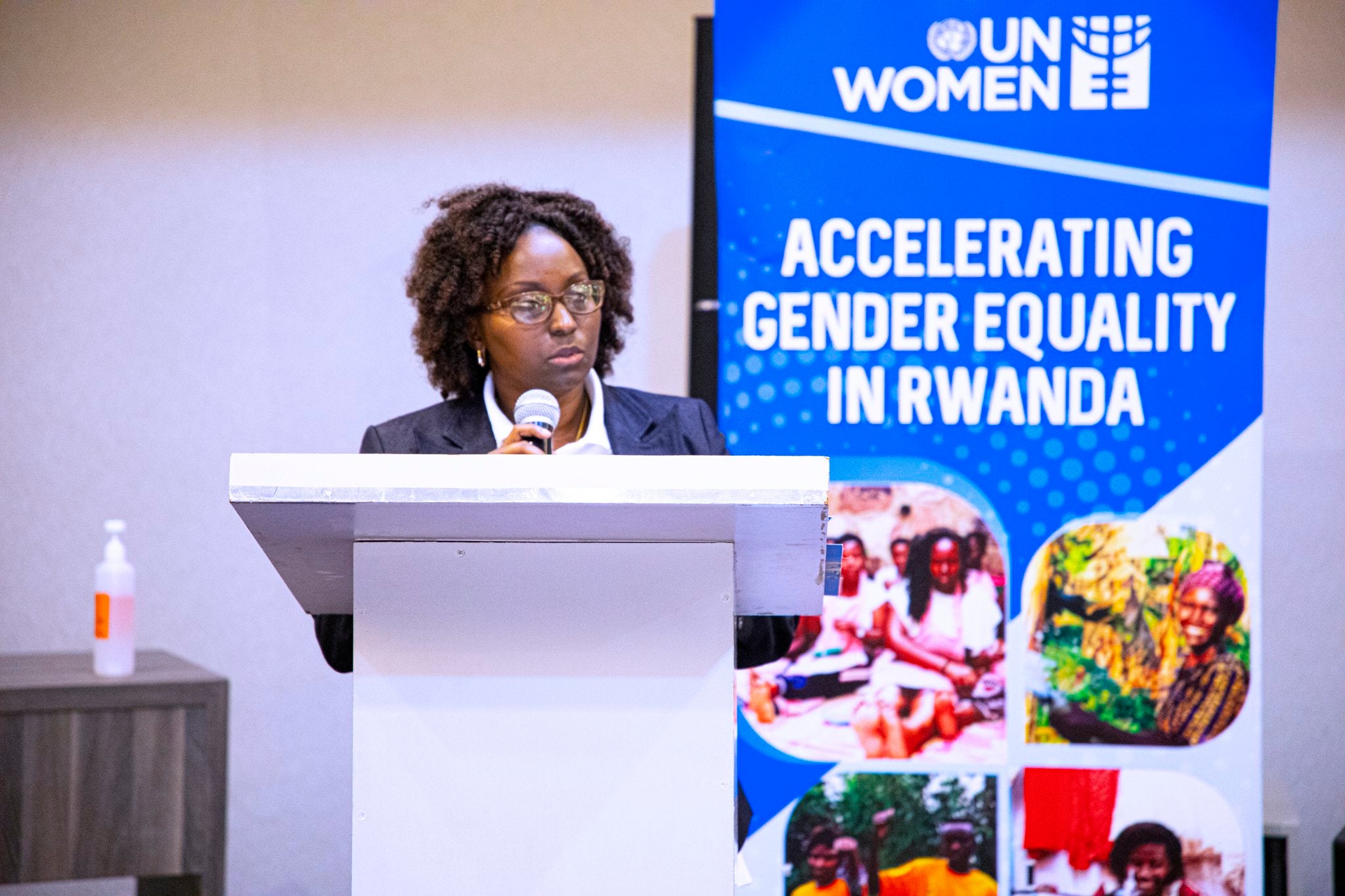 Other achievements include UN Women Rwanda's support for the Rwanda Women's Network to continue providing it's hotline for SGBV cases and 3,435 cases of SGBV were recorded via the Hotline, of which 934 received psychosocial support and referred to relevant service providers; 41 former domestic workers were provided with entrepreneurship and tailoring skills, as well as financial and cooperative management training for self-employment and psychosocial support.
Sixteen women's safe spaces were each equipped with an emergency support fund for SGBV victims, and the Legal Aid Forum supported SGBV cases; fifty victims of violence were represented in court and facilitated with DNA test-search for paternity in 10 cases, 41 domestic workers were empowered and increased their skills in entrepreneurship. At least 17 of the beneficiaries have already started earning profits from their businesses.
Marie Rose Uwimana, a survivor of GBV who received legal support, narrated how she suffered spousal abuse when her husband decided to acquire another wife during the COVID-19 period, subjecting her to physical and psychological torture: "I felt like my life and that of my two children were in peril. Thanks to UN Women's support, I got legal protection by filing for divorce."
Uwimana did not have the resources to start the divorce process, yet she needed urgent protection from persistent abuse.
Through the joint programme, Uwimana was linked to Legal Aid Forum (LAF) by Haguruka. They helped her through the process, and she was eventually granted a divorce by the courts.
Today when she looks back, Uwimana believes she could have easily lost her life, leaving her two children orphaned.
Uwimana said that currently she is focusing on fully recovering from the physical and psychological abuse, while at the same time looking to engage in income generating activities to improve her living conditions.
Speaking on behalf of the Resident Coordinator's Office (RCO), Josephine Marealle Ulimwengu, stated that the project was implemented amid the difficulties presented by Covid-19, but still managed to impact the lives of many despite the short implementation period.
She called on partners and stakeholders, including the Government of Rwanda, to ensure that the gains of the social protection programme are not lost, even as it came to an end, pledging continued support from the UN.
"Through the specific expertise of various UN Agencies present in the country, programmes will be supported to ensure that vulnerable groups have equitable access to opportunities," she added.
Christine Mukarebura said that when COVID-19 hit, life was difficult. Each cooperative member was receiving 1,100 Rwandan Francs (1$) weekly but with the UN Women grant, members received an increased share of 22,000 Rwandan francs (21$), which she uses to improve her life and family's wellbeing.
According to Janviere Mukantwali, UN Women Rwanda Programme Specialist, many achievements were registered through the different implementing partners, which included the Local Administrative Entities Development Agency (LODA), Legal Aid Forum (LAF), Faith Victory Association (FVA), AJIPRODHO Jijukirwa, Rwanda Women's Network (RNW) and the National Association of People Living with HIV (ANSP).
Immaculée Mukarwego Umuhoza, on behalf of LODA, said that central and local government entities charged with social protection, will ensure that the achievements of the programme are sustained and replicated in other parts of the country.