Vote for Molly: Refugee Women in Uganda Empowered in the Classroom
Date:
Molly Ajonye (31) is a successful graduate of the English for Adults (EFA) course under the LEAP Programme implemented by Refugee Law Project with UN Women, jointly supported through the Embassies of Sweden and Norway. With funding from the Royal Norwegian Embassy, over 1,815 (1,342 women, 473 men) refugee women and men enrolled for EFA. Out of the 1,815 learners, 91 successfully reached level five and graduated from the EFA course, while others moved on after gaining skills, they felt were adequate in reading, writing, speaking, and listening. This programme was implemented in Yumbe and Adjumani districts of Uganda from 2018 – 2021.
Molly was born in Yei, South Sudan. She went to school in Central Equatoria and married when she was 17 years old.
"I stopped schooling in P3 (age 15 years), I left school because my father had passed away in 2004 and my mother decided to remarry, leaving us with relatives. There were no school fees, school would keep chasing me out because we could not pay. I liked school and enjoyed history, maths and English. It has been very many years now," recalls Molly.
Molly and her family fled the civil war in South Sudan in July 2016.
"We set off in July and arrived in September. We would hide and sleep in the bush. We would find dead bodies on the way. We thought it would be a one-week war and we would return home, but it did not stop in one week. We left many things, we had one and half acres of cassava. We had to leave everything; the sacks of groundnut were too heavy to carry. I came with only my clothes on my body," shares Molly.
Molly was safely resettled in Bidi Bidi where she was enrolled to attend a two-year course of EFA from 2019 to 2020. In the course each teaching level takes about 3 months and Molly has completed and graduated at Level 5.
"The thing which made me very happy is that when we arrived here, Transcultural Psychosocial Organization, [UN Women's implementing partner for this project] gave us psychosocial support to help us overcome trauma. We were overthinking and crying because our relatives passed away. When we survived that trauma, I joined EFA, and a women's group. We reminded each other to do our exercises to relax our bodies."
Molly has four children, the first born is 14 years old and the youngest is 2 years old. Her husband stays with her in Bidi Bidi, but often goes to check on his cattle at the border of South Sudan. Her father-in-law is still in South Sudan looking after his cattle, he refused to cross into Uganda without them.
"Sometimes they fight at the border points, if they catch you, they will slaughter you," she says.
Molly has also benefited from the mental health psychosocial support services provided by UN Women, as part of the programme. "My husband used to drink a lot of alcohol when we got here and he had no capital, he would use our food rations for alcohol. Whenever I would open my mouth, he would beat me thoroughly. We received some counselling support from TPO Uganda, they would tell him that the law doesn't allow him to beat me. When I joined school, he didn't want me to go but I kept on insisting. These days he has realized that what I was doing was good, he doesn't speak English and always asks me to write for him. Now he has enrolled for EFA too," says Molly.
 After finishing the EFA course, Molly and other women enrolled for leadership trainings, where they learned how to talk in public and address the community.  "I was afraid before and now I am confident I can talk in front of a thousand people," Molly proudly shares.
Molly says she feels at home in Bidi Bidi, she has dreams to acquire land and settle here permanently. Currently, she sells purses made of beads and with the money, she contributes to household needs. Molly participated in interpreters training that was conducted in August 2019. Following 18 months of studying English, she acquired a certificate for interpretation from English to Arabic and the local South Sudanese language Bare.  Molly is looking forward to taking on a leadership position within the refugee settlement, thanks to her strong language capabilities.
"I translate for my community members, with NGOs. Now that I speak English, I want to become a community leader. I know how to manage the community; I have the skills. The next election is in 2023, and I will participate."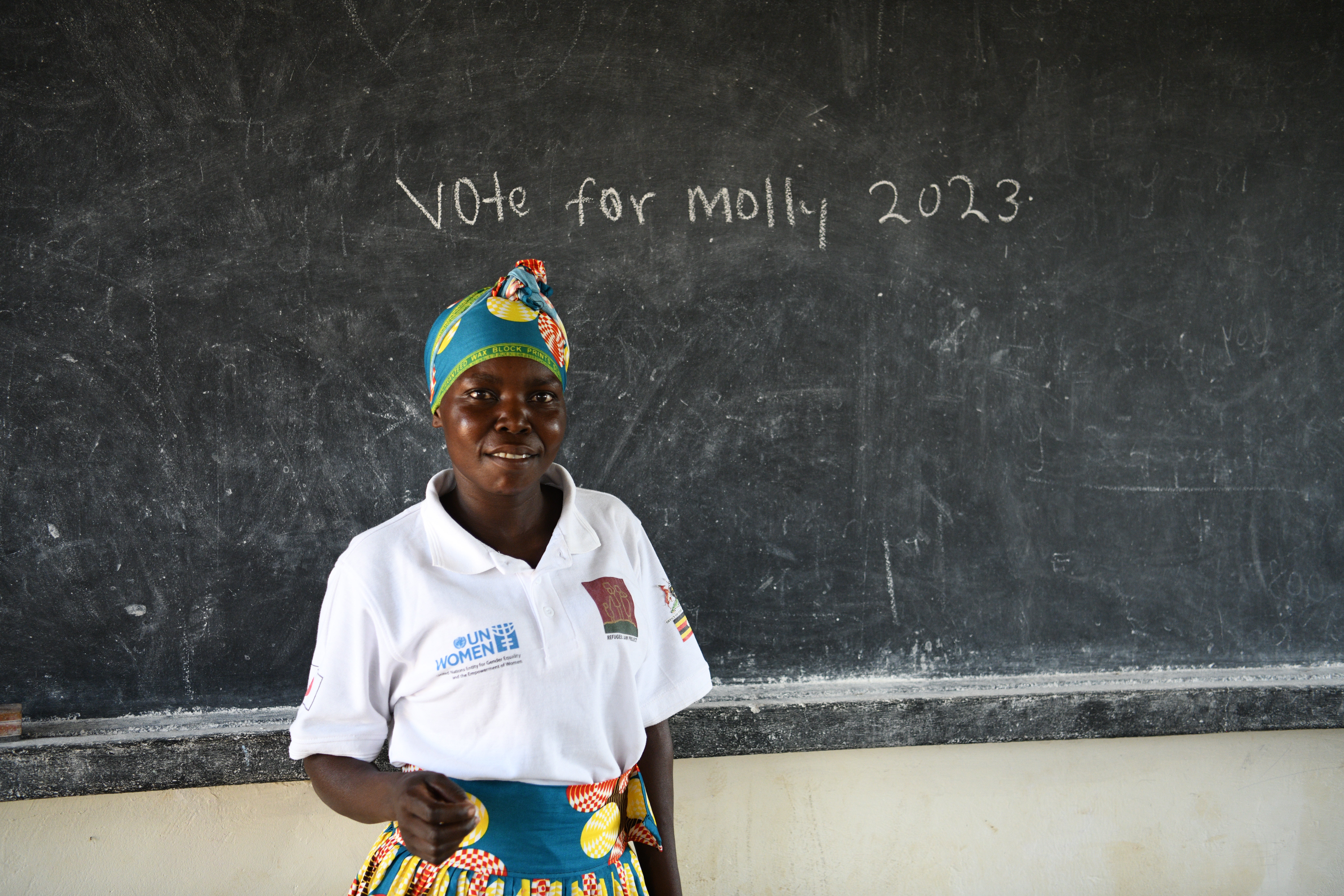 "Sometimes in the past, we had language challenges with the host community, but now with EFA we can communicate with them. We have a very good relationship and peaceful coexistence with the host community here because we can now communicate and understand each other."