Spotlight on Activists: Prudence Chavula, Malawi
Date: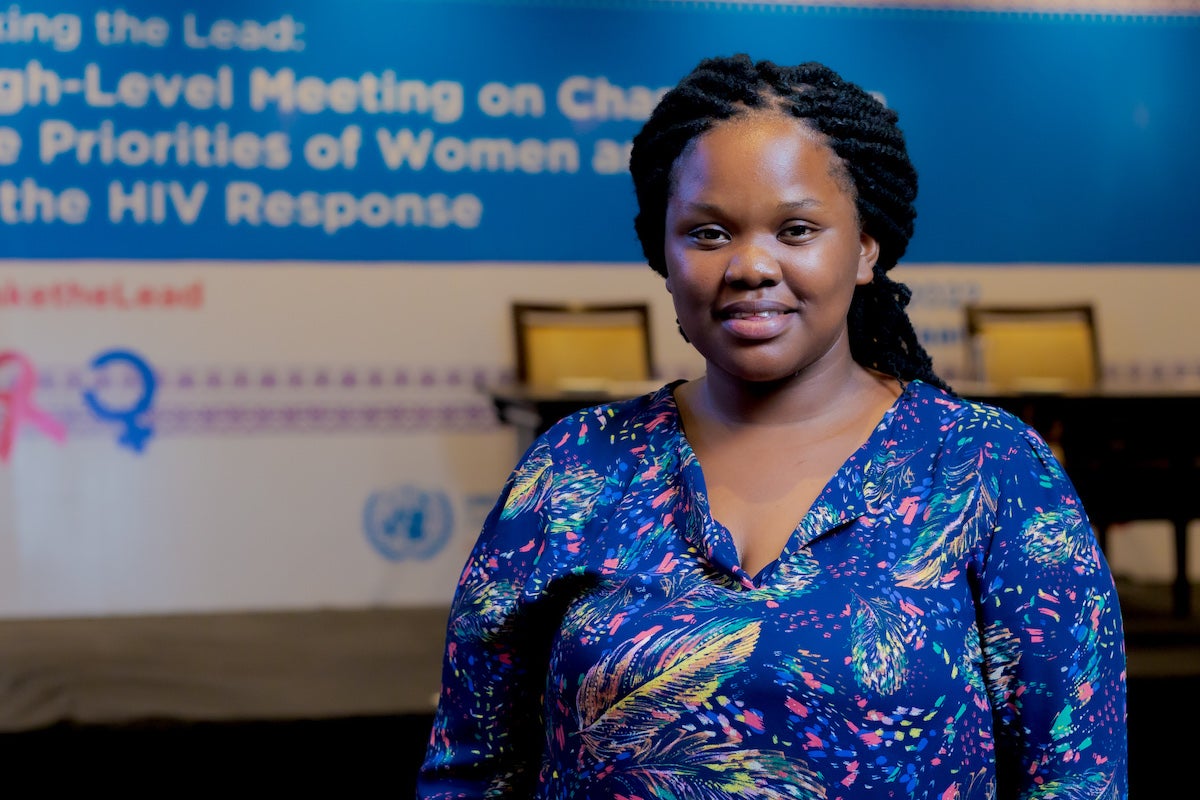 Prudence Chavula, 26, Gender and Sexual and Reproductive Health Rights (SRHR) advocate from Malawi, Executive Director for Go Fund A Girl Child, a grassroots feminist organization established in 2015 in Malawi. The organization was founded and is led by a group of adolescent girls and young women who have survived various forms of gender-based violence. The main aim of the organization is to advocate for the creation of an enabling environment for rural and peri-urban adolescent girls and young women to become powerful agents of change for the socio-economic development of the Malawian society.
Since 2015, Go Fund a Girl Child has been working tirelessly to mobilize a network of girls, young women and youths to ensure the prevention of, and effective response to, violence against girls and women. At the centre of its work, Go Fund a Girl Child mobilizes and builds capacity of a pool of resilient local stakeholders and community-based change agents that are actively responsible and accountable for the protection and safeguarding of girls and women's rights at district and community grassroots level. Furthermore, the organization is socio-economically empowering vulnerable adolescent girls and young women and GBV survivors as a long-term recovery plan, as well as a prevention strategy for those at risk using the safe space model.
As a response to the impact of Covid-19 on girls and young women, Go Fund A Girl Child implemented the 'Not Under My Watch' campaign with support from UN Women from 2020 to 2021. The campaign aimed at instilling a culture of reporting cases of GBV among young people and ensuring that there is no victim shaming among the youth and in the community in order to have a zero gender-based violence generation. The campaign also mobilized girls, women, boys and men at community and individual levels in favour of respectful relationships and gender equality. Finally, the campaign strengthened the capacity of local institutions for the effective prevention of, and response to GBV. Within the two years of the campaign, over 500 girls were readmitted into schools through the work of the trained whistleblowers and youth networks.
What motivated you to become an advocate/activist? How has gender-based violence impacted you personally?
I grew up in Mangochi, a district that is located in the eastern region of Malawi.  Mangochi has one of the highest rates of child marriages, teenage pregnancies, HIV prevalence among young people and gender-based violence in Malawi. For instance in 2021, the district registered 18,346 cases of teenage pregnancies. Growing up in such a community, there were a lot negative social norms, gender stereotypes, power imbalances, perceived need to control female sexuality and other inequalities, which made it challenging for me as a girl child to access sexual and reproductive health information and other services. I also did not know how to defend my rights as a girl as there were no safe spaces for girls to engage on issues affecting them. Having survived gender-based violence and experiencing most of the challenges first-hand, I became very passionate about transforming the narrative in my community.
What should people know about violence against women and girls in Malawi?
What people need to know is that the government of Malawi is making efforts aimed at advancing gender equality through a variety of actions such as laws, policies, localization of international commitments, programmes and services. For instance, the government amended the legal age of marriage from 16 to 18 years. But, despite many interventions being implemented by the government of Malawi and various development partners, Malawi is still experiencing an increase in teenage pregnancies, child marriages and gender-based violence. The increase is attributed to a wide range of factors, including the COVID-19 pandemic and humanitarian crises such as cyclone Ida. A rapid assessment study on child marriage and teenage pregnancies in Malawi, commissioned by the Ministry of Gender, Community Development and Social Welfare in the wake of the COVID-19 outbreak in 2020, found that cases of child marriage and teenage pregnancies had increased during the COVID-19 period. The cumulative figures for teenage pregnancies were at 44,874 and those for child marriages were at 12,995 across Malawi. In addition, at the centre of violence against girls and women is harmful social norms and poverty.  Those responsible for the climate crisis that is negatively impacting girls and women need to be held accountable for their actions. We need girls and women at the forefront of climate change interventions. Also, without strengthening the economic resilience of vulnerable adolescent girls and young women, the impact of interventions will remain minimal and unsustainable. Girls and women living in poverty are also more vulnerable to sexual exploitation.
How has your work been impacted by the global pushback on women's rights that is currently underway?
As a young woman operating at the grassroots level, I see that girls and young women are at risk because of limitations on comprehensive reproductive rights. Girls and young women are lacking comprehensive sex education to enable them to make informed decisions because sex education has been deemed immoral by policymakers. Girls and young women are resorting to unsafe ways of terminating pregnancies because the law does not permit them to access safe abortions. In 2020, over 3,000 girls and women sought post abortion care services in my district. We need global, country and community leaders that are accountable to sustainable gender and reproductive justice.
The climate crisis and the pandemic have also affected the gains that we made as far as gender equality is concerned. The measures that are enforced during outbreaks, like school closures, exacerbate cases of teenage pregnancies and child marriage.
What is one (or more) action(s) that everyone can do to "push forward" and act to end violence against women?
Firstly, we need to terminate harmful cultural practices and social norms in communities. On this one, custodians of culture and religious leaders should be engaged as active partners in the fight against GBV.
Secondly, there is a need to invest in the economic empowerment of girls and young women by providing them with access to resources and decent work.
Thirdly, there is a need for increased technical support and direct financing for grassroots youth and feminist movements. Girls and women have solutions to problems that they are facing. Instead of taking them as beneficiaries of interventions, there is need to finance them as partners in the fight for equality.
What advice do you have for aspiring activists?
For adolescent girls and young women aspiring to join the gender activism space, be vigilant in the fight for equality. Our diversity as activists is our greatest strength. The goal should not be to speak for the voiceless but rather to empower the voiceless to join the fight and speak out for themselves. We need to create a space at the tables we are sitting at for more girls and women to join.
We need spaces where established women leaders can mentor and engage in dialogues with emerging young women leaders, embracing cross-generational knowledge sharing and support.