Rwanda launches the National Chapter of the African Women Leaders Network (AWLN)
Date: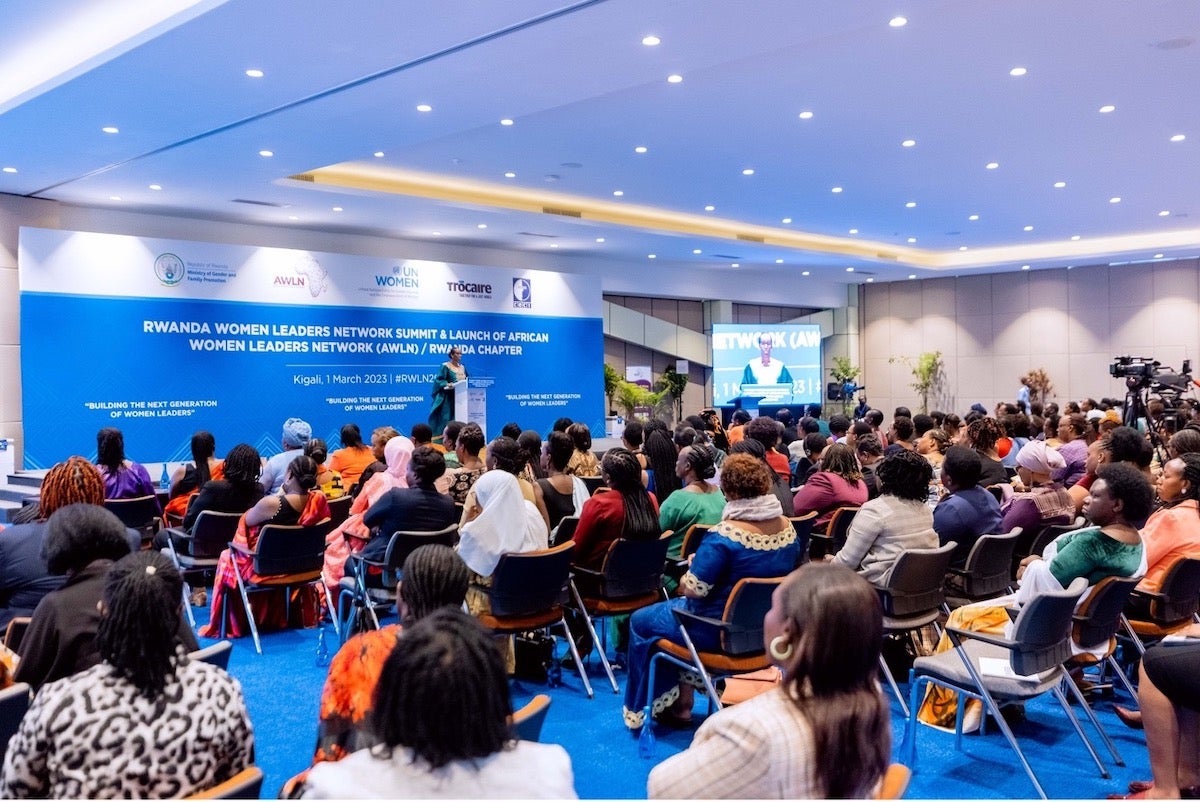 On March 01, 2023, Rwanda launched the African Women Leaders Network (AWLN) during the Rwanda Women Leaders Network (RWLN) Summit held under the theme "Building the Next Generation of Women Leaders", a great kick start of the International Women's month.
The launch of the AWLN Rwanda Chapter was attended by over 250 women leaders from various sectors and backgrounds including high level government officials, representatives of institutions, women leaders from across generations, students, members from the private sector among others. 

The event was graced by H.E Jeannette Kagame, the First Lady of Rwanda who urged members of the Rwanda Women Leaders Network (RWLN) to continue innovating and protecting the progress that has been made, so that future generations can benefit and build on what has been achieved.
The Rwanda Women Leaders Network was founded in 2011 by H.E Jeannette Kagame with the aim of serving as a platform for women leaders to provide peer learning, support, and mentoring of young women in different aspects of leadership including political, entrepreneurship, and community engagement. The Rwanda Women Leaders Network (RWLN) was merged with the "African Women Leaders Network" (AWLN) during the RWLN summit, with a focus on aligning areas of intervention and addressing gaps in efforts to empower Rwandan and African women to fully participate in transformative and sustainable development.
To enhance the effectiveness of RWLN/AWLN, the First Lady emphasised the importance of having a clear and achievable goal. She urged the members to be intentional about what they want, understand the reasons for their fight, and have a well-planned strategy to achieve their goals. She also stressed the need for collaboration, support, and learning among members to create strong and visible changes.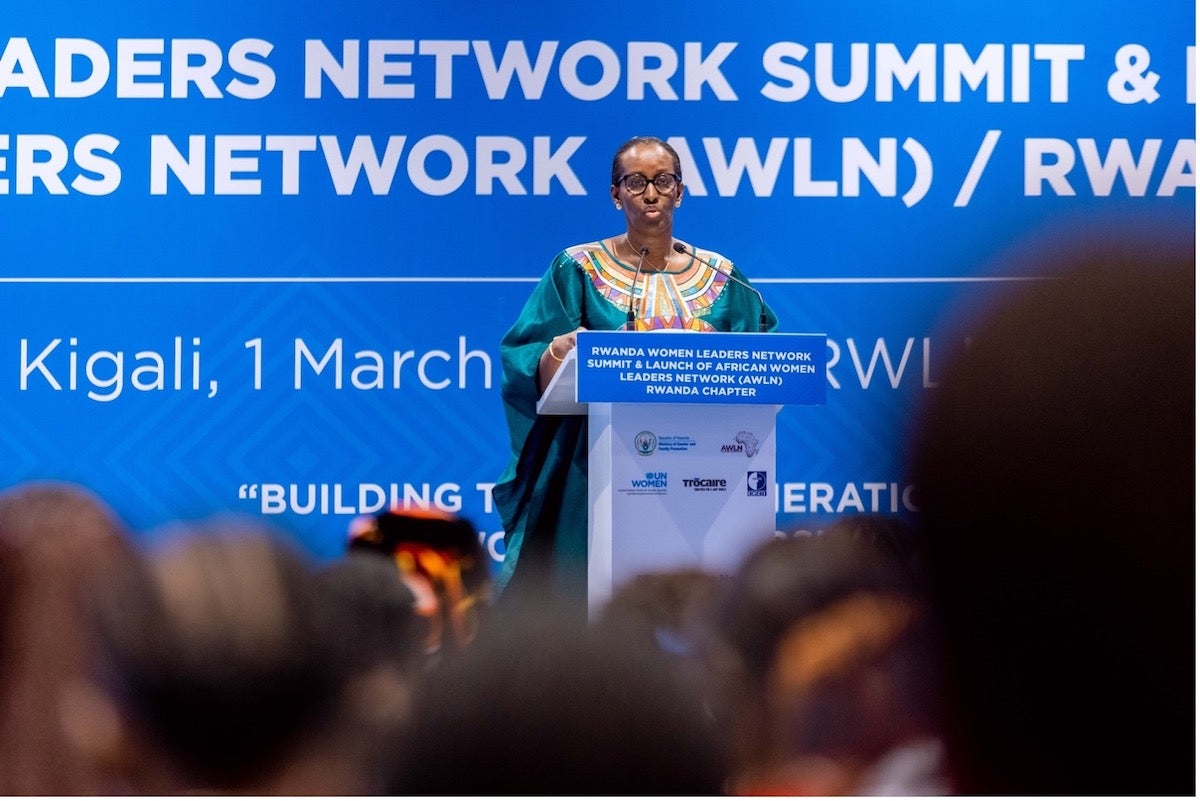 Speaking at the AWLN launch Mme Beneta Diop, AUC Special Envoy on Women, Peace and Security said, "On this day, we open our hearts and arms to African Women Leaders Network (AWLN) Rwanda chapter, the women, and girls of Rwanda in the AWLN as the 32nd country to join."
She added that "Rwanda has a lot of women leadership experience to share and the AWLN is eager to join forces with the Rwanda chapter and learn from the brave women, while co-creating solutions to a transformed leadership landscape in Africa. We, the women of Africa are proud of the strives achieved by the Republic of Rwanda, a model on the continent. Ranging from an enabling policy, legal and institutional framework, enhanced socioeconomic and political participation, Rwanda has set the tone and paved the way for a continental and global model of gender equality. We are indeed proud of our sister and daughters of Rwanda."
According to the 2021 National Gender Statistics report, 61.3 per cent of the Rwanda's parliamentary seats are being occupied by women while women cabinet members are 55% and 30% women district mayors.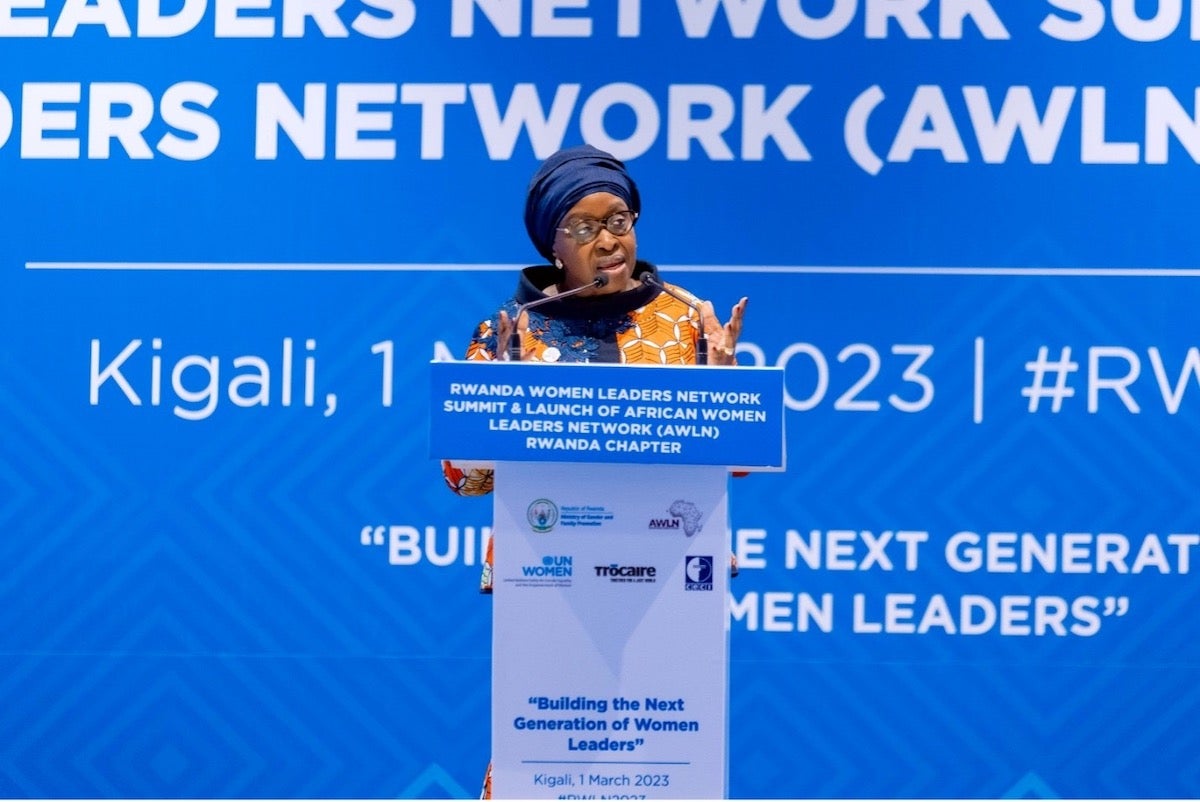 Hon. Prof Jeannette Bayisenge, Minister of Gender and Family Promotion highlighted the goals of the Rwandan Women Leaders Network (RWLN), which includes sharing knowledge and expertise while maintaining their roles as mothers and educators.
She emphasized the importance of supporting new women in leadership by holding their hands and guiding them to success and stressed the need to implement gender equality and equity in decision-making positions, encouraging members of the network to approach this goal differently.
Prof. Bayisenge also announced that the RWLN/AWLN would be launching a website to allow new women leaders to apply for mentors in their respective fields.
UN Women Country Representative, Madam Jennet Kem, emphasized the importance of values and principles in guiding women leaders noting that, it is essential for women to define their values and ensure that they live by them. She suggested that values such as hard work, family, faith, excellence, and personal drive could guide them. Madam Kem urged women leaders to scan their environment for challenges and co-create solutions to make their leadership impactful.
Madam Kem congratulated the National Women's Council for driving RWLN initiative and the opportunity to collaborate in the coordination of the summit and the launch of AWLN Rwanda chapter.
She commended Government of Rwanda's exceptional track record and commitment to support women's participation in decision making positions, reaffirming Government's commitment as a global champion for women's leadership in social-economic, political, peace and humanitarian spheres including at the Generation Equality (GE) Mexico and Paris forums.
"While we recognize the efforts made, we call upon senior women leaders to be the voice of the many young women who can be today's leaders but cannot as they be left behind due to poverty, violence and discrimination. More importantly, under your committed leadership, we look forward to seeing a robust RWLN that can influence the continental development, peace, and integration agendas," Ms. Kem said.