In Ethiopia, a rapidly changing humanitarian crisis demonstrates the need for a flexible response
Date:
Having survived two years of brutal civil war, women and girls in Ethiopia are now facing a rapidly evolving humanitarian crisis as the country struggles to rebuild. The widespread violence, which reached a ceasefire in November 2022, left 600,000 people dead and millions displaced.
Women and girls fled hundreds of miles, fearing run-ins with armed groups who have perpetrated rape and sexual abuse. While the extent of gender-based violence (GBV) in Ethiopia is unknown, the number of people in need of GBV services in 2022 increased to 5.8 million from 3.5 million in 2021.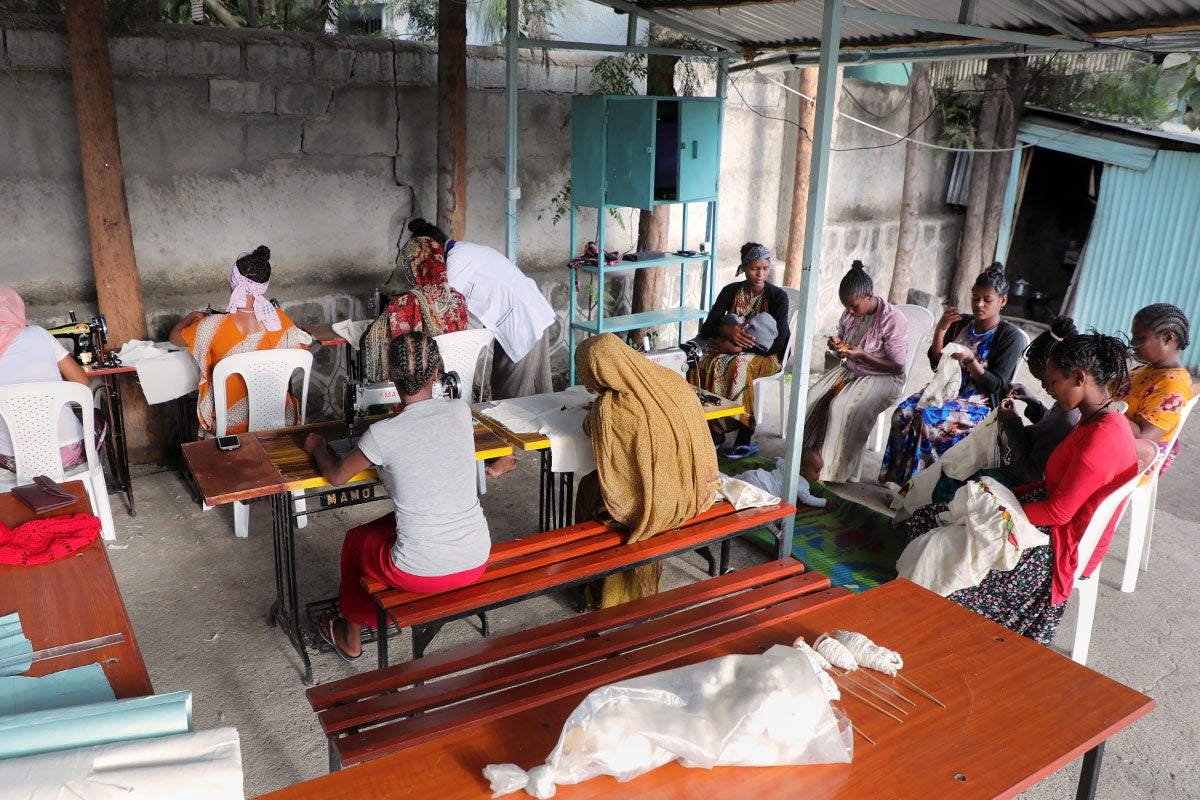 "Soldiers from all sides have attacked women and girls to demoralize communities and try to secure defeat," says Workiye Hailu, Gender Specialist at the Network of Ethiopian Women's Associations (NEWA).
Hailu says that GBV survivors in Ethiopia come from all demographics, ranging from underage girls to elderly women. Those who sought refuge in internally displaced persons (IDP) sites faced new dangers. "Due to the shortage of tents, boys and girls were sleeping together, which led to further GBV," she says.
Hailu and her colleagues have been mapping local women's organizations so they can train them to meet the needs of hundreds of women and girls at IDP sites in Afar and Amhara. Since 2021, their efforts, as well as those of six other local partners, have been supported by UN Women, with funding from the Central Emergency Relief Fund (CERF).
Delivering swift and flexible services
With women and girls on the run and in vulnerable situations in IDP sites, Ekram Ousman from the UN Women office in Ethiopia says that her team recognized that humanitarian response needed to be swift and flexible. But larger international organizations have traditionally struggled to adapt to emerging crisis situations and to sustainably deliver GBV services to women and girls on the move.
The CERF Global Grant allocation sought to make funding more flexible and support local women-led organizations to adapt to the fluidity of the mass displacement from the conflict, Ousman says. It also relied on a multipronged approach which harnessed the different expertise of partners—from providing psychosocial support to survivors of violence and other types of services, to raising awareness in local communities on issues related to violence prevention and the advancement of positive masculinities.
Local women's organizations, which were project partners, were able to reach survivors in the regions of Amhara and Afar. For example, the Association for Women's Sanctuary and Development (AWSAD) provided comprehensive rehabilitation and reintegration services through safe houses for survivors of violence, including conflict-related sexual violence. As the needs of displaced women changed during the crisis, the CERF project allowed AWSAD to swiftly change house locations and service provision areas.
Norwegian Church Aid, another local partner, used their signature "coffee corner" events to connect with conflict-affected women and refer women and girls to service providers who could offer psychosocial, legal, and medical support.
According to Mengistie Tegenie, GBV Programme Advisor at Norwegian Church Aid, continual outbreaks of violence during the duration of the CERF project made adaptability crucial. "Due to the conflict, people were migrating to nearby towns, so we had to bring the project to areas with newly displaced communities", he says. "Most of the activities were implemented outside of the original project sites dictated in the initial project design. So, we were flexible in accommodating the needs of the target population."
From 2021 to 2023, UN Women and partners including NEWA and Norwegian Church Aid provided a total of 3,841 people who have experienced GBV or were at risk of GBV with access to information, legal advice, psychosocial support, and referrals, in conflict-affected Tigray, Amhara, and Afar regions. In addition, 501 GBV survivors and at-risk populations have been provided short-term vocational training and temporary cash-for-work opportunities to strengthen self-reliance and resilience against risks of GBV.
Supporting GBV survivors in the aftermath of conflict
Despite the CERF project's initial success, Hailu says challenges remain. First and foremost, more funding is needed to reach the increasing numbers of GBV survivors. Now that the conflict has ceased, NEWA and other implementing partners in Ethiopia will continue to build the capacity of local women's organizations to serve the needs of conflict-affected women and girls. But with so many people internally displaced, the task is monumental.
Ousman adds that women and girls on the move often don't know how to access GBV services in new locations. This has made widespread awareness raising crucial, particularly in the IDP sites. For women and girls who face GBV from an intimate partner or family member, speaking up and accessing services also has the potential to trigger societal stigma or further violence. Therefore, it is vital for local women's organizations to have the capacity to protect survivors and offer them a safe space for reporting.
The CERF project model, with its flexibility and reliance on local partners, is a model of how UN Women plans to respond to humanitarian crises going forward.
"Throughout the conflict, there were times when structures and services for women and girls completely collapsed in the region," Ousman says. "But our success came from partners who promptly responded to the crisis and rapidly changed locations. We had strong coordination with local organizations on the ground, and that's what made all the difference."