Zambia hosts the first steering committee meeting of the IBSA fund on ending child marriage
According to the UN Women study, across Africa, 125 million girls and women alive today were married before their 18th birthday. Although child marriage is slowly declining worldwide, if current trends continue, due to population growth and social factors, the total number of child brides will remain around 750 million in 2030, a third of them will be from Africa.
Date:
Malawi and Zambia have a high prevalence of child marriage. Zambia has one of the highest child marriage rates in the world with 31% of women aged 20-24 years married by the age of 18. In Malawi, approximately 1 in 2 girls are married by the age of 18 [1]. One of the main challenges in ending child marriage is traditional and ingrained attitudes that makes the practice accepted across society, while poverty is another major contributor behind child marriage.
To reduce child marriage and other harmful practices and to promote the health, wellbeing and progressive development of child marriage survivors through Second Chance Education; India, Brazil and South Africa Facility for Poverty and Hunger Alleviation (IBSA Fund) program supports the implementation of a program entitled "Reducing Child Marriage in Malawi and Zambia". The IBSA program focuses on implementation of the African and global commitments to ending child marriage as a way of achieving the broader development goals of gender equality, freedom from poverty and a just world and thereby contribute to agenda 2063 and SDGs.
The Government of Zambia through the Ministry of Gender hosted the First Steering Committee meeting of the India, Brazil, South Africa (IBSA) Programme with the objective of analyzing the progress, results and challenges in implementing the program to end child marriage and to provide second chance education for girls in Malawi and Zambia. The Steering Committee meeting was attended by senior officials of the key ministries, representatives from India and Brazil, UN System i.e., UN Women,UNDP, UNICEF, UNFPA, UNAIDS, and the Civil Society. The UN Women and IBSA Fund program in partnerships with the Ministry of Gender in Malawi and Zambia adopts a multi-pronged approach in addressing the end of child marriage through capacity building, advocacy, awareness and awarding of scholarships for around 1800 child marriage survivors to promote second chance education.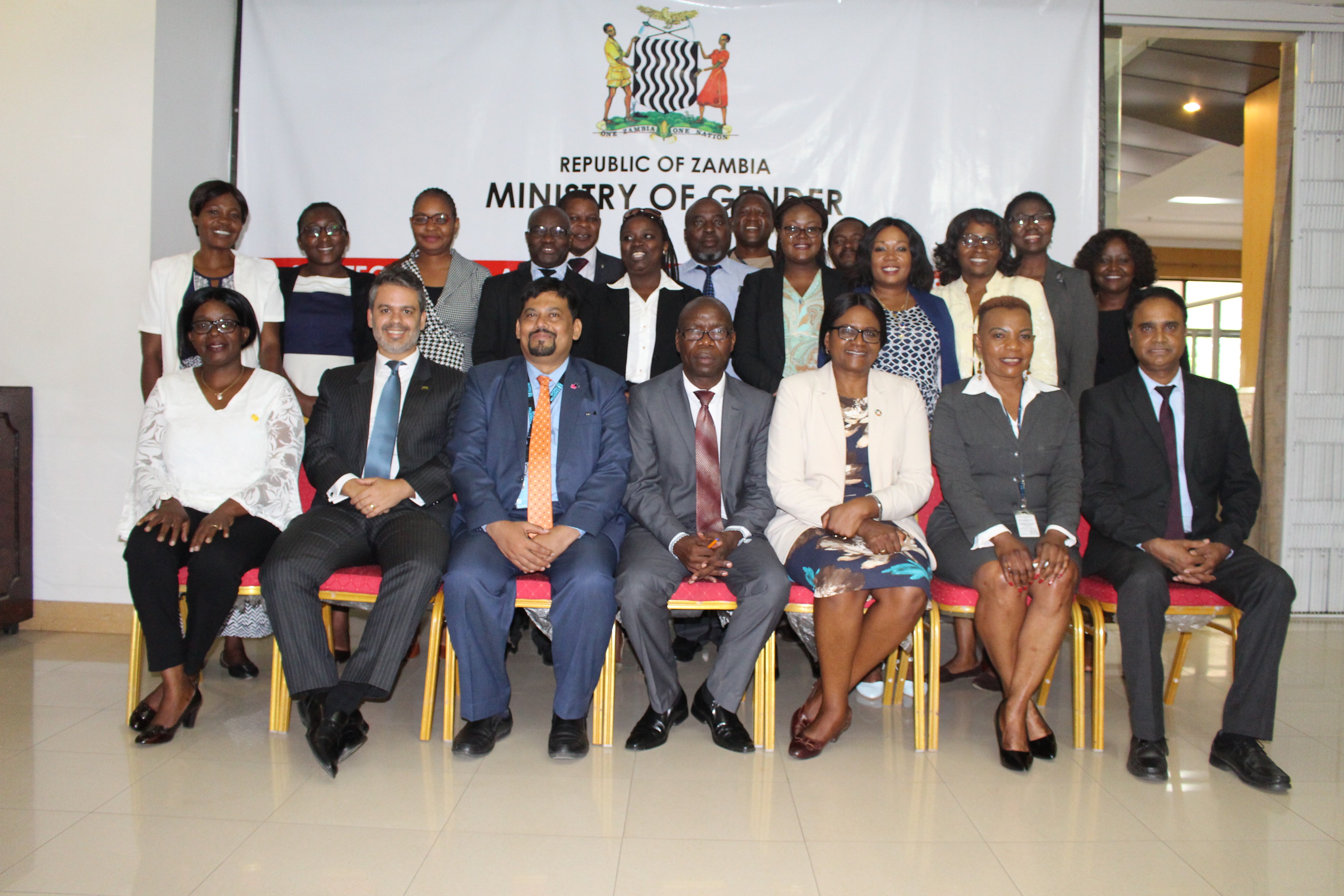 Following the presentations by the Ministry of Gender and UN Women, the members of the Steering Committee provided feedback and appreciated the IBSA program donors for the support in ending child marriage in the remotest provinces of Mpulungu and Chama. UN Women jointly with the Ministry of Gender will be following-up on the actions suggested by the Steering Committee.
After the Steering Committee meeting, Zebib Kavuma, UN Women Deputy Regional Director, East and Southern Africa, held meetings with high level dignitaries and officials of the Government of Zambia including the First Lady, the Minister of Gender, the Minister of Chiefs and Traditional Affairs, the Permanent Secretary to the Ministry of Foreign Affairs, the donors and the UN partners to strengthen partnerships on the collective work on ending child marriage.
The First Lady of Zambia Esther Lungu stated, "It is commendable that UN Women is providing education support to more than 1,000 girls in Zambia. As an advocate for both women and girl's empowerment, I look forward to UN Women speedily investing in start-up SMEs for Zambian women. Once emancipated financially, it goes without saying that women ensure their children, whether girls or boys attend school".
The Minister of Gender Hon. Elizabeth Phiri also applauded UN Women and the IBSA donors (India, Brazil and South Africa) for the support being provided to Zambia. She is hoping that this help continues because without it a lot of girls would suffer and their lives would be curtailed. She stated that the support was in line with the Seventh Development Plan which had been aligned with the SDGs. The Minister stated that the Government of Zambia's policy was; "to leave on one behind". And she said this applied to the girls who have been forcibly or willingly married. She emphasized that the Governments goal was to ensure all children were in school and not anywhere else.
The Permanent Secretary in the Ministry of Gender Mr. Sastone Silomba, intimated that the IBSA project was a life saver for the girls and their families. He stated that the Ministry was actively trying to ensure that they used a multi-sectoral approach in dealing with the issue of ending child marriages. He explained that this was the reason the Ministry was working with Ministries of Cultural and Traditional Affairs, Ministry of Education, Ministry of Community Development and Social Services, Ministry of Justice, Ministry of Home Affairs among others. He said all these stakeholders had an important role to play in ensuring that girls stayed in school and were not married off. He said the Ministry and the country at large really appreciated this novel project.
Nancy's Story - Mpulungu, Zambia
My name is Nancy Bwalya Musenge. I am 19 years old from Kopeka village in Mpulungu district. I am the fourth born in a family of 7. I have 1 child and I am back in school after a long time of suffering at the hands of my aunt who got me to live with her after my father's death. I got married at the age of 17 to a 26-year-old man, because of the poverty and mistreatment I went through at my aunt's house but this was not out of my will. I thought getting married would give me relief from the harsh treatment I was going through.
My father worked in the mine and worked hard to ensure we had food on our table and all that children need, until he got ill and died. After his death, things changed drastically, my family decided that I should go and stay with my aunt in Kitwe. I was so happy when I went but little did I realize the drama that was on its way. I had only been there for two weeks when she started making scones for me to go and sale in the streets of Kitwe. If I did not sale enough, I was punished, I would stay without food till the next day, just a small mistake I would be beaten like I was a prisoner. I felt the pain of losing a father and the pain of being separated from my family (mother and siblings). I wished I could just go back to my mother, but I had no capacity to do that.
Then one day, I met this man on my way to sale the scones, he saw me crying so he stopped me. He talked to me and extended a shoulder to cry on, I felt so comforted and so that's how the story all started to unfold. He became my friend and I loved selling now because I used to go and sit with him and spend some good time telling stories. One day he invited me to his home where he locked me up in his apartment. We spent a night together and thereafter I realized I was pregnant. My aunt chased me from her home and this same man got me and stayed with me. Although life wasn't all that stable he was supporting me. After things became tough, he decided that we should go to his father's village in Kopeka, Mpulungu district. Here I found the privilege to go back to school. My husband is happy and highly supporting me in this issue of getting back to school. He completed his grade 12 and is hoping to go to college and he encouraged me to get back to school too. I wish to complete school so I can help take care of my family. We are no longer selling here but farming.
Ireen's Story - Chama, Zambia
I am from a family of seven, I am the second born. My mother is a single mother, my dad having died when I was very young. When my father passed away, my mother took me to her brother in Mazabuka so that he could help her educate and look after me.
I was 14 years old when I got pregnant by a 26-year-old man. In my head I was sure this man was going to look after me and provide for our child. I trusted that the man would take care of me, my child my siblings and my mother who was then in Chama.
When I told the man responsible for my pregnancy, he told me it was fine he would marry me, and I was very happy even though I was young. All I knew is that getting married was the best thing in a girl's life. However, the day we should have met to discuss my pregnancy and our marriage the man refused to show up. When I went to ask why he had not turned up, he told me he didn't want to marry me anymore. I decided to inform my uncle. My uncle got very upset and sent me back to my mother. I cried because I was too young to be out of school and to look after a child alone. At that age I really did not know the meaning of marriage, I thought I would escape poverty, that was all that I thought about. I wanted to show off to my friends that I was married. Finishing school was the last thought in my mind right now. But now all that was gone, I was now filled with fear.
Back with my mother and not knowing what the future had for me, I gave birth to a baby boy. We had no money to buy baby clothes. I feared holding the baby let alone feeding him. I was scared because the father of my child refused his child, he decided he wanted nothing to do with the both of us. After I found out that the man responsible for my pregnancy did not want to be responsible anymore, I felt so much pain, I felt like the whole world had crushed all over me. I felt so cheated.
I decided to come back to school because of my suffering. My mother is such a blessing. She encouraged me to get back to school. She promised to look after the baby while I was in school. That gave me comfort especially just seeing how she cared for my son even when I was home. I knew my son would be safe and happy if I went back to school. When I heard of the IBSA project, I thanked God because I knew this was my life saver. I want to finish school and become independent. If I get an education, life would be different for me and my family.
I want my child to also get an education because then his life would be different from mine. Education has benefits. I would like to tell others that when you get married at an early age, or if you get pregnant things are difficult and you lose all your rights and you will suffer a lot. I am happy now because I have gone back to school. I have that one kid and my boyfriend who left me and married another woman; I don't feel anything for him because he lied to me a lot. I felt that he used me. I now feel relieved staying with my mother and lucky that I have IBSA sponsoring me. I will no longer worry about my school fees but will only worry about my child's food which I work hard to have. I have no feelings and respect for men and specifically my child's father. I feel men take a lot away from women. My child has no father, that hurts because right now I do not even know where to start looking for him. But my child also has a support system that is very strong…My family, My mother.
I have a lot to thank my mother for and IBSA. Thank you.
[1] UNICEF, State of the World's Children, 2016