The impact of COVID-19 on women: Nicole GAKOU, Senegalese female entrepreneur
Nicole Gakou is an engineer in information systems and a business manager. She is also the President of the Union of Women Entrepreneurs of Senegal (UFCE). In this interview with UN Women, she sheds light on the impacts of COVID-19 on businesses led by women. The UFCE includes 500 women distributed in the regions of Dakar, St Louis, Ziguinchor, and Thiès who are active in all sectors of activity. Today, 46% of these women are in agro-food processing (agriculture, livestock and fish farming), 36% in services, and less than 1% work in laboratories of cosmetic industry. Over 90% of UFCE members are in the formal sector and the rest of the members are accompanied to achieve this.
Date: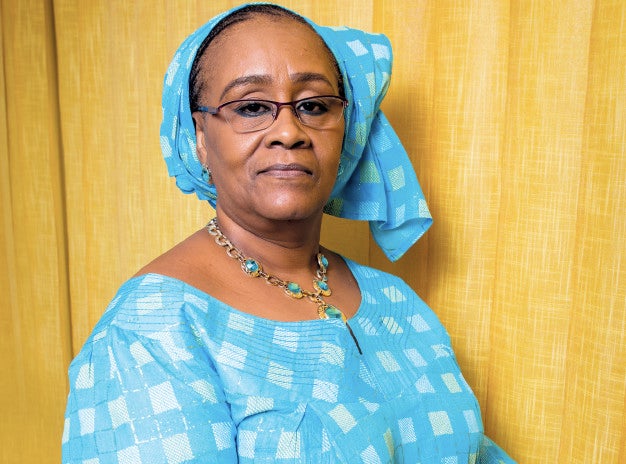 The crisis is hitting members of the Union of Women Entrepreneurs of Senegal
The measures put in place by the State, including physical distancing, the closing of markets, and the prohibition of travel between regions, affect all UFCE companies, whether they are in the field of construction, cosmetics, or training centers. The women most impacted are those who work in catering and tourism, they have indeed seen their activities decrease or be interrupted. In addition, employees who live in neighbouring regions are unable to travel given the government-imposed restriction on movement from region to region. Women working in food processing are also severely impacted. "There has been a 60% drop in turnover in the processing sector since March. Some companies tell us that if this situation continues until June, they will be forced to close," says Nicole Gakou.
Problems to access finance
Faced with this new reality, Ms. Gakou explains that women face difficulties in accessing bank loans: "Sometimes we don't have information, we don't know who to contact." In view of this situation, women are forced to use their savings. This is made even more difficult because of the responsibility they have towards their families, employees and children. The crisis affects everyone, from producers to customers who themselves are no longer able to pay for orders. Ms. Gakou explains that importers in the processing sector are also impacted: "customers don't pay, so we can't pay suppliers and we can't buy inputs".
Digital tool, one of the coping strategies of women
Preventive measures, including physical distancing, have affected the way businesses are run. "Many of us turn to IT/digital tools to manage and continue our business," says Ms. Gakou. Thus, through the establishment of e-commerce, Facebook page, site creation or online sales, some women managers or entrepreneurs continue to manage their business remotely. The UFCE is already preparing for the post-COVID-19 period, in particular through online training on the creation of websites and online shops to assist members who would like to use the digital tool.
Recovery measures adapted to the needs of women-led businesses, a demand from the sector
Despite the economic measures put in place by the government, Ms. Gakou explains that the various supports announced do not specifically target women entrepreneurs/business leaders. Indeed, if a guarantee fund of 200 million FCFA was created to access a bank credit, "you should know that our members are more in decentralized financial systems than in banks. This means that you have to be structured, have employees, be clearly identified in order to access these funds ". However, women often do not have access to information, do not know how to put together a file, or who to contact for help. Ms. Gakou deplores a lack of specific regard for women, in all sectors combined.
Support of the Union of Women Entrepreneurs of Senegal to its Members
To help women entrepreneurs/business leaders to overcome the effects of the crisis, the UFCE is working with the government, notably the Ministry of Women. As part of this collaboration, the UFCE hopes that the Ministry of Women will support women entrepreneurs/business leaders in the identification of existing stocks and that the State will buy them to allow women to have economic support.
Women entrepreneurs/business leaders also face a lot of social and professional pressures causing significant stress. Faced with these realities, the UFCE organizes webinars, in particular on crisis management, on stress related to the crisis, the anticipatory measures to be taken after COVID-19, but also discussions around companies that will have to think to reinvent themselves by changing their sector of activity after the crisis.
The Union of Women Business Managers (UFCE) of Senegal was created in 2007 with the objectives of promoting the development of female entrepreneurship and developing female leadership in order to bring out employers.
The UFCE offers training and educates its members on business management procedures such as: financial traceability, knowledge of suppliers and establishment of the company's dashboard.