Womens Peace and Humanitarian Fund Call for Proposal
Call for Proposals Regular Funding Cycle
Date:
About the Women's Peace and Humanitarian Fund (WPHF)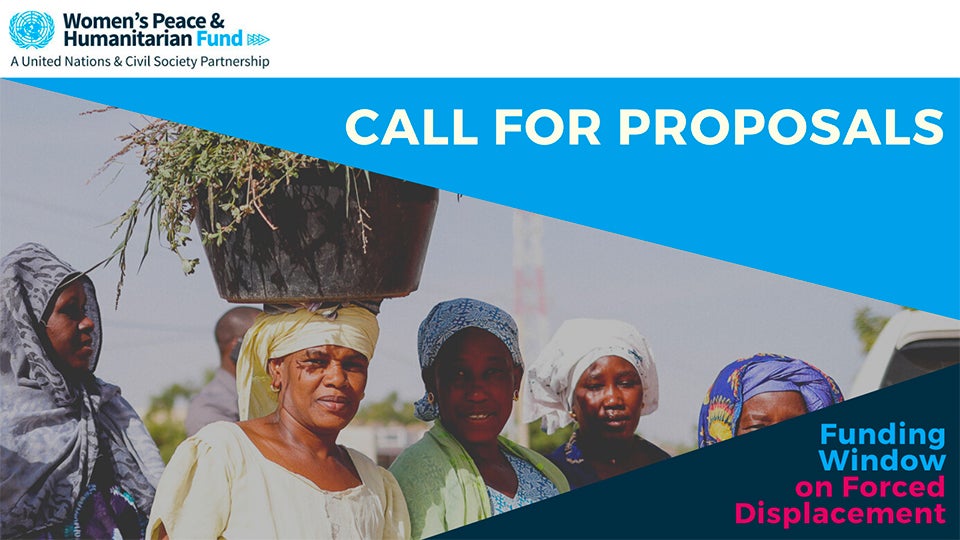 Composed of representatives from donors, United Nations entities, and civil society organizations, the WPHF is a global pooled funding mechanism which aims to re-energize action and stimulate a significant increase in financing for women's participation, leadership, and empowerment in peace and security processes and humanitarian response. The WPHF is a flexible and rapid financing mechanism. It supports quality interventions designed to enhance the capacity of local women to prevent conflict, respond to crises and emergencies, and seize key peacebuilding opportunities.
The WPHF breaks silos between humanitarian, peace, security, and development finance by investing in enhancing women's engagement, leadership, and empowerment across all phases of crisis, peace and security, and development. It addresses structural funding gaps for women's participation in key phases of crisis, peace and security, and development by improving the timeliness, predictability and flexibility of international assistance. Notably, it will ensure a timely investment in conflict prevention after receipt of early warning signals from women and will accelerate the dispersal of development assistance after successful peace negotiations. It recognizes that peace cannot be created nor sustained without investment in civil society organizations. Therefore, the WPHF invests in strengthening civil society organizations, particularly in grassroots women's organizations, with the required financial and technical support.
The overall goal of the WPHF's theory of change is to contribute to peaceful and gender equal societies. Achievement of this goal will require that women are empowered to participate in, contribute to, and benefit from conflict prevention, crisis response, peacebuilding, and recovery. Since its launch in 2016, WPHF has been supporting over 200 civil society organizations and is present in 20 countries or group of countries.
The WPHF is governed by a Funding Board at the global level, which is comprised of four UN entities (currently UN Women, UNDP, UNFPA and PBSO), four donor Member States (currently Germany, the Netherlands, the European Commission and Canada), as well as 4 Civil Society Organizations (currently International Civil Society Action Network on women's rights, peace and security (ICAN), Global Partnership for the Prevention of Armed Conflict (GPPAC), Transitional Justice Institute and Women Enabled International).
UN Women acts as the WPHF's Technical Secretariat at the global level. UN Women also acts as the Management Entity for civil society organizations where UN Women has a country presence.
Click here to access the call for proposals
Here are helpful supporting documents that you might benefit from when preparing their applications
Click to access the proposal templates here and here
Click to access the indicator tip sheet