Press Release - WEPs with Azura Power
Date:
Azura Power has adopted the United Nations Women's Empowerment Principles (WEPs) as part of its commitment to promoting gender equality and women's empowerment in the workplace, marketplace, and community. As a power company that develops, finances, acquires, and operates independent power plants across Africa, Azura Power provides electricity to millions of people in the continent and invest in communities to have a positive and sustainable social impact.
The company's CEO, Alan Muir, signed the Principles on November 25th, 2020. CEO, Alan Muir, said: "This is important to Azura as we already espouse these values as a company, but we can do and will do more as well as publicly reporting on our progress."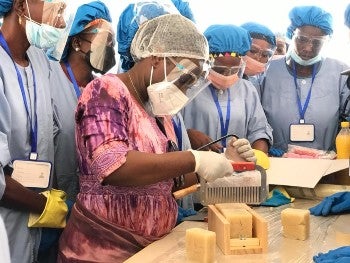 It will be through Tobene Power, representing Azura Power in Taïba Ndiaye, Senegal, that the WEPs' adoption will be fully implemented. To date, Tobene Power contributes to 10% of Senegal's electricity generation capacity.
Jointly established by the UN Global Compact and UN Women, the WEPs are underpinned by international labour standards and human rights and by the recognition that businesses have an important role in promoting gender equality and women's empowerment. Adopting the seven principles is the best way that businesses can deliver on the ambitions for gender equality and women's empowerment as outlined in the 2030 Agenda on Sustainable Development and in the 17 SDGs.
Aware that the involvement of women is essential in this fight and the importance of creating income generating activities to the vulnerable during this pandemic, Tobene Power has become the first WEPS signatory in Senegal during the COVID-19 pandemic. As part of its commitment to empowering women Tobene Power, with the technical support of UN Women, has undertaken an initiative to strengthen women's livelihoods in communities and facilitate general hygiene practices. An inclusive group of women have been trained in soap making, using local raw materials. To allow a structured management of their activities and facilitate their development, Tobene Power also supported the women in setting up an economic interest group (GIE) named "Thiossane". The second phase of this project will involve the training and production of cosmetic oils.
Discover more through Tobene Power website.