Climate Resilience, Women's Leadership and Empowerment Key to Development
Date:
Baidoa – How can Somali women and girls be further empowered to face the social and economic challenges they face?
One way is to promote climate-resilient agriculture to reduce poverty, hunger and promote sustainable livelihoods for women. This is the aim of a newly launched project, co-designed and implemented by UN Women Somalia, the Southwest State Ministry of Women, Family Affairs and Human Rights Development, and the Ministry of Agriculture and Irrigation. The project will be replicated in Jubaland as well.
"Women are more vulnerable to the effects of climate change than men, so providing women with opportunities will help to overcome the risks posed by climate change, and will alleviate some of the social, economic and political barriers to achieving sustainable livelihoods," said Sadiq Syed, Country Programme Manager of UN Women Somalia.
Aptly named "Women's Leadership, Empowerment, Access and Protection" (LEAP), the project promotes gender-responsive mechanisms for the economic recovery of conflict-affected populations. It will directly benefit 3,440 women - mainly internally displaced persons (IDPs) and women at risk in host communities - in Baidoa (Southwest) and Kismayo (Jubaland), by strengthening their resilience and coping skills. Of the target beneficiaries, 1,000 women will benefit directly from the establishment of ten Village Savings and Loan Associations (VSLAs). An estimated 3,000 people – most of them women, youth, and persons with disabilities – will indirectly benefit from the programme through media outreach and community dialogue. The project will also help generate evidence through a study that will assess existing business opportunities for women in Jubaland and Southwest State.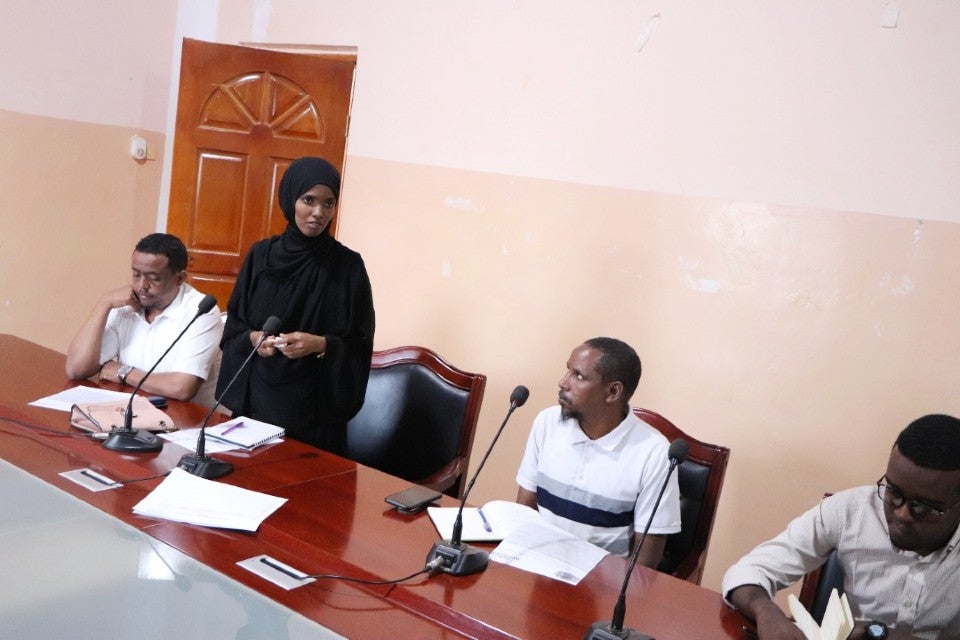 During the launch ceremony, Asma Mohamed Isak, acting Director General of the Southwest Ministry of Women, Family Affairs and Human Rights Development, hailed the partnership with UN Women and the implementation of the LEAP project, which is funded by the Government of Japan.
"It is vital to prevent harmful practices against women and girls and create an environment where women can participate in finding solutions for issues affecting their lives by promoting sustainable livelihoods for women," Ms. Isak noted.
Abdifatah Adan, acting Director General of the Southwest Ministry of Agriculture and Irrigation, thanked the implementing partners for the initiative to support IDPs' and host communities' resilience.
"This is a big step forward for the women and girls in Baidoa, and the programme will strengthen their leadership capacity and improve access to business opportunities and gender responsive resilience, Mr. Adan added.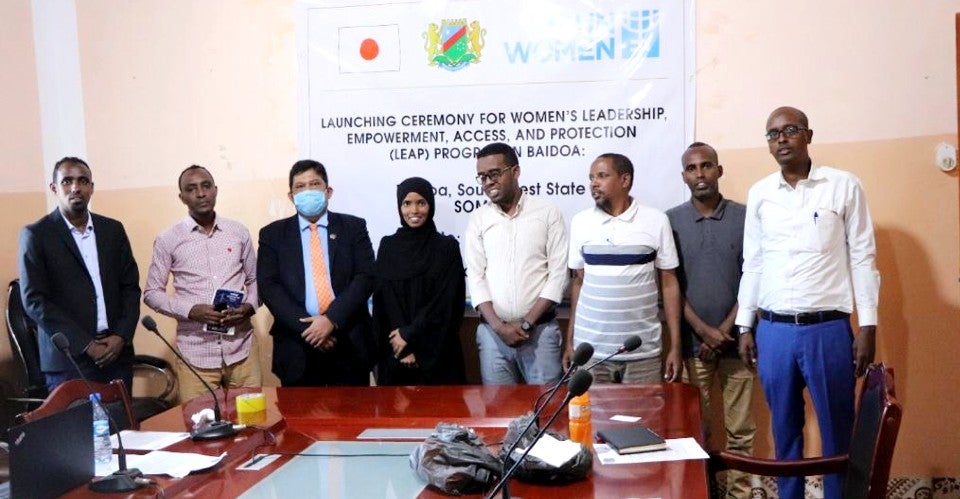 Development partners present at the LEAP project launch, Abdulkadir Mohamed Bulle from Danish Refugee Council (DRC), Abdinasir Aden from Gargaar Relief Development Organization (GREDO) and Adan Mohamd Yusuf from ISHA Human Rights, also noted that the project would encourage and reinforce women's participation in the decision-making processes at the community level.