Kenya's platform for action revealed ahead of Generation Equality Forum
Date:
Kenyan President announces a series of commitments to accelerate national efforts to end gender-based violence and female genital mutilation in a new policy brief.
As a global co-leader of Generation Equality's Action Coalition to end gender-based violence (GBV), Kenya's President Uhuru Kenyatta unveiled the country's plans to end of gender-based violence by 2026. At an event co-hosted by UN Women and the Government of Kenya, a series of commitments have been formulated into the policy brief "Kenya's Roadmap to advancing gender equality, ending all forms of gender-based violence and female genital mutilation by 2026." The brief contains 12 commitments under four areas for concerted action, aligning with the global blueprint for Generation Equality's Action Coalition on Gender-Based Violence.
The strategy is backed by a significant increase in funding, dedicating US$23 million by 2022, increasing to US$50 million by 2026. President Kenyatta cited the spike in gender-based violence during the country's lockdown as evidence to act now:
"Last year, as part of our COVID-19 response efforts, I directed the National Crime and Research Centre to investigate gender-based violence in the country. The resultant survey established that cases of gender-based violence had increased by 92 % from the previous year. This is now a national crisis that we must urgently address."
To strengthen national policy frameworks on GBV programming, the brief also signals funding towards gender-based research and the introduction of a module on gender-based violence into the country's 2022 Demographic Health Survey – the country's leading source of health-related statistics.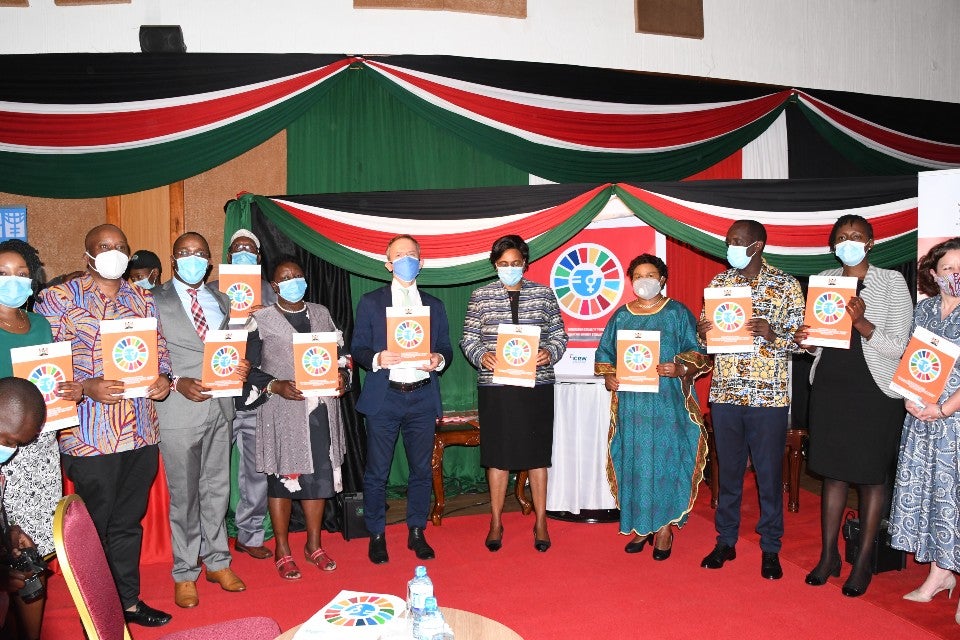 Services for survivors of violence will be integrated into the country's Universal Health Coverage Package by 2022. There will be a drive to ensure GBV recovery and shelters in all Kenya's 47 counties by 2026.
Beyond funding and service, commitments also include ratifying and implementing the ILO Convention 190 on gender-based violence and harassment in the workplace; and dedicating a module on GBV data in the country's 2021/2022 Demographic Health Survey. These commitments reflect the overall scale-up of and strengthening of an enabling policy environment to eliminate GBV.
One in five girls in Kenya has undergone female genital mutilation (FGM) and the event recognised 22 youth activists who have been leading the country's fight against FGM across the country. Rebeccah Batwesi, 27, was one of those recognised for her work in Western Kenya. Last year she established a community-based organisation called 'Save a Child Initiative' in South Mugirango, 300km west of Nairobi.
"This area is a hotspot for FGM, the perpetrators are usually retired nurses. We are rescuing girls from FGM and sexual violence. We take them to a safe house where they can receive psychosocial therapy. So far, we have rescued thirty-five girls from FGM. There is one safe house that serves a community with a population of 60,000 people. We need to raise awareness in the community, and we need the government to provide more security, services and increase survivors' access to justice."
UN Women Executive Director Phumzile Mlambo-Ngcuka welcomed Kenya's leadership at the event stating:
"It is now 26 years since the landmark Fourth World Conference on Women in Beijing. Generation Equality is accelerating the Beijing Platform for Action, the Sustainable Development Goals and building back better from the ravages of COVID-19. Progress has been made, but public rhetoric on gender equality has not been matched either by action or by funding…Yet today, Kenya has responded to the call to action. Kenya partners with member states Iceland, the United Kingdom and Uruguay to head Generation Equality's Action Coalition to end gender-based violence."
The momentum of Generation Equality will continue to Paris, France where member states, women's rights organizations, civil society, and the United Nations will share their commitments with one voice, for the first time globally.
Read more about Kenya's commitments to end gender-based violence.
The Generation Equality Forum taking place in Paris from 30 June to 2 July will see world leaders and activists coming together to make game-changing commitments under six Action Coalitions and the Generation Equality Compact on Women, Peace and Security and Humanitarian Action. These global, multi-stakeholder partnerships will create impact for women and girls everywhere through catalytic initiatives and investments to bridge the most critical and persistent gender equality gaps.