UN Women integrates digital technologies into women's economic empowerment programmes
UN Women integrates digital technologies into women's economic empowerment programmes
Date: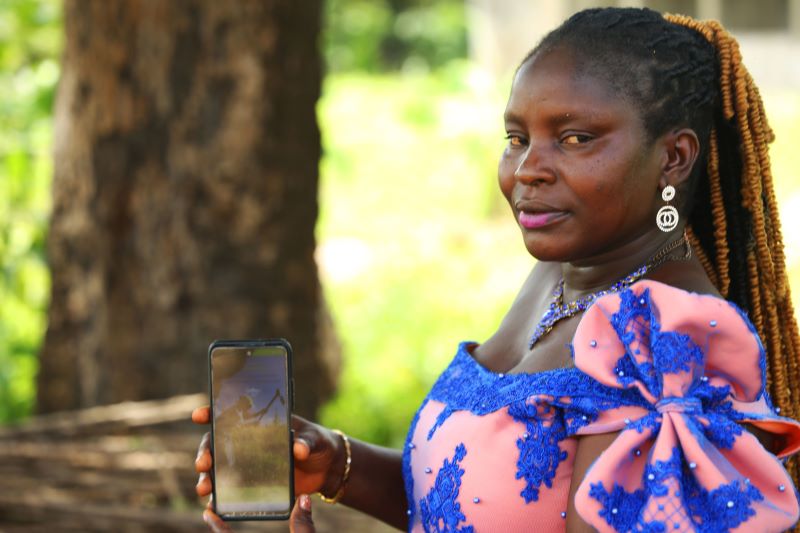 In Liberia, UN Women is collaborating with Orange Foundation and the Government to economically empower women through digital innovations and technology to promote gender equality.
Empowerment programs being implemented by UN Women include digital literacy training for women to be 'Orange' mobile money agents. More than 70 women have gained employment with Orange as agents, and 700 more are using and managing mobile money accounts following capacity-building training conducted in 2022. 
The training programs are set to benefit women in both rural and urban areas. Rural women are attending digital literacy classes at the two women's digital centres that were established at the Totota Peace Hut and the Gboinyee Tarr Town Peace Hut. 
"At the digital centres, women are trained to use devices such as computers and tablets to access information, finances and market links. UN Women is working with Orange Foundation to build the capacity of women entrepreneurs to leverage social media to advertise and market their products. Women are also taught literacy, numeracy, business skills and other women's economic empowerment programs," explains Ramon Garway, Women Economic Empowerment Program Manager for UN Women Liberia. 
UN Women and Orange Foundation are also piloting the 'Buy from women' innovative digital program, that is aimed at connecting women producers to climate smart and disaster risk reduction information, digital financial services and markets. At least 1,200 rural women in Liberia are set to benefit from the innovative women's digital inclusion project.
In addition, UN Women has adopted innovative means of providing extension and advisory services to rural farmers by using social media platforms such as WhatsApp to deploy knowledge products and provide technical assistance to more than 800 women and youth farmers through various farming cooperatives.
While progress is being made in using innovation and technology to empower women, some challenges exist. Most rural women are still uncomfortable using mobile money or banking services because of perception issues. 
"A typical rural woman feels more secure tying her money on a cloth than having it in her phone because she thinks she will lose her money if her phone goes missing. We are advising them that if one loses their phone, she can go back to retrieve the sim card and recover her money. A lot needs to be done to correct the misconceptions and change the norms, attitudes and behaviours.
"The majority of rural women are uncomfortable using mobile phones because of high levels of digital illiteracy. They prefer traditional approaches to access skills training, like teaching them how to read and write from a blackboard and having a training workshop and writing on a blackboard or writing on flipcharts, than actually using new technologies.
"The other challenge is that internet access is not widely available in rural areas. Literacy levels are also low; some women cannot read and write. We are encouraging women who want to get into the technology sector to complete at least two levels of literacy and numerous skills classes before they start considering joining technology classes," says Mr. Garway.
However, the benefits of using technology outweigh the disadvantages. There is need to scale up the pilot interventions being supported by UN Women so that more women can be reached and there is more meaningful impact. 
As we celebrate women's month under the global theme, 'DigitAll: Innovation and technology for gender equality and the national theme, 'Innovating with technology to promote gender equality,' we applaud women and girls in Liberia who are using innovation and technology to promote gender equality.