UN Women organized Graduation ceremony accompanied with start-up kits for 130 tailoring and ICT beneficiaries from 14-23 September 2021
Date: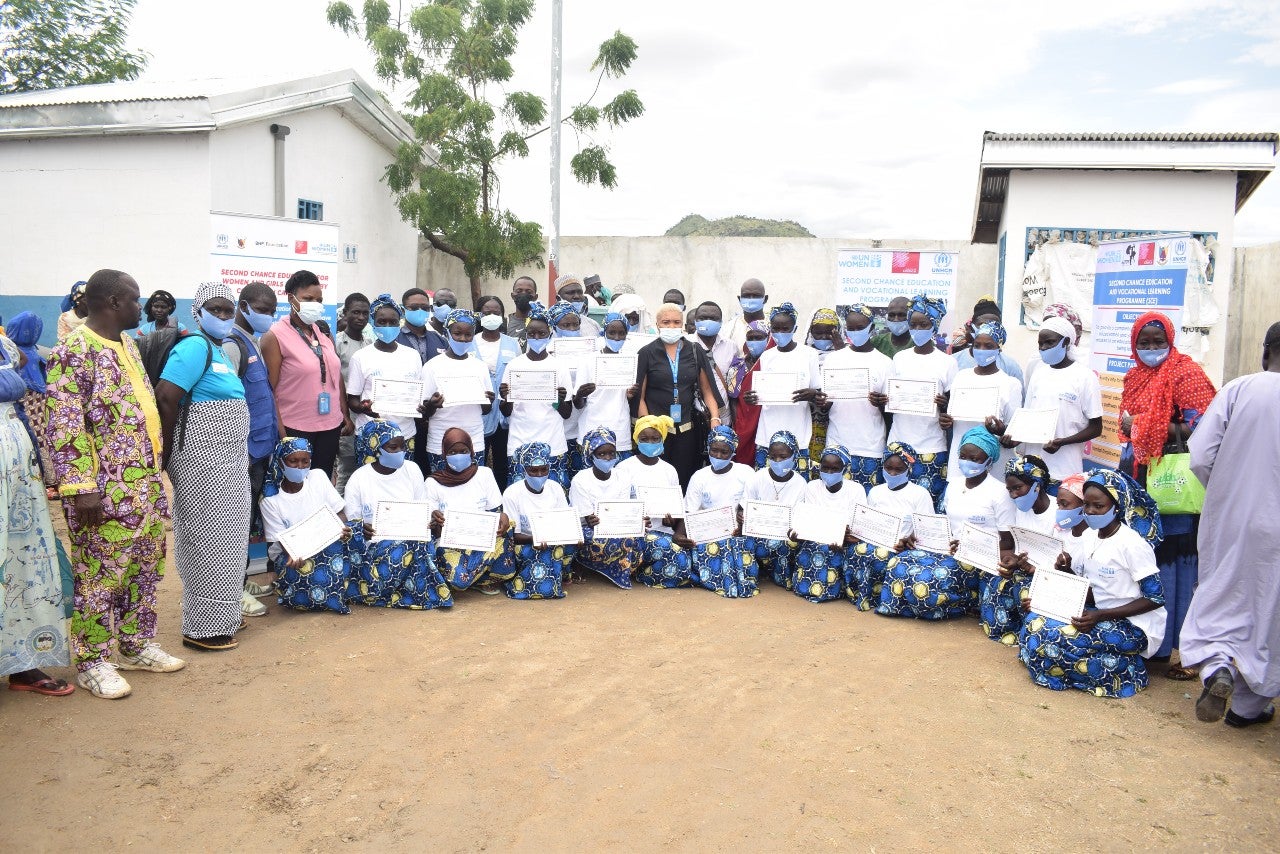 East, Adamawa and Far North from the 14 to the 23 of September 2021.
UN Women under the Canopy of Second Chance and Vocational Learning Project (SCE) with financial support from UNHCR up-scaled SCE project activities and equipped Nine Women's Empowerment Centers to facilitate training of women. Amongst the upscaling activities was the graduation ceremony for 130 beneficiaries who participated in tailoring and ITC training for a period of 10 months. Their graduation ceremony was accompanied with start-up kits (computers and sewing machines) to enable them to start their own businesses, become self-employed and autonomous. 
As solutions to the difficulties and barriers hindering participation of women with young babies in SCE activities, 4 training centers were equipped with contextualized daycare facilities that would take of children and enable their mothers to participate freely in trainings. Culturally appropriate dignity kits were also distributed to 200 prioritized vulnerable women (pregnant women and nursing mothers composed of 130 refugees and 70 IDPs (Internal Displaced persons) to restore their dignity and improve their health and safety. Considering that the execution of the project is happening amid COVID, prevention actions could not be avoided. In addition to the COVID sensitization images boxes available in training centers for awareness raising, 2000 people in all project sites received customized facemasks while 07 training centers received handwashing buckets, liquid soaps, thermos flash and customized facemasks for COVID prevention. 
UN Women Cameroon, located behind the Residency of the Nigerian High Commissioner in Cameroon, BP: 836-Yaounde 
Communication Focal point: Ms. Nelly KAMDEM, Email: nelly.kamdem@unwomen.org/Tel.: 658 02 89 40