Bridging the Gender Digital Divide in Africa: UN Women Rwanda connects youth with policy influencers, private sector, and government to discuss gender biases and more involvement in STEM fields
Date: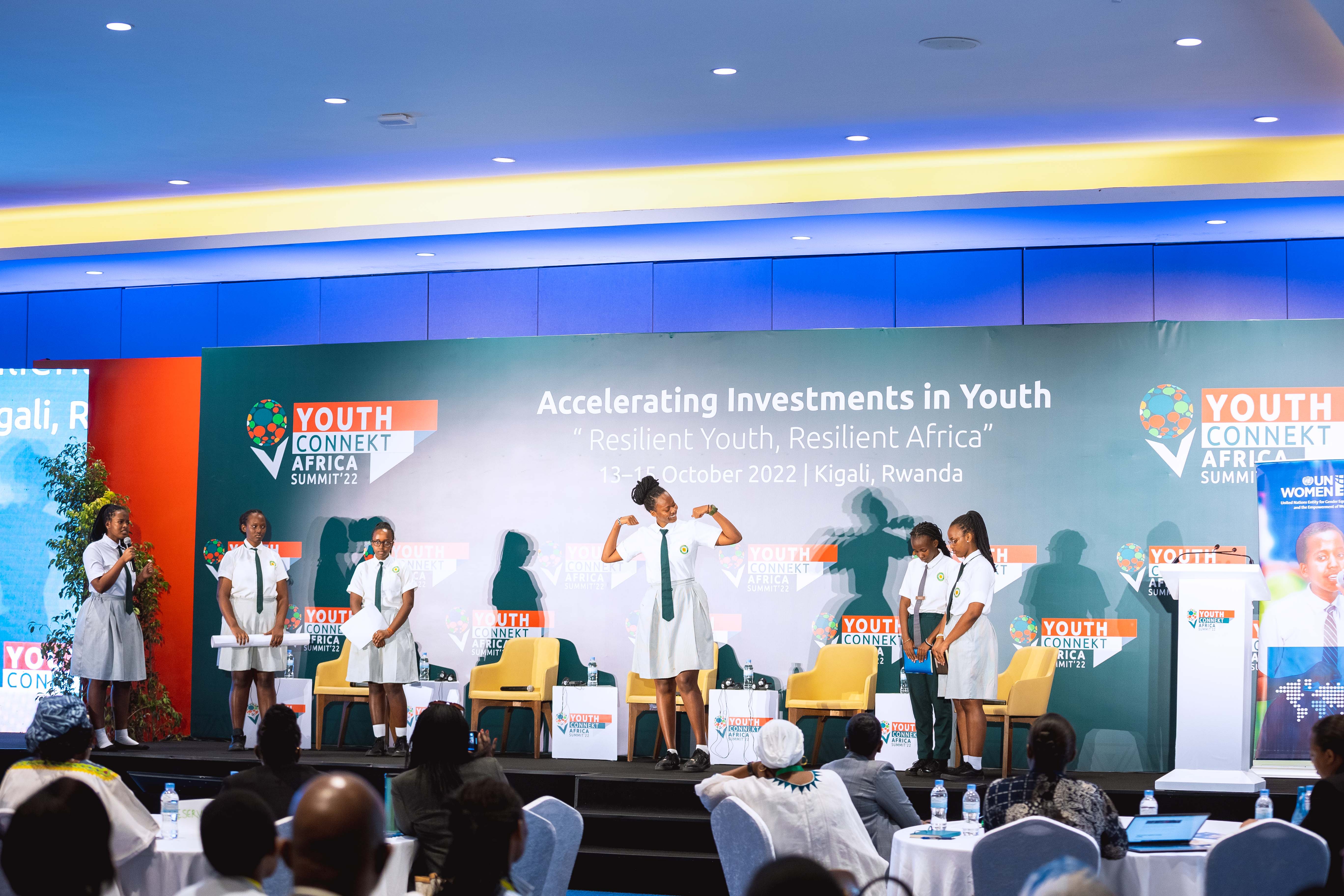 The UN Women's Connekted Girls Hub inspired hope in thousands of young women and girls that convened at the just concluded YouthConnekt Africa summit in Kigali, Rwanda. With their heads held high, the young women and girls from universities and high schools left in high spirits from discussions and assurances from women leaders who shared experiences from their leadership journeys and discussed inclusive solutions and ways to bridge the gender digital divide. The Connekted Girls Hub is a platform where ideas are born, and partnerships strengthened to advance the rights and opportunities of women and girls in influencing the economic development peace agenda across Africa.
Following the successful organization of the 2018 and 2019 Connekted Girls Hub editions, the 2022 parallel session was timely, with a focus on bridging Africa's gender digital divide, and laying out both constraints and probable solutions for generations to come. This brought a specific gender perspective to the summit and provided a platform to partners, young women and girls from 30 African countries including high school students from the Forum for African Women Educationalists (FAWE), Gashora Girls school, Greenhills Academy, SheCode, Dot ambassadors, among others.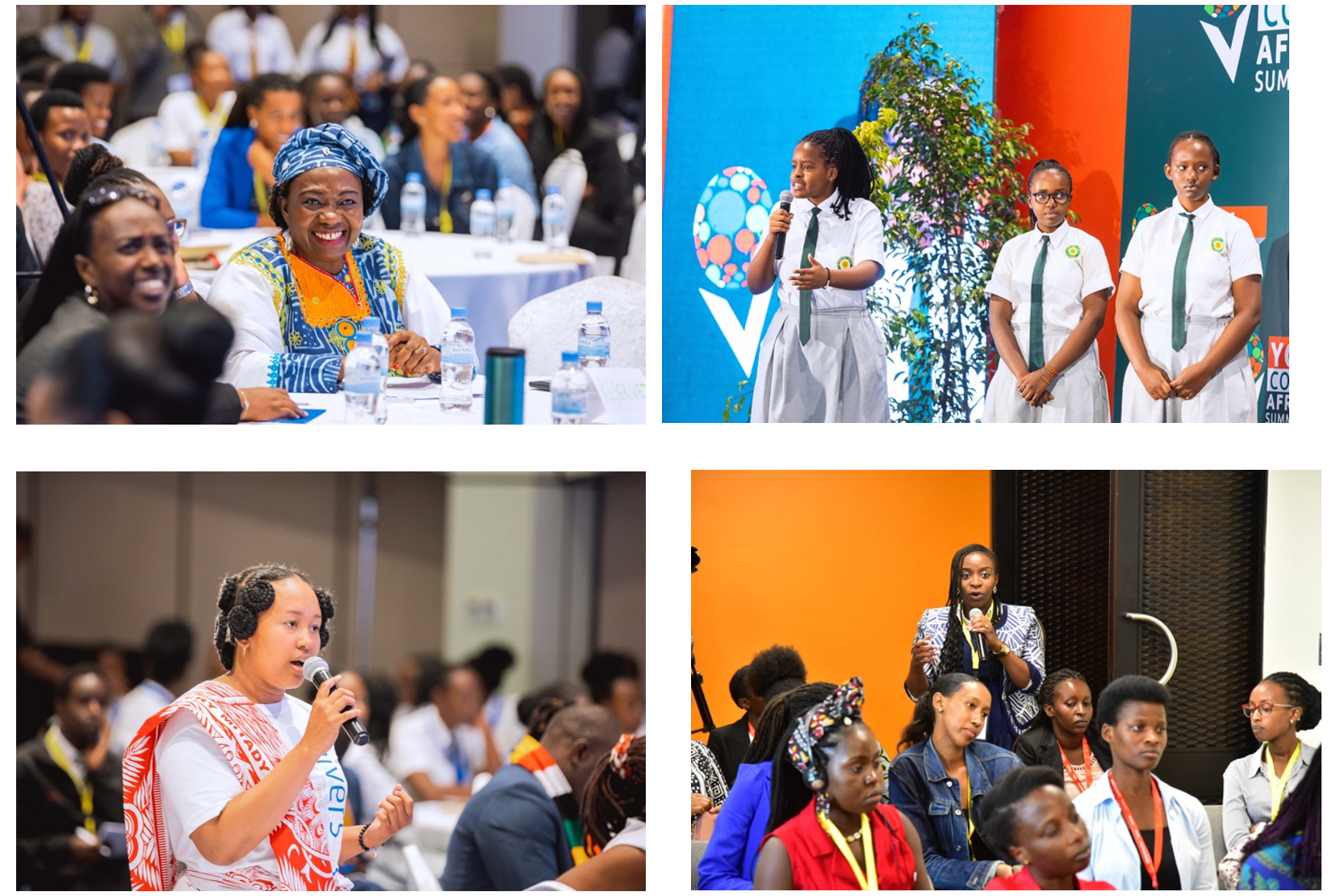 Globally, women make up 28.4 per cent of the workforce engaged in science, technology, engineering, and mathematics (STEM) and only 30 per cent on average in sub-Saharan Africa.
More so, more men are more likely to go online, own a mobile phone, own a smartphone, and use social media websites. These are all lost opportunities for most women. This gender digital divide was also exacerbated by the COVID-19 crisis.
In Rwanda, the proportion of women aged 15-49 years who own a telephone stand at 48 per cent compared to 62per cent of men. These proportions vary according to area of residence with women living in urban areas who own smartphones: 76per cent against 41per cent for their counterparts living in rural areas, while for men, it varies from 81per cent for those living in urban areas against 57per cent for those living in rural areas (DHS 2020).
Governments and partners are adopting women's empowerment and specific girl's education policies. Despite significant efforts in inspiring and engaging girls and women in STEM, they continue to face unique barriers that affect their access, completion and job retention rates including social, cultural norms and stereotypes about girls in STEM; limited awareness; lack of STEM talent detection frameworks; limited access to role models and career guidance; inconsistent support; legal gender discrimination systems; and gender-based violence.
Today, world economies are depending on new technologies where innovations are backed by STEM, such as in manufacturing, food production, health care, governments' service delivery through automation, business through E-commerce to name a few. STEM is a key driver of the fourth industrial revolution expected to trigger value addition and sustained growth in developing and developed countries alike.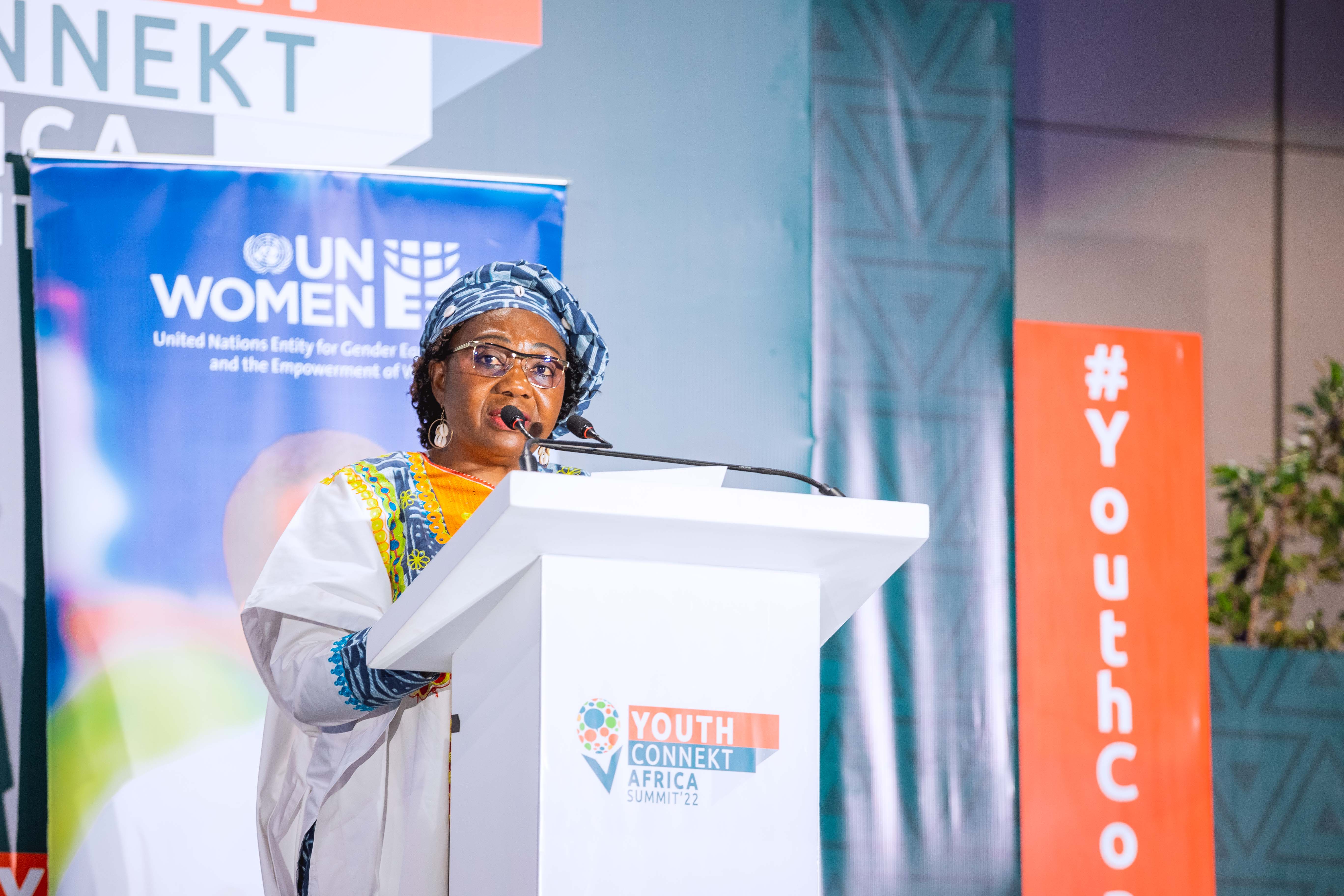 "As the youth are saying, nothing about us, without us," said Jennet Kem, UN Women Representative in Rwanda, as she opened the session with a call to stakeholders and partners to ensure the youth are involved in the decision-making process. She added that collectively, stakeholders must identify and address fundamental barriers and work with the youth to design and implement the solution, not impose on them.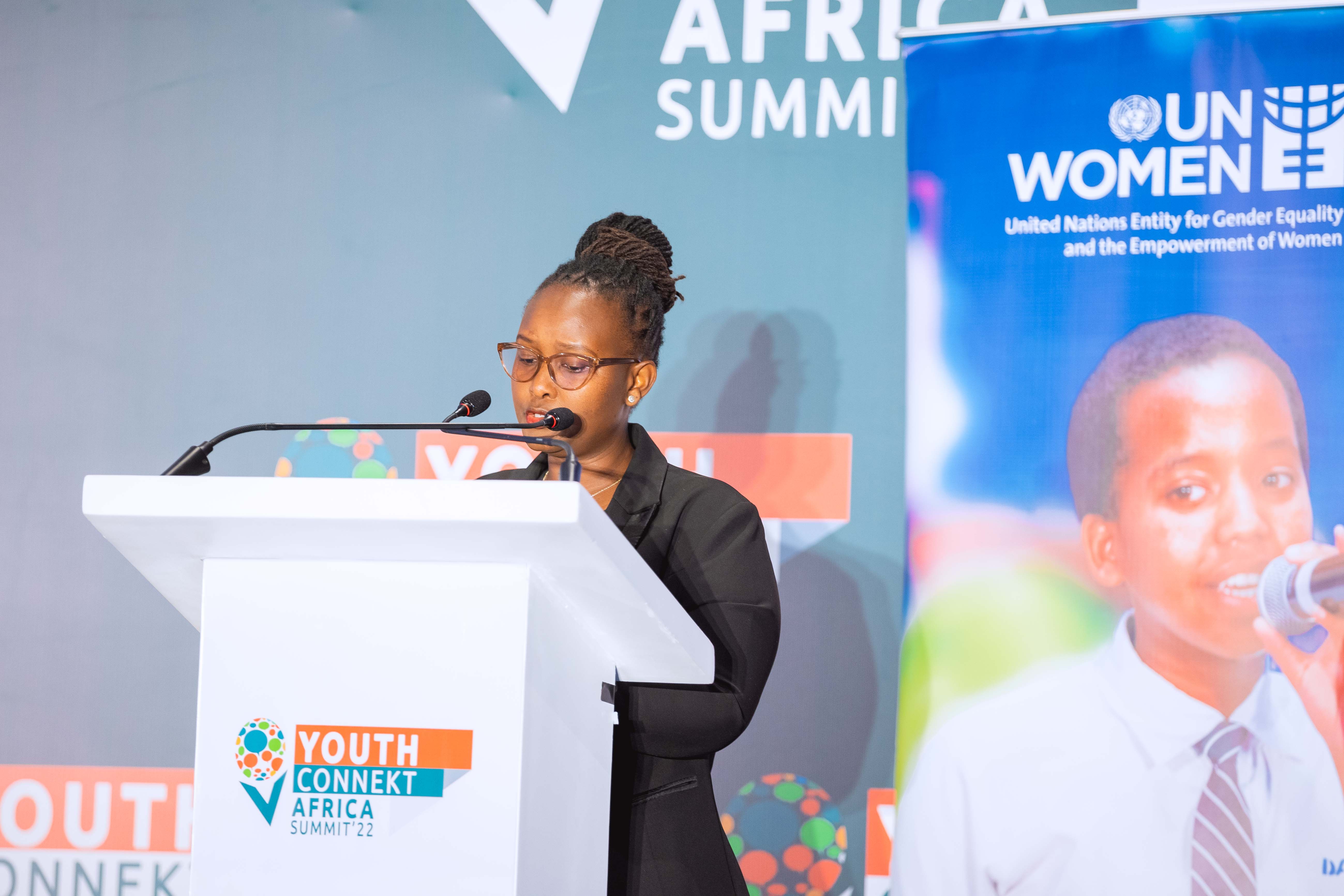 Mireille Batamuliza,Permanent Secretary speaking on behalf of the Ministry of Gender and Family Promotion (MIGEPROF) applauded the work of UN Women over the years, providing platforms like the 'Connekted Girls Hub' to discuss persisting challenges that limit girls to join STEM careers, saying that the 'Connekted Girls Hub' is part of an intentional effort to create a space for stakeholder networking, reflection and learning beyond the overarching priority of STEM.
"As the Ministry of Gender and Family Promotion, we remain connected to put the gender and digitization agenda at the heart of the work we do and will continue to strengthen inter-sectoral collaborations to drive robust, institutionalized, and sustainable efforts by the Government of Rwanda. We value partnerships and will strive to strengthen our collaboration to end inequalities comprehensively and achieve gender equality and women's empowerment at all levels in the country," said Ms. Batamuliza.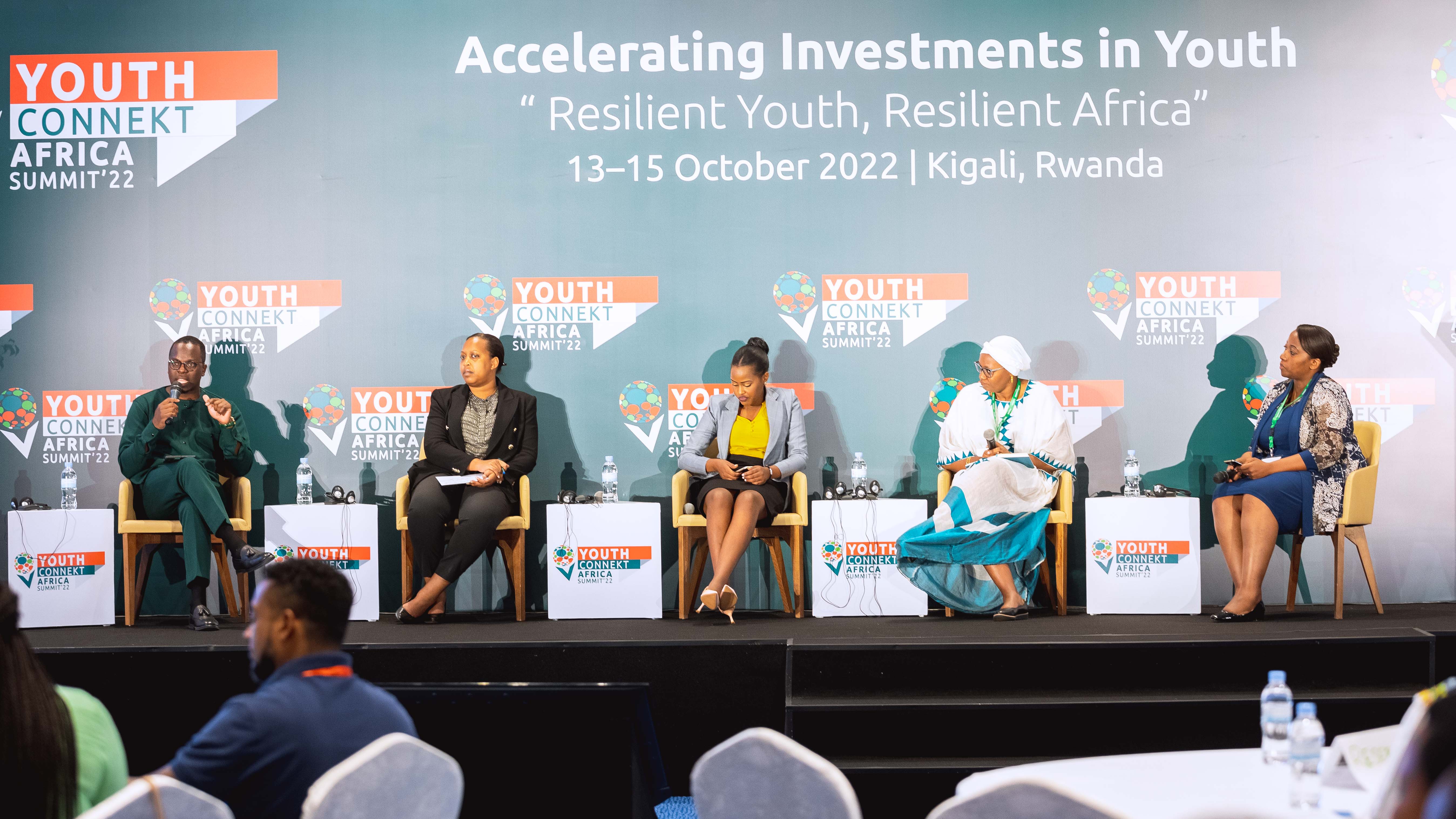 A panel session titled "Sparking the Her-Volution in STEM: What it takes" which comprised of experienced and inspirational speakers from different industries generated a debate on fostering girls' inclusion in the digital economy and addressed ingrained stereotypes and social norms that limit the girl's ability to benefit from the opportunities offered by the digital transformation. Moderating the panel was global moderator and former BBC broadcaster Georgie Ndirangu.
Kampeta Pitchette Sayinzoga, CEO of Development Bank of Rwanda Plc, gave a background story of her journey as a 29-year-old working in the government, and how she broke the bias – an inspiration to young girls on the age factor when it comes to occupying noteworthy positions in society. She said that the gender bias is that society has taught us that there's always a reason as to why a woman makes it to the top. "There's always an excuse as to why you got a seat at the table. If I could talk to my 20-year-old self, I would tell myself not to bother but instead, deliver to the point that your work speaks for you'," said Ms. Pitchette.
Josephine Nyiranzeyimana, Government Chief Information Officer at Rwanda Information Society Authority (RISA) said that breaking the barriers will come from us deciding to do things different, to approach the issues differently. Speaking as a government representative, she acknowledged that the Government of Rwanda is keen on empowering more women and girls to join STEM, however more lifting was needed. "My advice to the youth, look at the different opportunities we have and see how we can better leverage the platforms we have but also, remain relevant", she said.
Nshuti Lucy Mbabazi, Founder of the Girls in ICT and Lead Africa Advocacy at UN's Better Than Cash Alliance has been a cashless society champion and passionate about inspiring more women and girls in STEM. She said that we have a responsibility to ourselves to hold ourselves high in the spaces we are in and to bring more women along. Speaking to the young women in the room, she said "Be an example and speak up for the next woman. The social construct is that women belong in certain parts of the home like kitchens or cannot do heavy lifting or more technical jobs."
"The bias therefore must start to change from the community level", she added.
Cyuzuzo Diane, CEO of AFRIDUINO, a revolutionary tech company that incorporates technology and Rwandan cultural tools reasonated with the young girls, sharing some of the hurdles in the STEM industry as a young CEO in smart technology. Encouraging the girls in the room, Ms. Diane said, "The biases I broke is that I told myself if I can't be a doctor, I will be in tech. To all the young girls in this room, you can break the bias.  
At the tail end of the session, she bravely requested the UN Women Representative in Rwanda to engage her more, saying she would dedicate her time and energy to work with UN Women on ground.
The panel session was followed by an engaging Q&A session with questions ranging from how the respective women broke the biases, to how they rose through the ranks in their STEM careers, and how young people can create a stronger innovation and social enterprise ecosystem in Africa.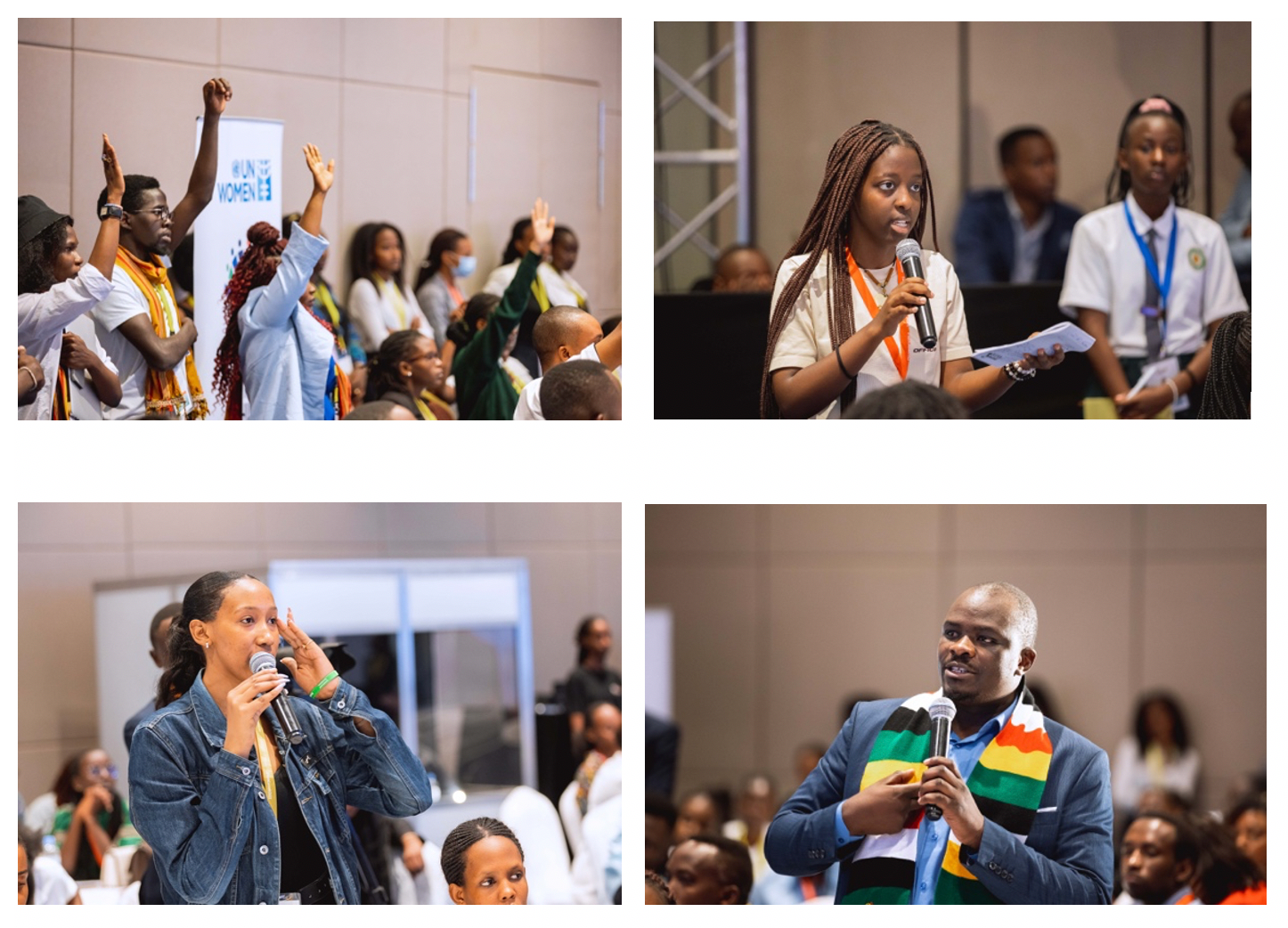 The second session of the Connekted Girls Hub brought together women coders to share their experiences.  Tikikel Tadele Alemu, Regional Liaison Specialist, UN Women provided a broad overview of the initiative and how it is equipping young girls with digital literacy, coding, personal development skills, promoting and supporting girls' entry into the ICT sector and coding.

Born from the countryside with no computer literacy at all, Marie Chantal Niyonkuru shared her testimony of how she was introduced to coding during the African Girls Can Code Initiative(AGCCI) bootcamp in 2018, which greatly influenced her career in STEM. "I can proudly say that the AGCCI Africa is the reason behind who I am today," she added. Now a software developer, Chantal developed several applications including a rewarding system that leverages blockchain technology, bus booking app, doctor appointment system and an e-commerce platform.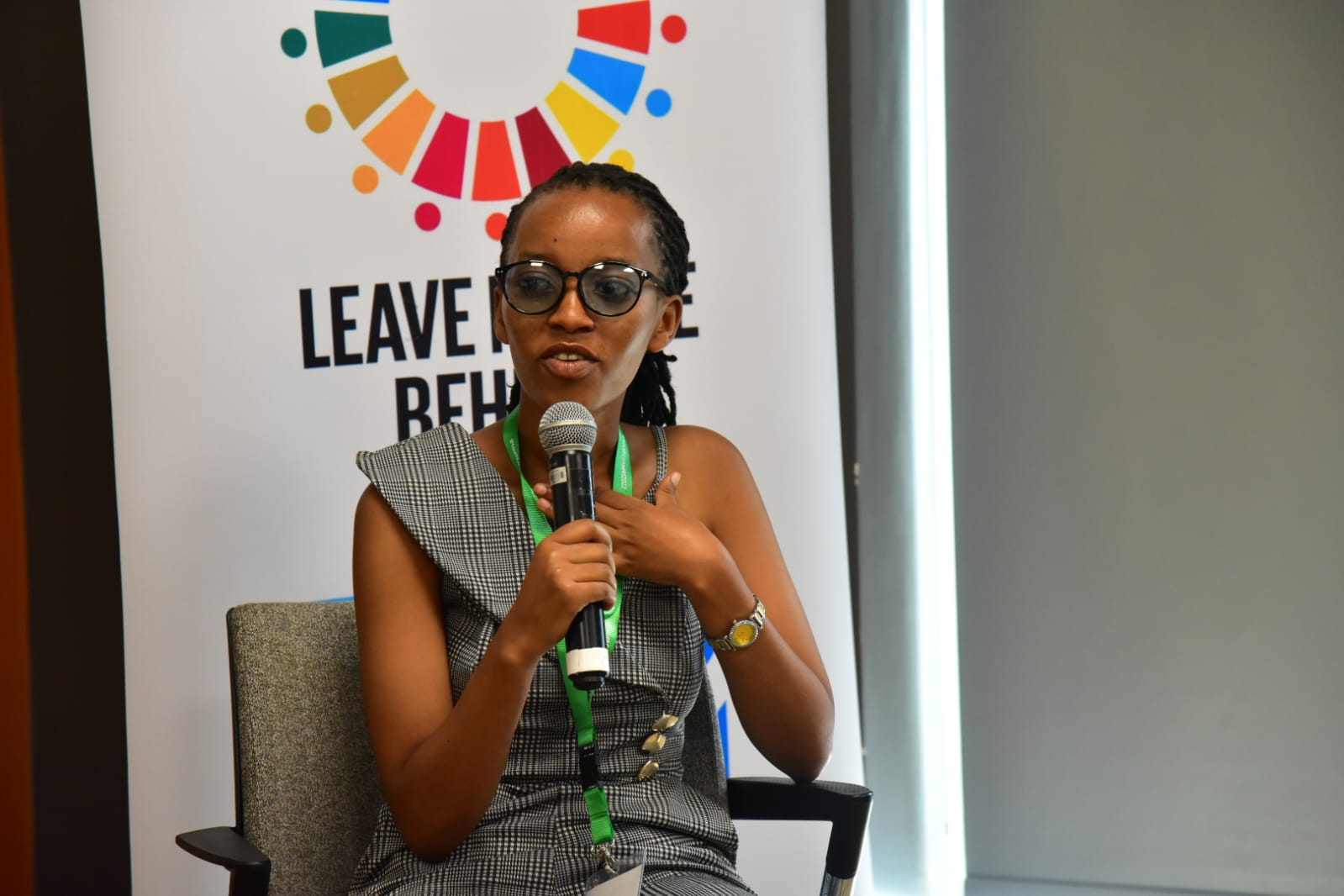 The Connekted Girls Hub wrapped up with a performance from FAWE Rwanda alumni and a vote of thanks from FAWE National Coordinator, Ms. Antonia Mutoroo on behalf of partners who commended UN Women for creating such platforms for women and girls to share experiences to inspire each other.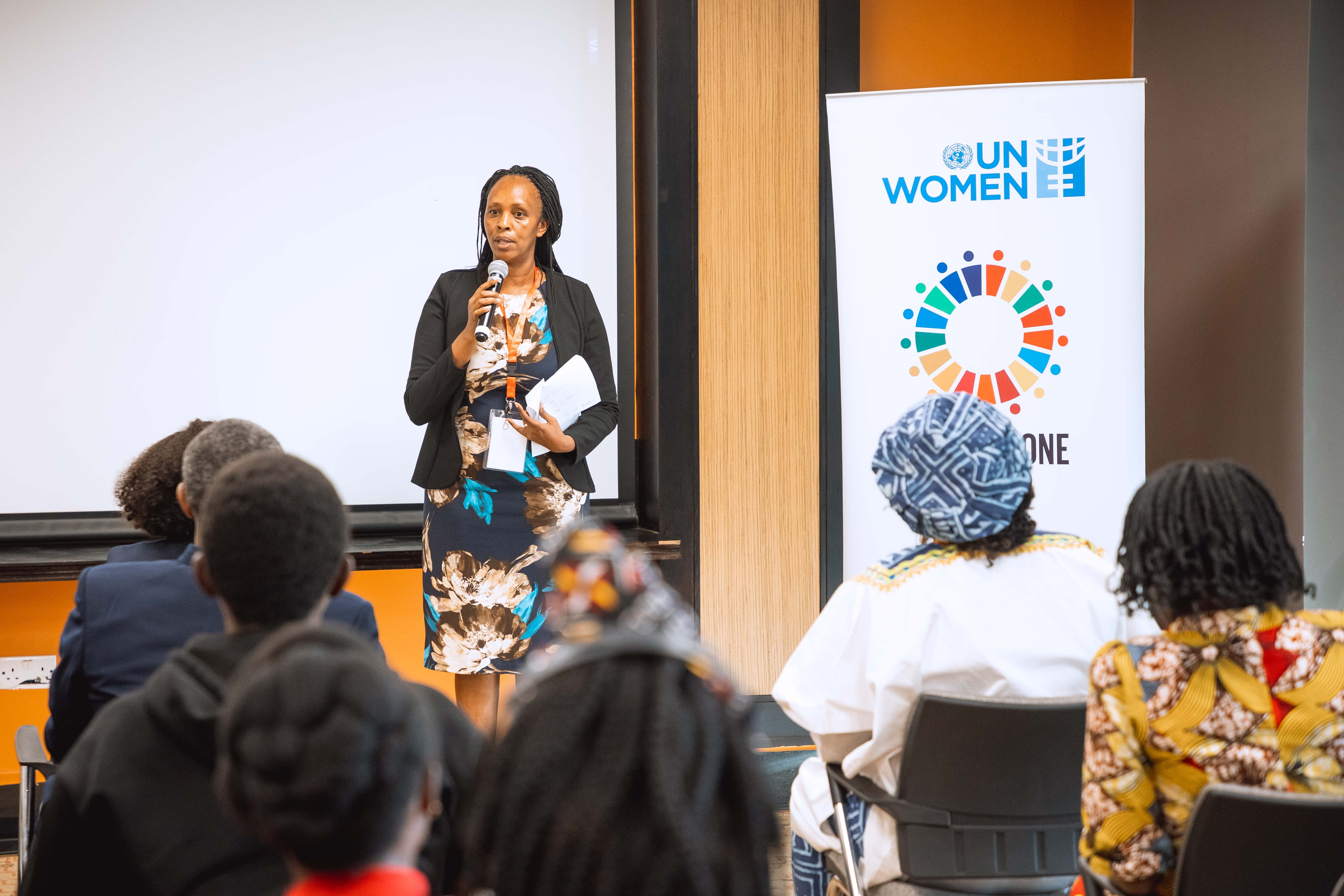 Concluding, the Connekted Girls Hub 2022 edition, Ms. Kem thanked all partners for collaboration and support to make the summit a success. She told the youth to be daring and hardworking because there is no short cut to success. She encouraged them to have the right attitude, be focused and determined.
"Build resilience and never give up at first, second, third or fourth failure," Ms. Kem said.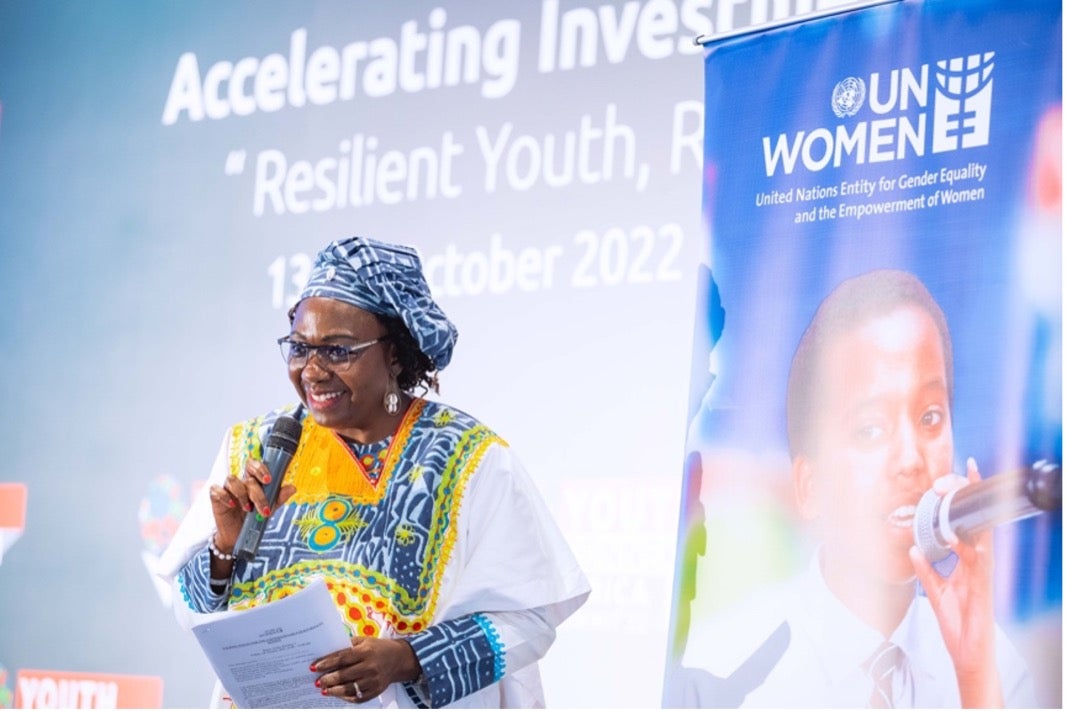 Beyond participation, UN Women joined the Government of Rwanda through the Ministry of Youth and Culture and other partners in organizing this year's YouthConnekt Africa Summit both financially and programmatically, under the theme "Accelerating Investments in Youth: Resilient Youth, Resilient Africa".
The YouthConnekt theme closely aligns with UN Women's new Youth and Gender Equality strategy that seeks to empower young women and young men as partners in achieving gender equality, and aims to 'engender' the youth movement and 'enyouth' the women's movement.