Ten African Women leaders we admire
Women's leadership is at the forefront of unfolding discussions at the UN's largest annual gathering on gender equality and women's empowerment, the 65th session of the UN Commission on the Status of Women, from 15 to 26 March. UN Women brings inspiring voices of women leaders from around the world
Date:
Partly drawn from global website article Women leaders we admire dated: Wednesday, March 10, 2021
Women leaders of today are tenacious and diverse. They are mobilizing the global climate movement, pushing for social protections, addressing the COVID-19 crisis, and dismantling systemic racial discrimination. Across the continent, women leaders improve lives and inspire a better future for all.
Yet, equality is still far off, and progress on women's participation in decision-making is too slow. Too many people still believe men make natural and better leaders than women, too many institutions are set up to favour and propel men's leadership, and funding for women's campaigns and initiatives remain pitifully low. At the current rate of progress, it will take 130 years to reach gender equality in the highest positions of power.
To change course, power must be shared equally, made visible and accountable, at all levels, and that is what's at the core of feminist leadership.
Leading with feminist principles means redefining value and success, sharing power and credit, building community and relationships, and, ultimately, tackling the roots of oppressive structures and social norms that hold back progress for all people, including women and girls.
We need transformative feminist leadership to face the unprecedented challenges of our times. Here are just 10 African women leaders among many, many others, who inspire us, and this is what they have to say about feminist leadership.
Damilola Odufuwa and Odunayo Eweniyi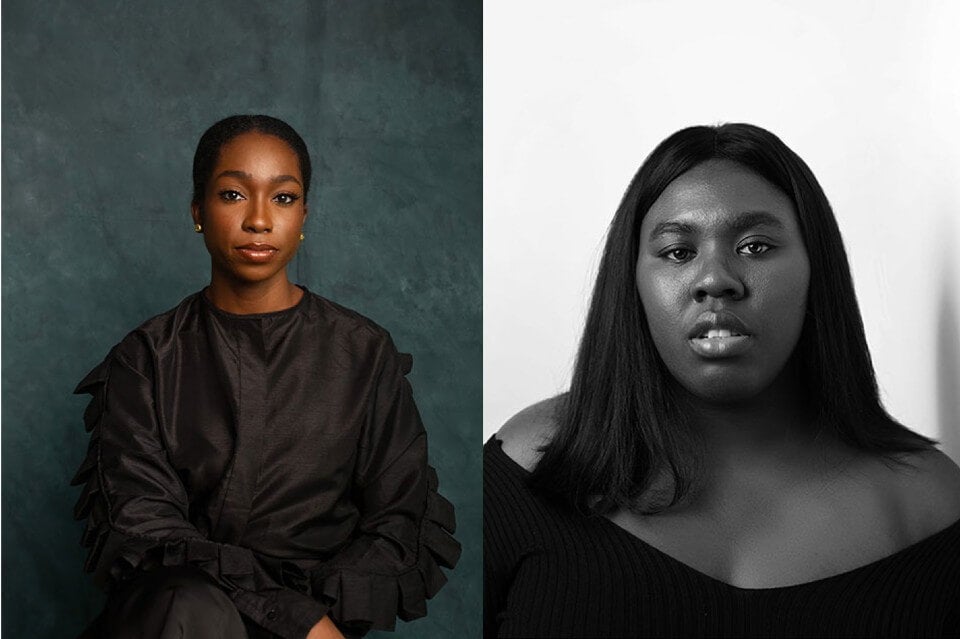 Damilola Odufuwa and Odunayo Eweniyi are successful entrepreneurs and young feminist leaders from Nigeria. Recently, both were named in the Bloomberg 50 list of people who changed global business in 2020 and the TIME Next 100 list in February 2021.
Odufuwa and Eweniyi joined forces in 2020 to create the Feminist Coalition, which focuses on women's rights and safety, economic empowerment, and political participation of women in Nigeria. For its first project, the organisation supported the #EndSARS protests that swept Nigeria in 2020 and organized a food drive for low-income women and their families.
"A feminist leader will recognize that all women and all men deserve equal opportunities to pursue fulfilling careers and lives, and put structures in place to help others live up to their potential and drive meaningful change," says Eweniyi. "A feminist leader is empathetic and understands the importance of intersectionality," adds Odufuwa.
What can leaders do to lead with feminist principles? Odufuwa says, "employ more women into leadership roles and pay women fairly; be willing to unlearn biases and listen to constructive feedback - then effect change; and be conscious of intersectionality."
Ellen Johnson Sirleaf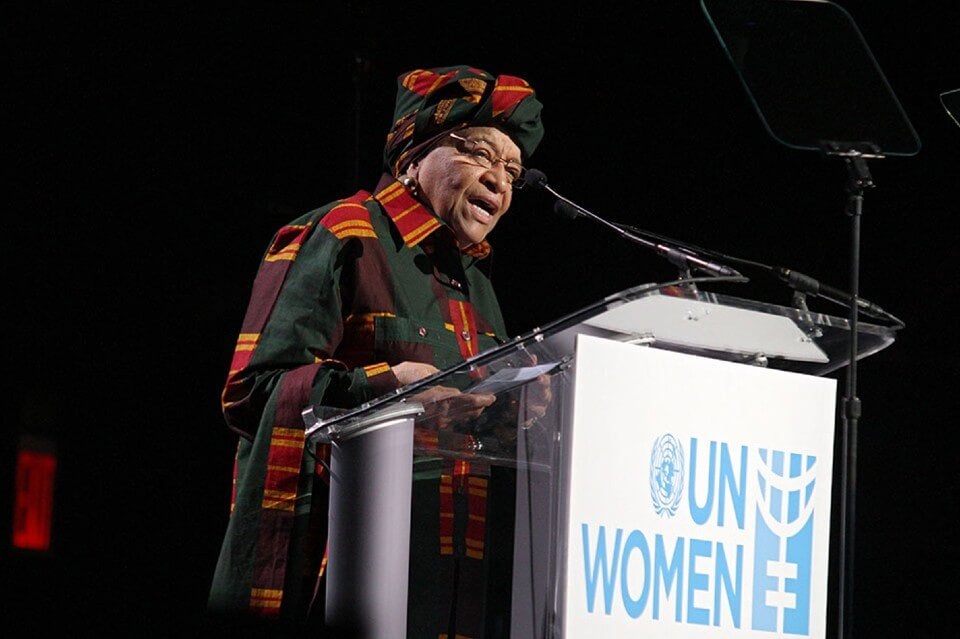 As Africa's first democratically-elected woman president, Ellen Johnson Sirleaf led Liberia through reconciliation and recovery following a decade-long civil war and responded to the Ebola Crisis of 2014-2015. She has won international acclaim for the economic, social, and political achievements of her administration, and, in 2011, she was awarded a Nobel Peace Prize for her work to empower women.
Today, Sirleaf is an influential voice for expanding women's political participation and involvement in decision-making processes. "Increasingly there is recognition that full gender equity will ensure a stronger economy, a more developed nation, a more peaceful nation. And that is why we must continue to work," she says.
Emtithal Mahmoud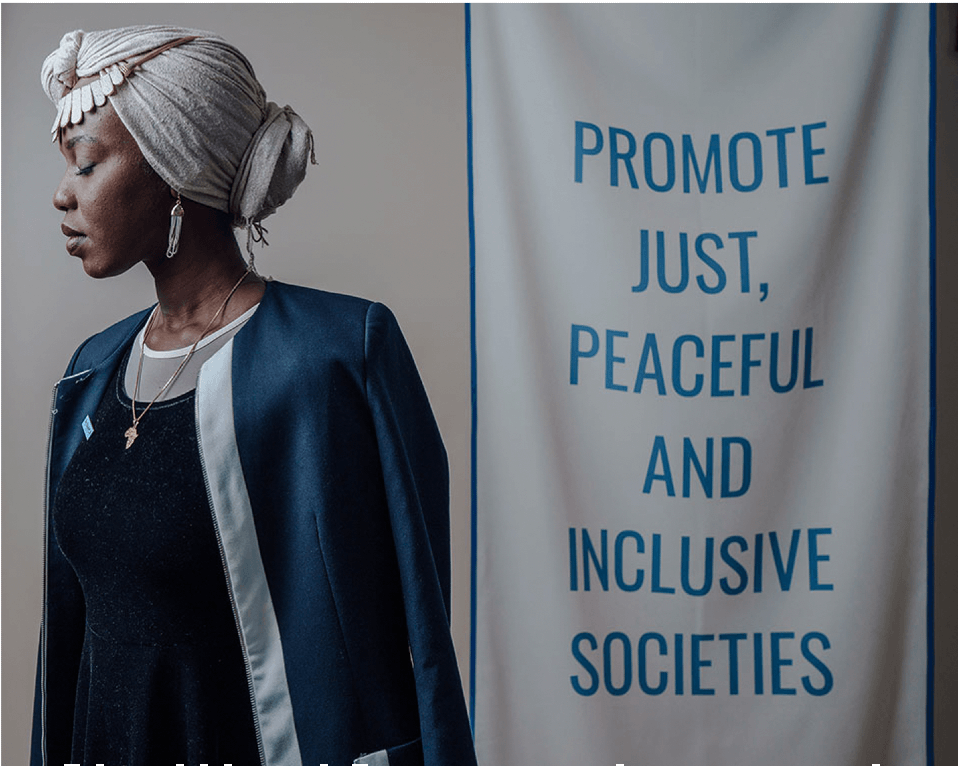 Emtithal Mahmoud is a world champion slam poet and activist for the refugee cause. Born in Khartoum, Sudan, "Emi" – as she is known among her supporters– immigrated to the United States of America as a child with her family. She uses her talents to shine a light on the experiences of millions of refugees worldwide.
"I use my words to raise the alarm on the conflicts of our time...in the hopes that someone might hear something that moves them," says Emi. In 2016, she was named a UNHCR Goodwill Ambassador and has visited refugee camps in Jordan, Uganda, and Greece, teaching poetry workshops and inspiring countless refugees to share their story.
Meaza Ashenafi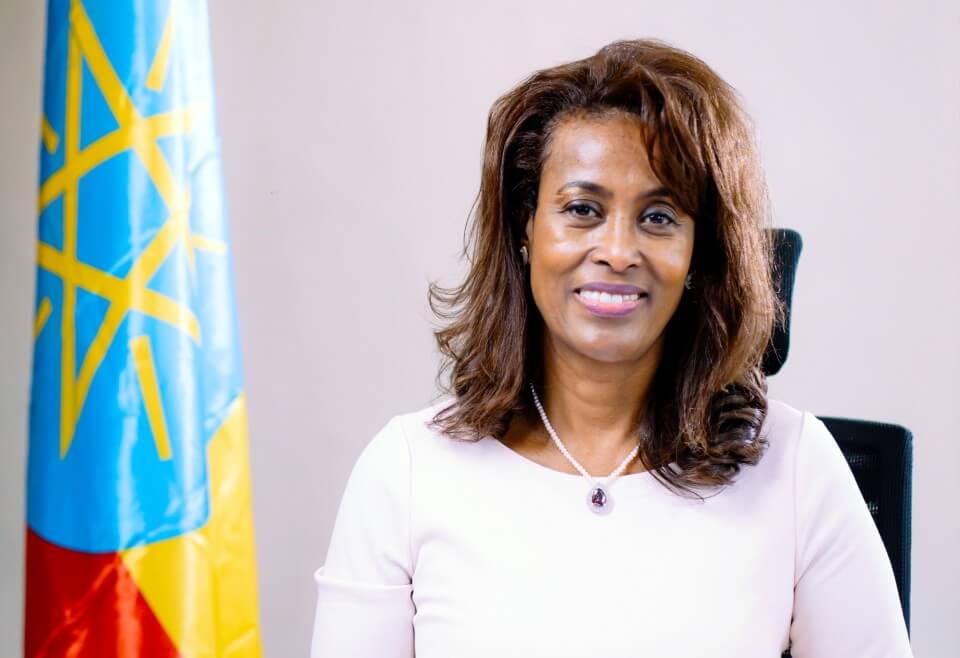 Meaza Ashenafi is the first female Chief Justice of Ethiopia and a trailblazer in many ways, mainly for legal advocacy through her work with Ethiopian Women's Lawyers Association (EWLA), an organization she co-founded with like-minded young female lawyers. After finishing law school from Addis Ababa University, of which she was the only female graduate from her class year, she served as a criminal court judge, which allowed her to see first-hand how the laws were discriminating against women.
"When we founded EWLA 20 years ago, we did historic work of getting discriminatory laws, such as family law, citizenship law, pension law repealed. We brought the word 'Sexual Abuse' and 'Sexual Harassment' into the Amharic Language, as there were no words to describe them then".
Chief Justice Meaza is also a co-founder along with other female businesswomen of Enat Bank, the first bank in Ethiopia founded by a female-majority shareholders, which she co-founded after noticing there was lack of financial provision for women.
"Leadership for me is having a vision and striving to achieve it. Women need to believe that they can do whatever they set themselves to do, despite the society's pressure and people telling them otherwise. You can only have the power to be a change maker if you believe in yourself," she says.
Zoneziwoh Mbondgulo-Wondieh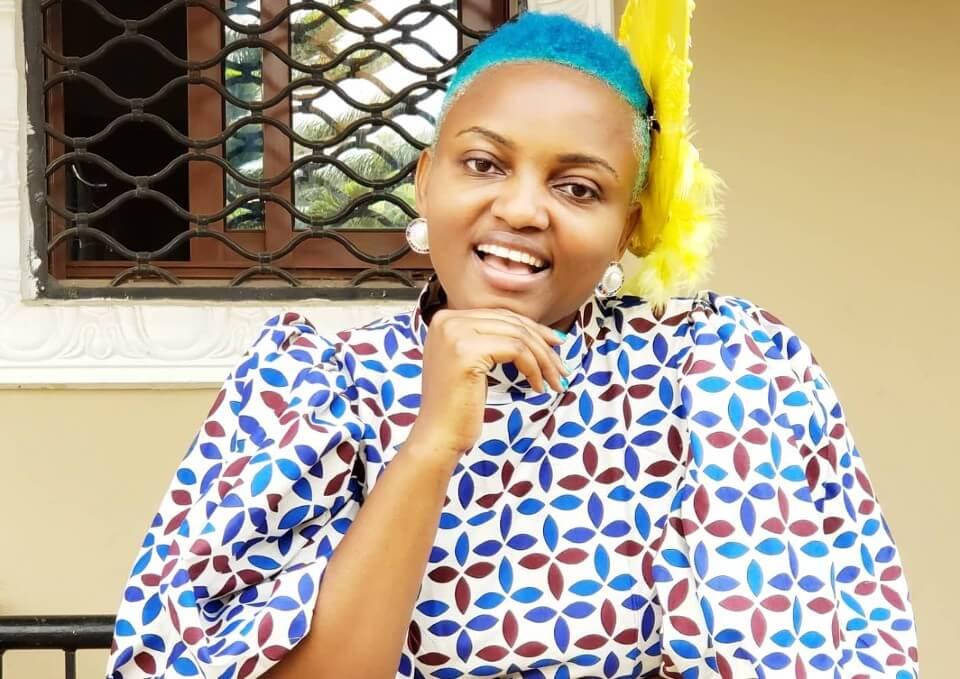 Feminist blogger and humanitarian reporter from Cameroon, Zoneziwoh Mbondgulo-Wondieh is the founder of the NGO Women for a Change and a member of the civil society advisory group to the Generation Equality Forum.
In her work as an activist and as a reporter, Mbondgulo-Wondieh gives voice to Cameroonian women's perspectives on the country's development.
"We must not lose focus towards accelerating efforts like never before in increasing women's voices, leadership and agency. The Generation Equality Forum provides us all … an opportunity to ensure that we be the first generation to be serious about realizing an equal future for all," she said in her remarks at the United Nations commemoration of International Women's Day 2021.
Glanis Changachirere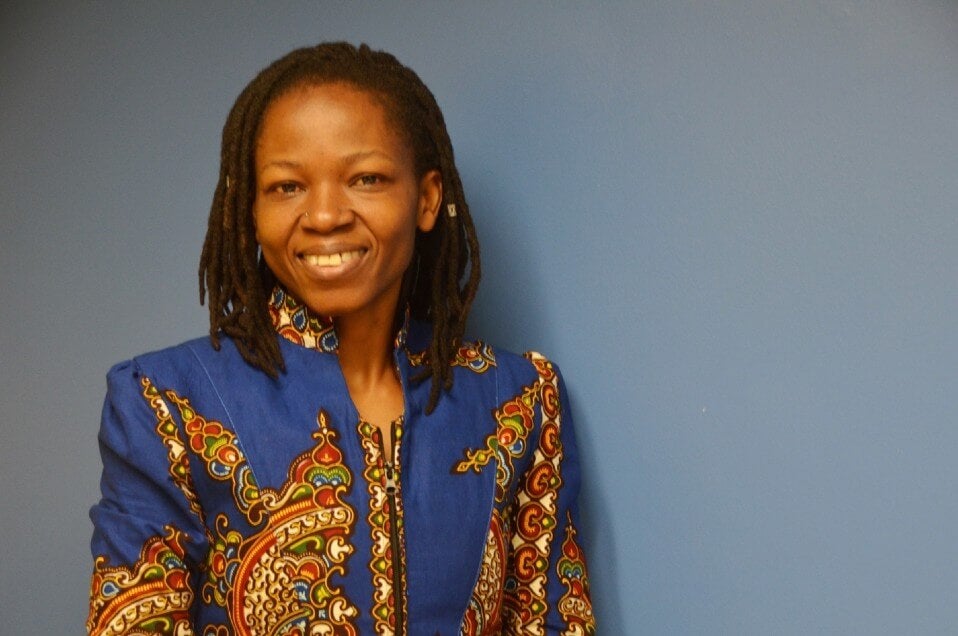 Glanis Changachirere, Zimbabwean women's rights activist, is the founding Director of the Institute for Young Women Development (IYWD) and the founding Coordinator of the African Women Leaders Forum. She is also a member of the Steering Committee of the Zimbabwean chapter of the UN Women-supported African Women Leaders Network.
Raised in the deeply patriarchal, rural province of Mashonaland Central, Zimbabwe, Changachirere explains that it was the pain she experienced trying to assert that girls were equal to boys and deserved equal education and career opportunities that motivated her to start IYDW at the age of 26: "As young women, we need to redefine ourselves, both to ourselves and also to the society they need to see a young women in a different way altogether," she says.
In 2013, Changachirere received the 30 Under 30 Democracy Award from the National Endowment for Democracy in recognition of her pioneering work on young women's political participation. Today, IYWD is a movement of 7,000 young women members across rural and mining communities in the country. At the national level, IYWD is working with the Zimbabwe Gender Commission to introduce a Gender Equality Bill to challenge the cultural inequalities and injustices borne by young women in the country.
Farida Charity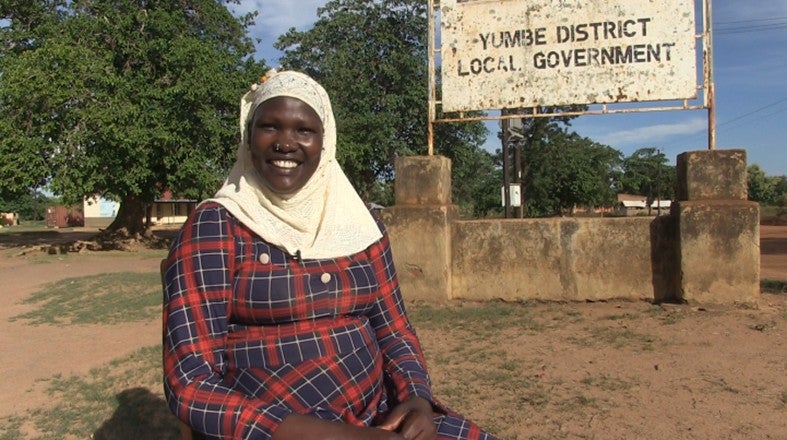 Farida Charity, 36 years old, is a community leader and peace advocate supporting peace initiatives in the conflict-affected district of Yumbe, Northern Uganda.
Charity started her activism at a very young age, when she participated in the peace negotiations with the Uganda National Rescue Front which led to a formal ceasefire agreement between the rebels and the government in 2002.
Today, Charity is the speaker of the Yumbe District Council. For five years, she has been using her leadership position to advocate for policies that promote the peaceful co-existence between the refugee and host communities in the district, and to advocate for health services for women and girls. As the chairperson of the Council's Women Caucus, Charity mobilized fellow women leaders to start mentoring programmes targeted at school-age girls from host and refugee communities, focused on preventing sexual gender-based violence, managing conflict and keeping girls in school.
"The things that women need sound simple but they are big issues especially in rural communities. Women need peace and access to health care services. The most important thing is to have peace, and to look at ourselves as human beings, regardless of gender, political, religious and ethnic backgrounds," Charity says.
Munnira Katongole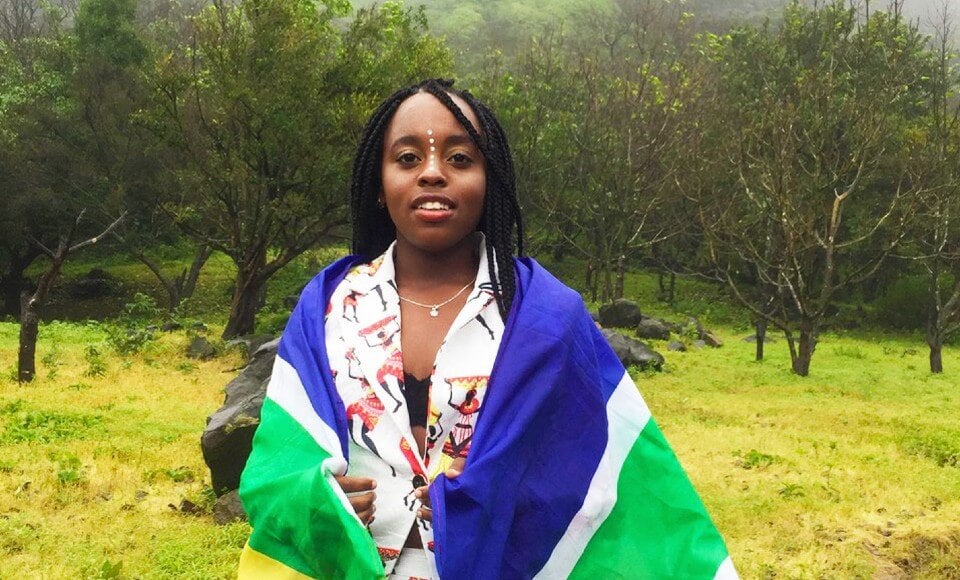 Munnira Katongole is a young South African activist fighting for social change and climate justice. She is part of Youth @ SAIIA, the youth development and programming initiative of the South African Institute of International Affairs.
She views climate change as a wake-up call to transform systems of exploitation that maintain discrimination against young women of colour.
Her call: clean energy, sustainable food, collective ownership.
"We can't, especially now in the face of climate change, be excluded from policy-making settings... To all the young girls of colour reading this... you have every right to take up space. Occupy, fill and cement – unapologetically," Katongole says.
Alice Banze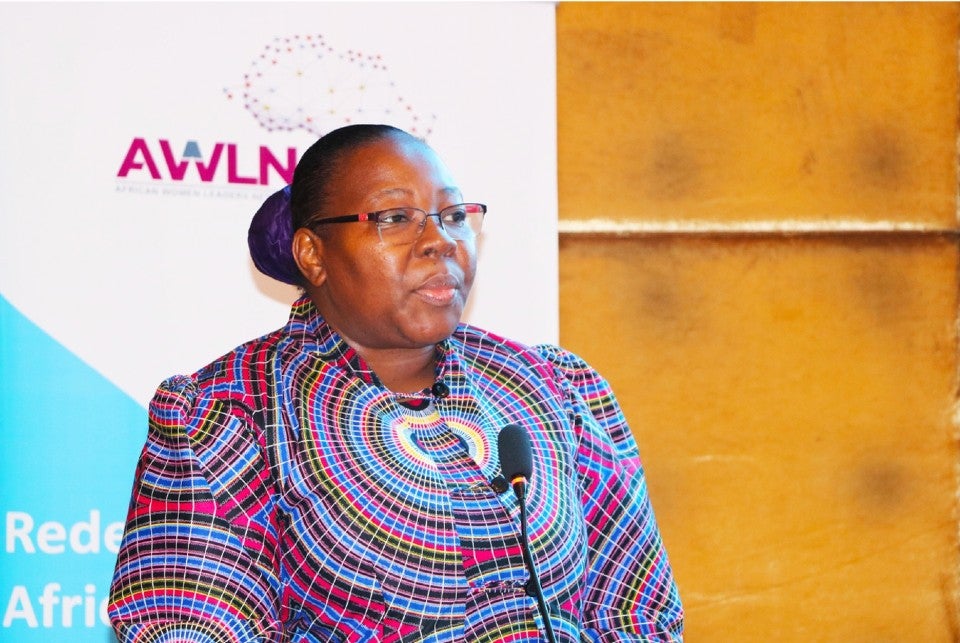 Alice Banze, born and raised in Maputo, Mozambique, is a trained social scientist with a 25-year career in civil society organizations (Oxfam, Gender Links) and government. She is the Executive Director of Gender and Sustainable Development Association and a member of the UN Women-supported African Women Leaders Network. In December 2020, Banze was elected member of the National Elections Commission with the support of the Women's Forum, an umbrella grouping of Mozambican women's rights organizations.
The fact that the Commission is composed of only three women out of 17 should not constitute a reason for alarm, Banze explains: "Things are changing. Similar to the changes in the government, in parliament, in the judicial system and other areas of public life, the Commission will also have a fair representation of women soon."
Banze dedicated most of her career to training women into leadership positions, and she will not stop until women in Mozambique will have equal representation: "More women in public life is critical because women play such an important role in the development of a country. Besides, there are protocols, treaties, conventions signed by the government to ensure there is 50 per cent representation of women in all decision-making processes at all levels. This commitment must be fulfilled," Banze says.