Executive Director Phumzile Mlambo-Ngcuka speaks on the importance of women's participation in the peace process in Sudan
Date:
On her last day as Executive Director of UN Women, Ms. Phumzile Mlambo-Ngcuka, who joined the organization in 2013, conducted a virtual visit to Sudan, where she met with women's rights activists and leaders to discuss women's participation in decision making, and promoted women's inclusion in preventing conflict, restoring peace and rebuilding communities.
Her virtual mission to Sudan started with a meeting with Mr. Volker Perthes, UN Special Representative for Sudan (SRSG) and Head of the United Nations Integrated Transition Assistance Mission in Sudan (UNITAMS). They discussed the promotion of women's participation in decision making and the UN Women ED requested support for gender mainstreaming and expressed interest in working together with the SRSG's office to push for the recruitment of Gender Advisors within UN agencies in Sudan.
Mr. Perthes congratulated Ms. Mlambo-Ngcuka on her successful tenure with UN Women and wished her all the best in her future endeavours.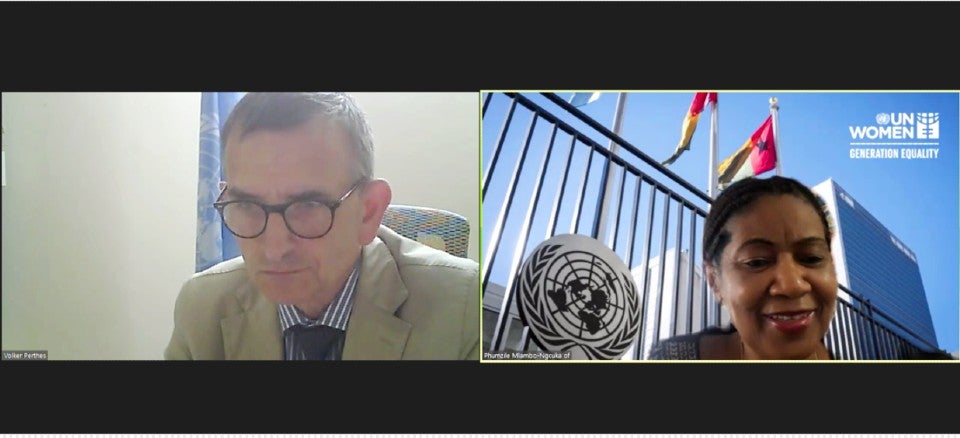 During a meeting with the Minister of Foreign Affairs, Ms. Mariam Elsadiq Almahdi and the Minister for Social Development, Mr. Ahmed Adam Bakheet, the leaders discussed women's participation at all decision-making levels, and the need for women's groups to be involved in all strategic reflections for the country's future.
"UN Women stands ready to support your initiatives to promote gender equality in Sudan, by offering our gender expertise. Our team in Sudan is here to support your continuous efforts to accelerate progress towards gender equality," Ms. Mlambo-Ngcuka assured them.

Sudan's women's groups have played an important role in shaping Sudan's 2019 Constitution and continue to exert influence in the political arena to ensure that their rights are fully integrated into the country's political and legislative agenda. Their participation in the transition has resulted in guaranteeing 40 per cent representation of women in all decision-making processes, the insertion of provisions aimed at eradicating discriminatory laws against women in the Constitutional Declaration, and the implementation of UNSCR 1325 to ensure women's participation in all stages of the peace process. While women's representation in the civil service varies from one ministry to another, their underrepresentation in the civil service remains an issue due to traditional gender roles.

There are only four women among 28 Sudanese ministers and Ms. Mlambo-Ngcuka met with the female ministers to discuss the current situation of women's representation in the government, including the challenges they face in an administration largely dominated by men, and the need to build strong alliances among the ministries to support the gender agenda.
Welcoming female ministers to the meeting, Ms. Mlambo-Ngcuka said:"Thank you for working dedicatedly to ensure that institutional reforms and macro interventions are gender-sensitive, despite the economic crisis the country is going through and the challenges of working under strong patriarchal institutional culture. There is no shortage of female talent in Sudan, what can be done from our end?"
Intisar Saaeroon, Minister of Higher Education: "One of the main challenges, as I see it, is the social norms. This needs to change for women to advance at various levels, including women's participation in decision making processes. Our Prime Minister is committed to having more women in decision-making, but our country's social norms are holding the progress back. There are women in science, for example, but as soon as they get married, they face many challenges, because of the patriarchal expectations of women. We need to do more awareness raising, and work on changing social norms to see more women in decision-making processes."
Dr. Mariam Elsadiq Almahdi, Minister of Foreign Affairs: "Despite the 40 per cent women's quota guaranteed in the Constitutional Declaration and the Juba Peace Agreement, despite the political will from the highest level and the Prime Minister's commitment, more progress needs to be made to promote women's representation in decision making bodies, in sports, in media, etc. In addition to Gender Advisors in each ministry; we need more networking for women; and need support in building sisterhood and women leaders' networks. We need to materialize the Women's Commission, we need gender auditing. We have guarantees of the 40 per cent women's quota and it needs to be implemented."
The meeting concluded with a pledge from UN Women to provide virtual capacity building for female ministers and women in the civil service.
The Ministry of Social Development thanked UN Women for the support to advance gender equality in Sudan, especially UN Women's support to women's participation in the peace process. As the designated Gender Machinery, the Ministry of Social Development is implementing a project in partnership with UN Women, funded by SIDA and aimed at strengthening the gender capacity of the Ministry of Social Development, as well as targeted sectors, to promote gender integration in macroeconomic policy reforms, planning and budgeting processes.
Ms. Mlambo-Ngcuka congratulated Sudan for its achievements so far, including the ratification of CEDAW, drafting legislation on gender-based violence, and invited Sudan to be part of the Generation Equality Action Coalition on gender-based violence (GBV) and the Compact on Women, Peace and Security (WPS). UN Women can train women participating in the peace process, as part of the Compact on WPS.
Ms. Mlambo-Ngcuka ended her virtual mission to Sudan meeting with women observers of the Juba peace negotiations process, where women observers shared the challenges faced in the second round of negotiations. They also shared their view of the role the UN can play to ensure effective implementation of the gender provisions in the peace agreements.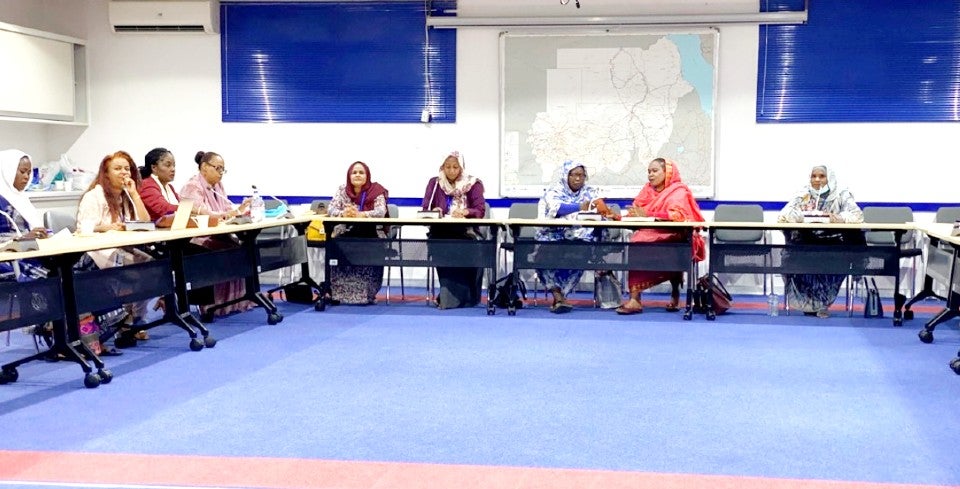 "Women observers have done a lot of advocacy. Despite the government's commitments to increase women's representation to 40 per cent in the Constitution, this is not happening. Women's voices at the grassroots level should be heard. UN Women has been supporting our involvement in the peace process. More support is needed to build women's capacity, more women need to be reached", said Nadia Ali, one of the women -observers of the peace process.
Huwaida Salih from East Kordofan highlighted that women pastoralists have always been forgotten and discriminated against, "Support is needed from UN Women to work with different groups so that they have their voices heard in different processes."
"We do need to work much harder to make sure all women's voices are heard. It is my last day today at UN Women, but my team will continue this important work. We will always stand with you," the Executive Director told them.
Building on the strong constitutional commitments on WPS in Sudan's amended constitutional document, which Sudan's women's movement has championed, UN Women Sudan is supporting the democratization of the peace process by supporting the development of a "Track Two" initiative. This initiative has a dual function: engendering of the peace-making process and ensuring that the Peace Agreement is gender responsive. This is made possible through women's participation in two Juba Peace processes to advocate for engendering peace agreements and implementation plans. In partnership with UN Women, UNITAMS advocated for women's official observer status during the ongoing second round of peace negotiations.
It may have been the last day for Ms. Mlambo-Ngcuka as UN Women's Executive Director, but she kept the momentum going to uplift women's rights in Sudan and promised to continue to do so in her personal capacity.