UN Women Uganda launches 16 Days of Activism against Gender-Based Violence campaign
Date: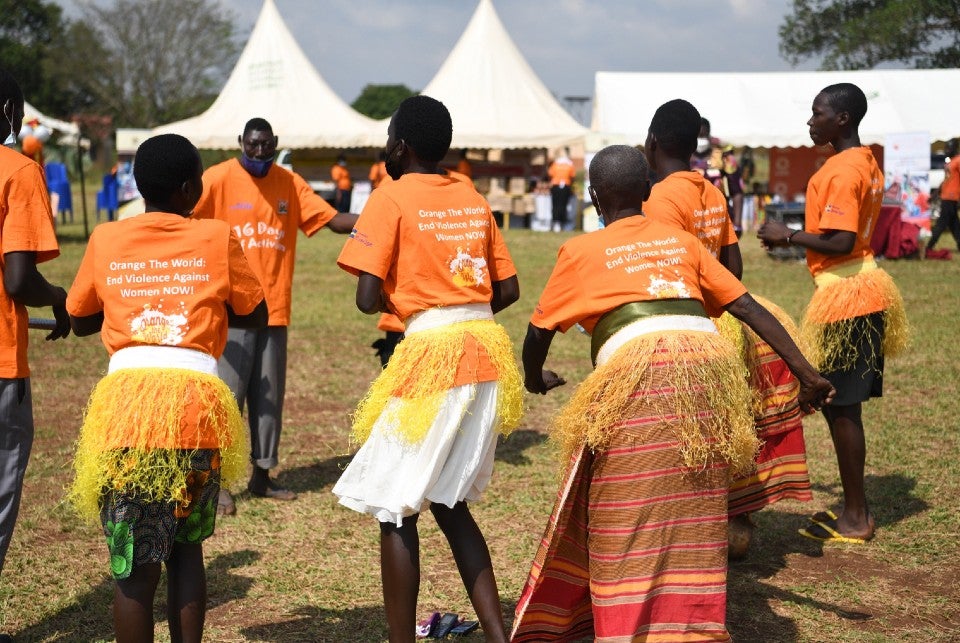 The National Launch for Uganda's 16 Days of Activism campaign took place in Kamdini, Oyam District on26 November 2021. This launch was organized following multiple consultative National Organising Committee (NOC) meetings, led by the Ministry of Gender, Labour and Social Development (MGLSD).
"Launching 16 Days of Activism in Oyam District and in Northern Uganda in particular, ignited collective voices and call to action to end violence against women and girls in all its form. The launch heightened a growing concern among leaders in the region and stakeholders on increased teenage pregnancies, forced marriages that are demonstrated with increased statistics in the region," Said Jolly Acen, UN Women Programme Specialist and Head of UN Women Sub Office in Gulu.
Oyam District was selected as the location for this year's 16 Days launch due to arising concerns. The COVID-19 pandemic worsened the bad situation for women and girls in the country. The 16 Days launch is taking place in Oyam District because data and statistics have shown a very high prevalence of teenage pregnancy. This has been recorded over the year 2020-2021, indicative of a clear link between girls out of schools (due to lockdown measures) and conception.
The event is aimed at raising awareness at the local and national levels about violence against women and its impact on national development, while advocating for strategic actions by government, development partners, civil society, religious and cultural leaders and the private sector for increased resource allocations towards positive social norm change in the prevention and response to violence.
In the intervals between remarks and commitments, local arts groups provided "edutainment" in the local language Langi, as they called for respect for women in the household. On site was a "Women At Work" fair, where women entrepreneurs showcased their wares. The women entrepreneurs are benefiting from the Uganda Women Entrepreneurship Programme, UWEP. UN Women contributed to the capacity building of women on financial literacy, training on value addition, group dynamics and other skills.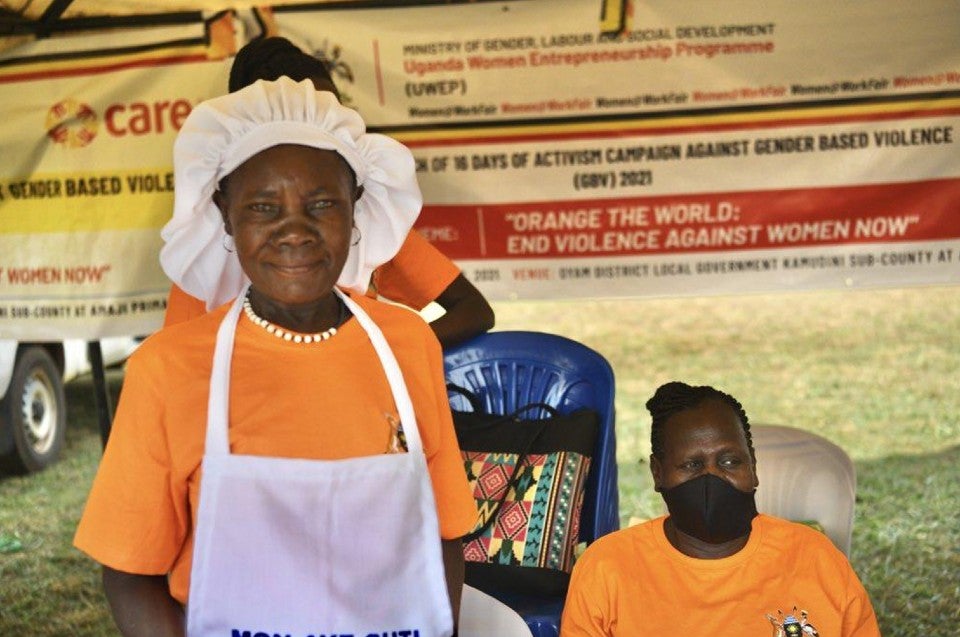 The guest of honor at the launch was Honorable Minister Betty Amongi accompanied by the Honorable Peace Mutuuzo, State Minister of Gender and Culture. The high table featured an all female representation including Acting Director for Gender and Community Development, Juliana Akoryo, the Chairperson for National Women's Council Faridah Hajjat and the UN Women Deputy Country Representative., Adekemi Ndieli.
The guests of honor, led by Hon. Amongi, took the opportunity to visit the fair on site, and support the women entrepreneurs by buying and donating reusable sanitary pads to help young women in the community.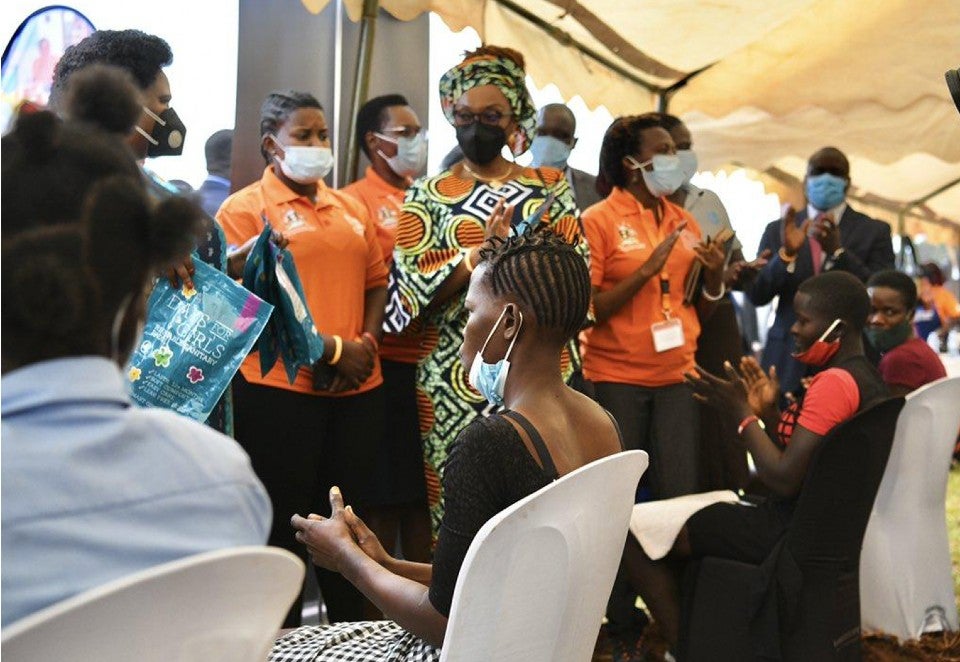 "The UN Women collaboration with Ministry of Gender Labour and Social Development in Uganda has greatly yielded positive outcomes. In light of 16 Days of Activism, this collaboration provided a platform for all other key players and institutions to showcase tangible success stories in efforts towards ending violence against women. The UN Women Representative called upon all stakeholders at community and national level to take action and recommended all families to recruit girls in to second chance education so that they can realize their potential and have better lives. On the other hand, the Honourable Minister for Gender, Labour and Social Development called upon key actors to create economic opportunities for women and urged all to create a conducive environment free of violence for women. This collective effort is definitely needed to create Change in Uganda," said Barbara Namirembe (UN Women Governance Analyst and MGLSD Liaison).
"Eleven thousand four hundred and sixty cases of teenage pregnancy make Oyam one of the districts measured with the highest number in the region. As a district we have mobilized teenage mothers to go back to school. This is an initiative being backed by Members of Parliament!," said the Local Council 5 Chairperson of Oyam.
The National Chairperson of the Women's Council of Uganda also noted that the National Council is supported by members of parliament to train 160 women leaders in the district on Gender-Based Violence prevention and referral. UN Women Deputy Country Representative Adekemi Ndieli shared testimony highlighting the prevalent fear of violence, perceived and actual, for women and girls all over the world.
"Strengthening national commitment and action towards improving women and girls' access to formal and informal education, should be strongly supported as part of overall anti-violence efforts. This should be accompanied with challenging the widespread tolerance and acceptance of many forms of violence against women," said Adekemi Ndieli.
In attendance were district local government representatives, survivors, elders, UN agency representatives as well as religious and cultural leaders. There was an understanding and agreement that violence against women can be stopped and prevented. Stories were shared that highlighted women's voices, those of survivors and civil society organizations working to end violence. Stories highlighted challenges, including those of COVID-19 and the recent terror crises in the country.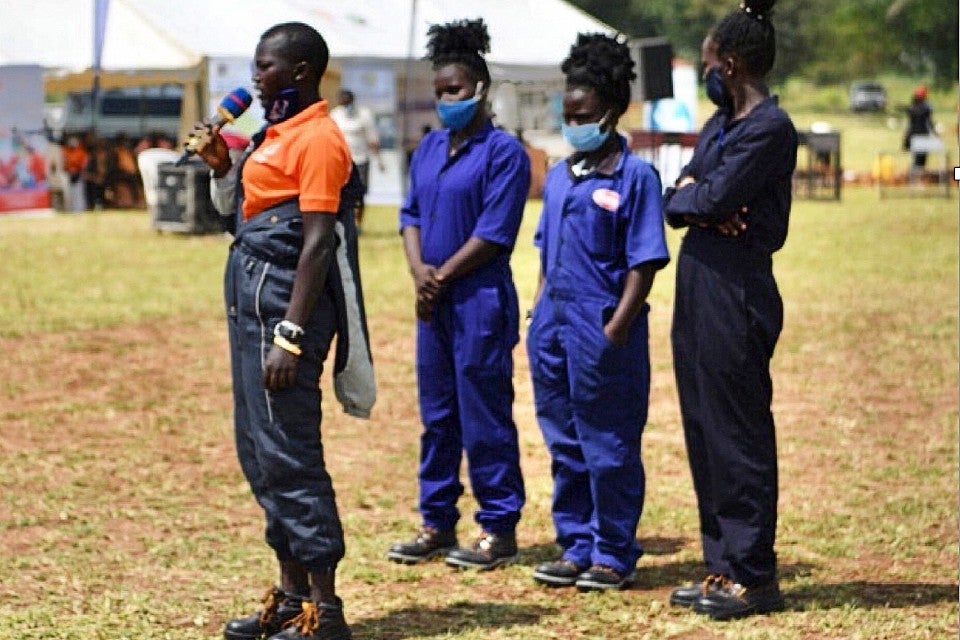 Success stories of transformative work that UN Women does on the ground were shared. Namely, Nancy Achan told her story as a young mother who dropped out of school. Nancy was given a second chance at education through FAWE and Uganda's Second Chance Education (SCE) program, supported by UN Women.
"I am sponsored by Forum for African Women Educationalist Uganda Chapter (FAWE-U). Here today are my fellow child mothers, many of them are breast feeding and others are pregnant. FAWE has taken us back to school so that we can be good mothers in future. I want to take this opportunity to appreciate FAWE (U) and UN Women for what they have done in our life," said Nancy Achan.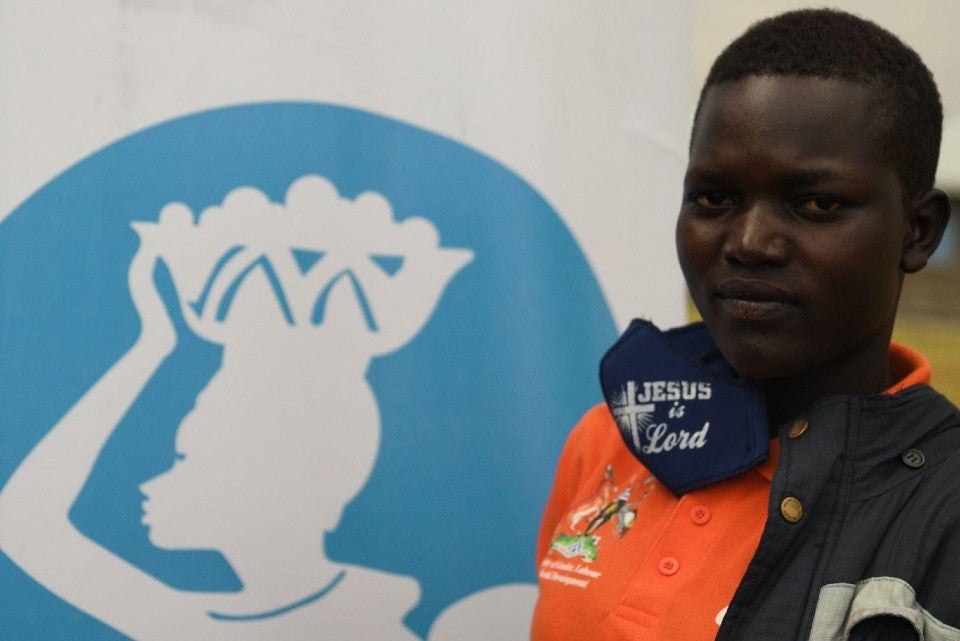 "Before, I couldn't read, write, drive or repair a vehicle. This training through FAWE has done such a great job in my life, which I can't forget. I can now drive a motor vehicle, I can do engine maintenance service, clutch maintenance service and I can work with road wheels," said Nancy.
Nancy is now skilled in vocations that are typically reserved for men in Ugandan society. "How is there any difference between a man and a woman? There is no difference, all work is meant for us, we are the same," she added.
To conclude the launch, the guest of honor, t
he Honorable Minister Amongi said, "Women should not stick in homes with violence, that's why we are partnering with cultural leaders so they can guide both men and women."
The guest of honor officially launched 16 Days of Activism with a handover of 500 'Mama Kits' to the Chief Administrative Officer and District Health Officer. The kits will be distributed to young mothers as they include cotton, antiseptic and other products to aid in delivery for teenage mothers.
UN Women Gulu Sub Office Head Jolly Acen said that everyone is concerned, and every family is affected, as violence has touched the lives of all in this region.
"Violence against women is now known as another 'Gemo' literally meaning 'a pandemic' in itself. We need to leverage on the growing momentum, commitments to end VAWG now without compromising the future of our women and girls in this nation," said Jolly Acen, UN Women Gulu Sub Office Head.