Women's Rights Violations Will Not be Tolerated in Kyerwa: District Commissioner Mwaimu
Date: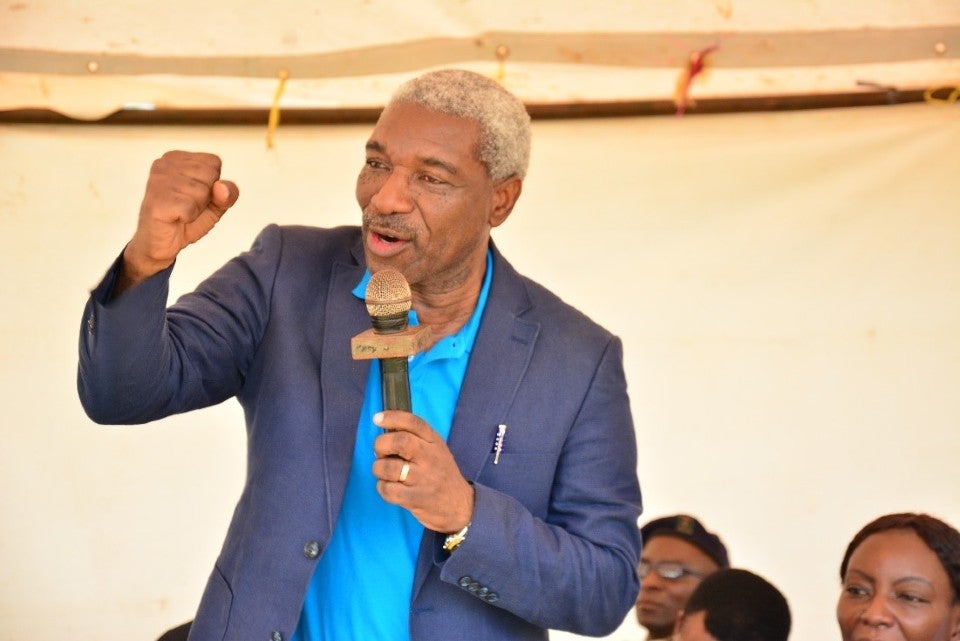 District Commissioner Rashid Mohamed Mwaimu of the Kyerwa District of Kagera Region in Northern Tanzania has called on all residents to ensure that the rights of women and vulnerable groups in his district are respected. Speaking at the end of two visits of UN Women-supported mobile legal ail clinics, Commissioner Mwaimu said his office will ensure that all abuse cases of women's rights are dealt with through existing laws and procedures.
Through this support, a total of 895 community members, the majority of which were women, accessed legal aid services from a wide range of justice stakeholders.
"For far too long, many residents and especially women had to contend with their rights being violated without adequate knowledge and resources on how to deal with these cases," said Mwaimu. "My office is therefore committed to ensure that any case of discrimination or abuse, including violence against women and children, is addressed through appropriate legal action."
Mr. Mwaimu further explained that, in a district where there are currently no registered advocates and legal aid providers, the mobile legal aid clinics are imperative to ensuring that women, and other vulnerable groups, are able to access the legal assistance they require.
The mobile legal aid clinic forms a part of the implementation of the UN Women Access to Justice for Women Program in Tanzania, which is supported by the Governments of Sweden and the Netherlands. This was the second year that UN Women has organized mobile legal aid clinics targeting women in the Kyerwa District under the Access to Justice Programme. The mobile clinics provide access to legal aid services from a wide range of legal stakeholders, including paralegals and legal aid providers. Legal officers from the Tanganyika Law Society, the Director of Public Prosecution and Regional State Attorney's Office, and the Police Gender and Children's Desk also collaborate in ensuring women and girls access justice.
The clinic also helped provide case referrals to relevant bodies that were handling cases at the event. UN Women Tanzania's Access to Justice for Women Program Team Lead, Ms. Racheal Boma, said as of 2018 UN Women has been working in partnership with the Ministry of Constitution and Legal Affairs, the Kagera Regional Commissioner's Office, the Regional Legal Aid Coordination Committee, and Tanzania Network of Legal Aid Providers. This collaborative effort addressed challenges focused on enhancing the capacities of legal aid providers and paralegals to make legal aid services more accessible, which has empowered many women to access these services.
"Legal aid service delivery continues to be fundamental for women's access to justice in Tanzania. With the inclusion of mobile legal aid clinics. Since we started the project over 3,000 women in the Kagera Region have benefitted from legal aid services," she said.
Ms. Boma said the project has also managed to contribute to improved coordination and the establishment of a pilot Regional Coordination Committee in Kagera boosted case referrals and 36 cases were filed in court this year. " A government directive through MoCLA has replicated it in all regions, with regional legal aid committees established across the country."
Efforts to improve legal aid service delivery in the region also included the training of 30 paralegals, enhancing the capacity to handle cases relating to statutory duties detailed in the Legal Aid Act of 2017. Public awareness and legal literacy were furthered through 31 interactive programmes aired by nine community radio stations.
Ms. Boma explained UN Women will continue to work with stakeholders to intensify awareness raising, enhancing women's access to justice through capacity development initiatives and legal aid provision. "Our ultimate goal is to have as many women as possible to access legal aid services, for them to be empowered to exercise their rights, challenge discrimination, and have their voices heard," she said.