UN Women Uganda and partners call for ending acid attack violence in Uganda
Date: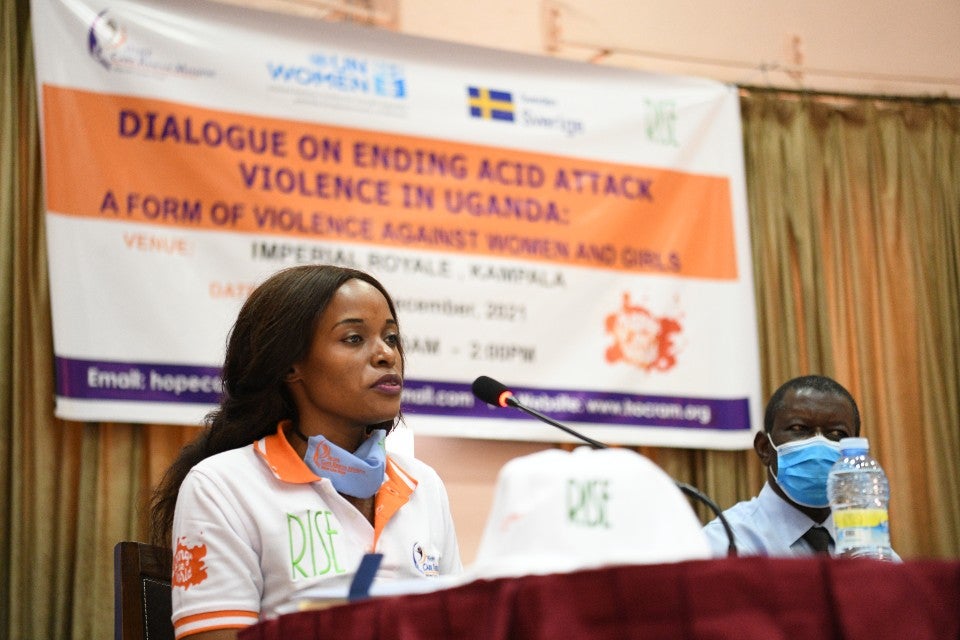 The world commemorated 16 Days of Activism against Gender-Based Violence from 25 November, International Day for the Elimination of Violence against Women, to 10 December 10, Human Rights Day. Part of the Uganda activities included a UN Women-held dialogue on 7 December discussing acid attack violence. UN Women invited police, public prosecutors, health professionals, civil society, passionate youth, grassroots organisations and the UN to listen to a comprehensive report and come together to end this violence that has devastating social, psychological and physical impacts.
According to research[1], the most common reasons for attacks on women and girls is the refusal of marriage, the denial of sex, and the sexual rejection of men and boys. It is an expression of control over women's and girls' bodies. Globally, there are around 1,500 acid attacks a year. The general law on criminal offences in Uganda, the Penal Code Cap 120, creates the offence of acid violence and describes sentencing for perpetrators. Specifically, Sec. 216 (g) provides that perpetrators of acid or burn violence intending to maim are liable to life imprisonment. The Toxic Chemicals Prohibition and Control Act 2015 looks at all chemicals including teargas, pesticides, and acid. Despite this legislation, acid attack violence is an under-reported form of violence, globally and in Uganda, due to fear of reprisal.
This dialogue was organized for and by acid attack violence survivors under the theme "Break the Silence Now! Say No to Acid Attacks Uganda." Acid attacks have devastating short and long-term physical, economic and psychological consequences on women and girls, preventing their full and equal participation in society. In Uganda, acid attack violence is found to be most prevalent in urban areas such as the capital city of Kampala. Ahead of the dialogue a short documentary was played highlighting the prevalence of this form of violence, and as a form of Gender-Based Violence.
The Vice Chairperson of Hope Care Rescue Mission (HOCRAM), Herbert Musiimenta, gave opening remarks behind the vision of HOCRAM. Herbert said, "We envisaged that we could bring hope and empowerment to acid victims in our society."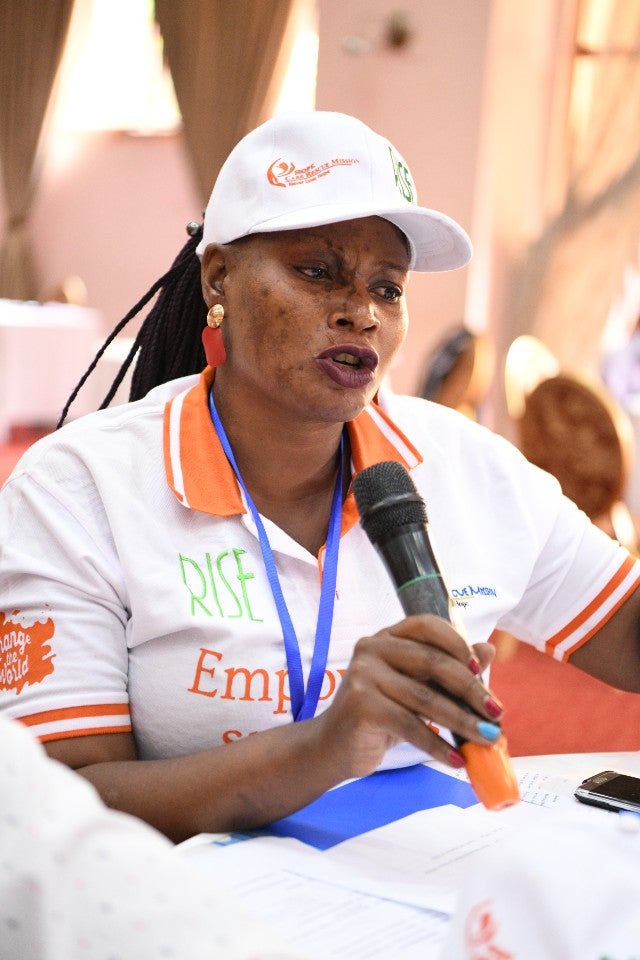 Grace Namataka of the Center of Domestic Violence Prevention Uganda moderated the event, welcoming guests of honour from the Ministry of Gender, Labour and Social Development, the UN Women Country Representative a.i. Adekemi Ndieli, Assistant Director of Public Prosecutions (DPP) Samali Wakhooli, Acting Commissioner of Police Rose Nalubega and Linneti Kirungi Executive Director and Founder of Hope Rescue Care Mission.
Prosecuting Acid Attack Violence as a Crime
One of the agreed ways forward on ending this form of violence is through law reform on the use and misuse of acid. Linneti formed part of the high level, multi-stakeholder panel during the dialogue and noted that "due to patriarchal social norms and gender inequality, some men have resorted to throwing acid at women, primarily to spoil their beauty."
Other panellists included Dr. Ben Khingi, Ms. Ruth Sekindi of Uganda Human Rights Commission, and Assistant Director of Public Prosecutions (DPP) Samali Wakhooli. Dr. Ben Khingi has a wealth of experience in management and treatment of acid attack burns. He described the gravity of impact of these acid or chemical injuries and shared basic first aid guidance.
Samali shared a recommendation regarding prosecution of these cases in the future. "It should be made a strict liability offense where if you possess acid the burden must shift on you to prove why you possess the acid. It is a problem because the burden is on prosecution," he said.
Adekemi Ndieli, UN Women Uganda Country Representative called on the need to regulate the misuse of acid. She said, "Acid can be stored in a plastic bottle and sold at prices as cheap as cooking oil. Acid is meant to be for industrial use only, however it is sold like any other commodity. As such, acid is viewed as a cheap weapon by perpetrators. However, unlike a weapon such as a gun, you cannot trace acid to the buyer. Acid sellers do not have permits and acid buyers are not asked for any documents. Acid is not being regulated in Uganda. There is a need for a specific acid law (Bangladesh, India and Pakistan came up with specific laws following strategic litigation) for toxic chemicals such as acid, the guidelines are unclear and are not implemented."
Samali Wakhooli, the Assistant DPP in Uganda shared challenges when it comes to prosecuting this complex crime. Samali is a passionate advocate for ending violence against women and girls, handling a wealth of SGBV crimes on a regular basis. Representing police on the panel, the Acting Commissioner of Police Rose Nalubega spoke on the role of police in addressing acid attacks and challenges related to burden of proof when it comes to determination of the crime. Statistics show that less than 40 per cent of the women who experience acid attack violence seek help. In the majority of countries with available data on this issue, among women who do seek help, most look to family and friends and very few look to formal institutions such as police and health services. Less than 10 per cent of those seeking help appealed to the police. These panellists are paving the way by providing support for survivors of acid attack violence in Uganda.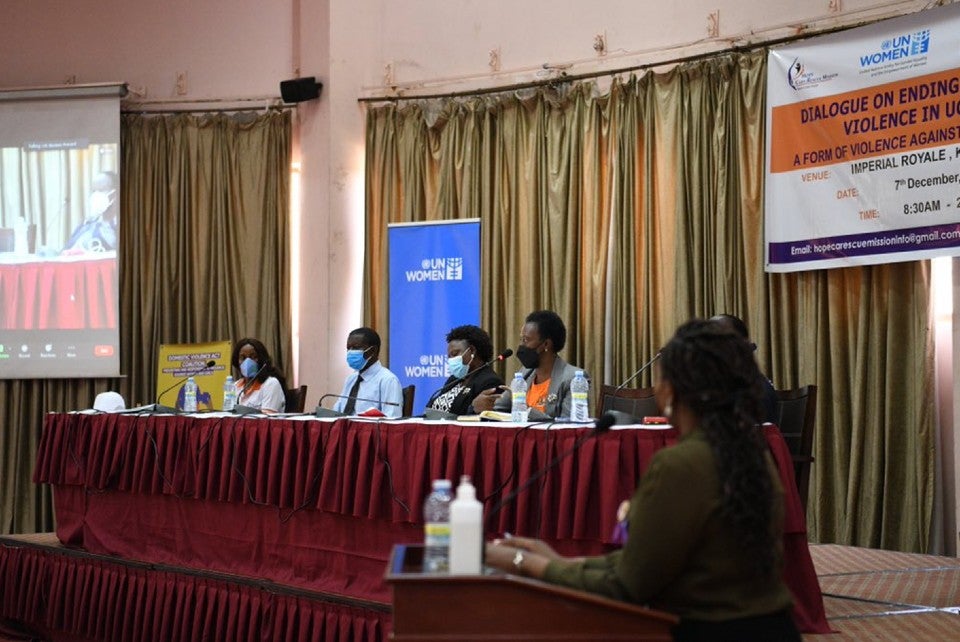 Voices of Survivors
On the sidelines of this dialogue, a market stall was set up by survivors of acid attack violence. One of the objectives of this dialogue is to empower survivors to live with dignity. Some voices of the survivors were captured. One of the market sellers Rita was burned in 1996 at the age of 16. This was an incident of anonymous burning Rita's story highlights the complications in prosecuting these cases due to the sneaky nature of the crime.
Rita is self-taught and makes baskets and shoes for sale through friends and networks. Sharing her testimony, Rita said, "Up to now I don't know who burned me and I don't know the reason why I was burned. I think it was a case of mistaken identity."Organizations like HOCRAM, with the support of UN Women, are supporting survivors to live with dignity as well as advocating for an end to this vice.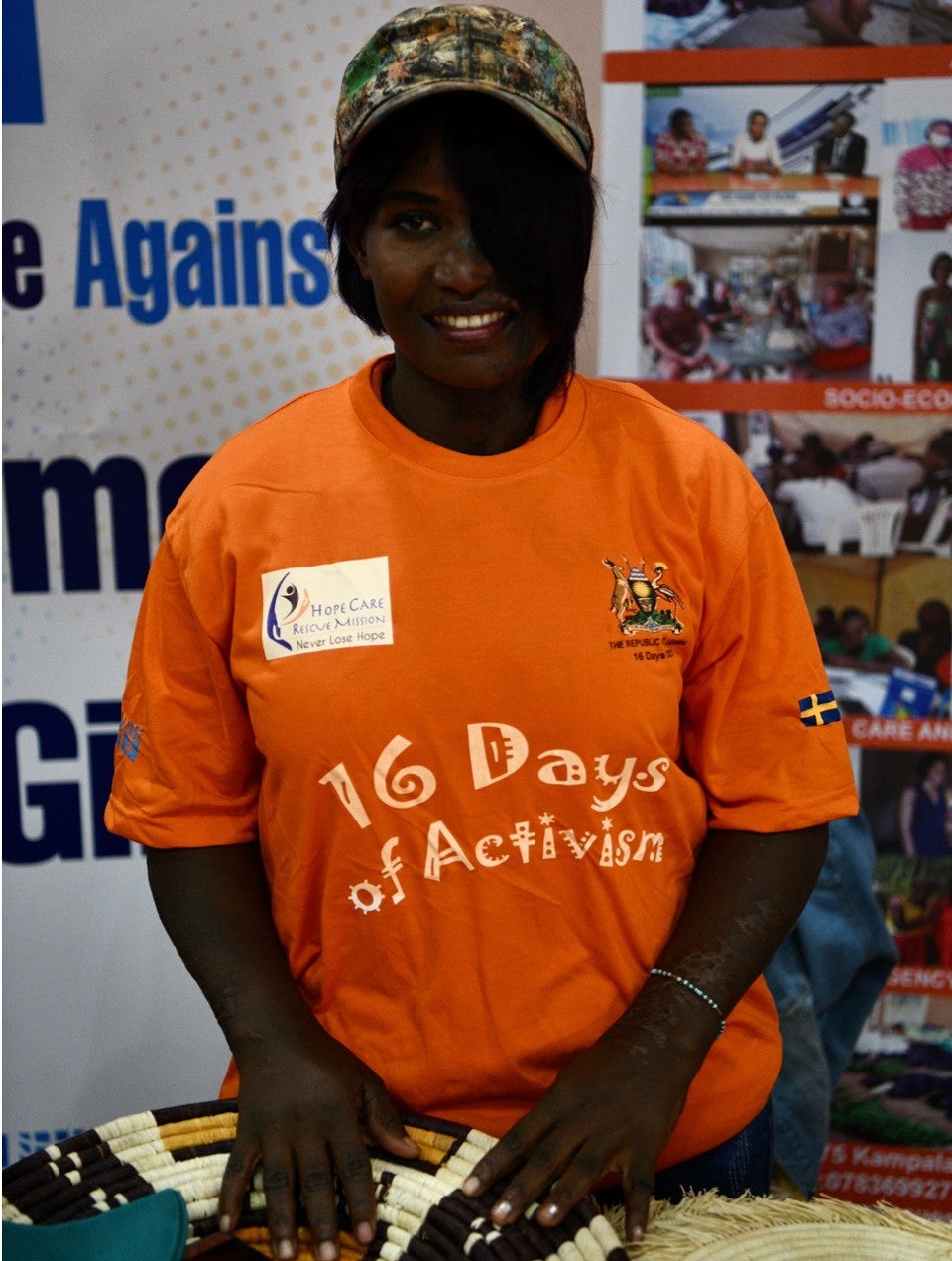 Julie has been making the baskets for sale for 5 years. The father of her child threw acid on her when she was 17-years old, because she went back to school. When she was with him he used to beat her regularly, verbally assault her and threaten her with death. Julie said, "I told him, you are not God if it's not my day, I will not die." To this day he has not faced any course of justice.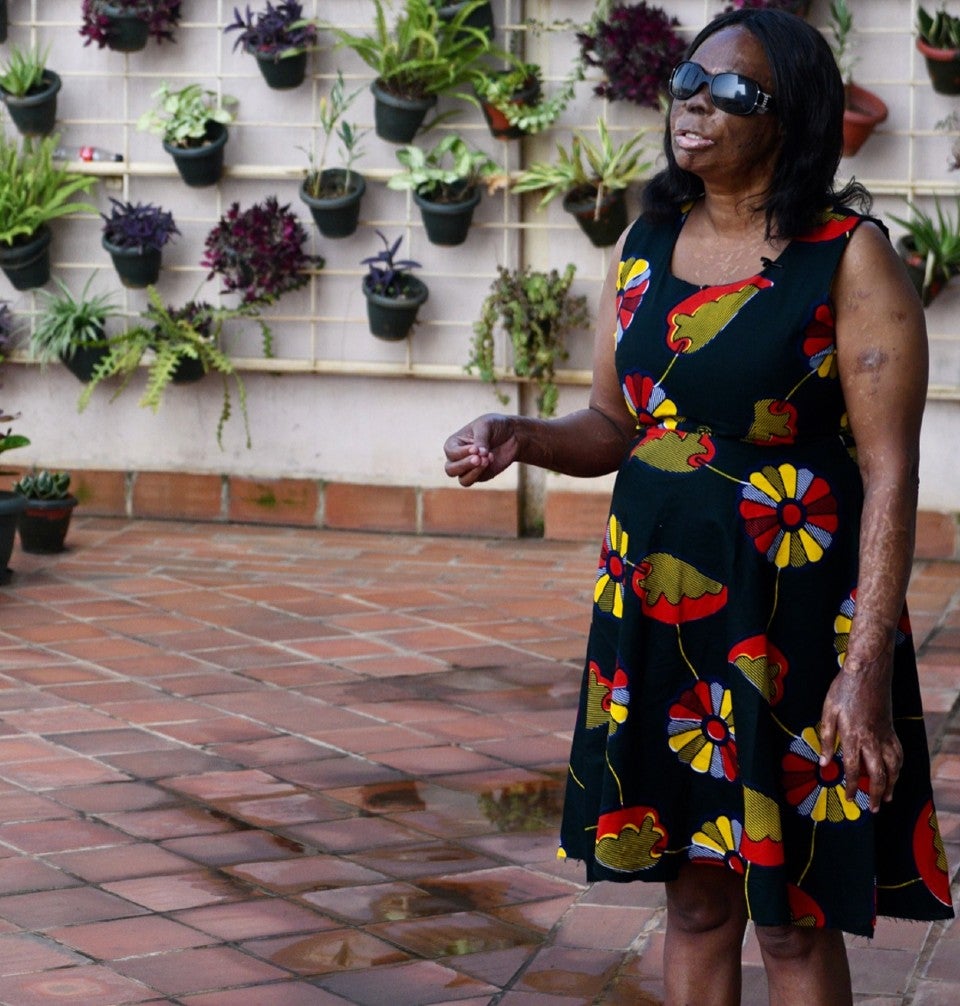 Judith Agole simply called out the need for clear laws and regulations, restricting the sale and mishandling of acid. Judith said, "Acid is easily available and cheap, sold like any other commodity for less than 6,000 Uganda Shillings (less than two dollars)."
Watch Judith Agole's full interview