High-level launch-'Status of Women's Rights in Refugee and Internal Displacement Settings in AFRICA: The Context of AGA and APSA'
Date: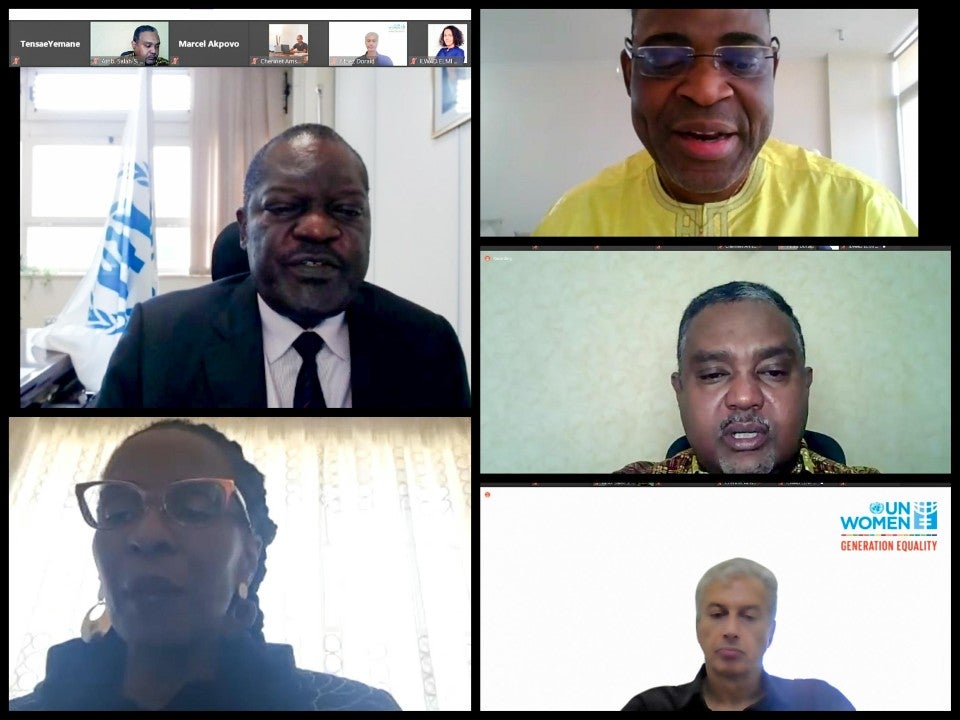 Sub-Saharan Africa has the highest record number of internally displaced women and girls, accounting for 8.2 million or 40 percent of the global figure. Over 18 million refugees have been driven out from Sudan, Central Africa Republic, Somalia, Burundi among others due to conflict.
To capitalize on the momentum behind this issue and in the context of AU's 2019 theme of the "Year of Refugees, Returnees and Internally Displaced Persons: Towards Durable Solutions to Forced Displacement in Africa" and the 2020 theme, "Silencing the Guns: Creating conducive Conditions for Africa's Development", the AU, UN Women, OHCHR and UNHCR, commissioned the joint study: Status of Women's Rights in Refugee and Internal Displacement Settings in AFRICA: The Context of AGA and APSA.
On June 18, 2021, The African Union Commission-Women, Gender and Youth Directorate (AUC-WGYD), UN Women, UNHCR and OHCHR hosted a high-level launch bringing together, AU organs, experts in gender and women affairs, UN agencies, women refugees and CSOs. The event was opened by Ambassador Salah S. Hammad (Ph.D.), head of the African Governance Architecture (AGA) Secretariat at the African Union (AU) with a welcoming message to the esteemed guests and participants.
UN Women's Regional Director to Eastern and Southern Africa Dr. Moez Doraid in his opening remarks highlighted UN Women's commitment to ensuring equality between women and men as partners and beneficiaries of humanitarian action. He stated, "UN Women's overall approach includes improving the livelihoods of women and girls, promoting their voice and agency through leadership skills, and improving protection from all forms of violence including sexual and gender-based violence."
"The leading cause of displacements in Africa is conflict. Consequences of such conflicts on women &girls include GBV &increased risks due to breakdown of normal protection structures." @moezunwomen Regional Director, a.i. East &Southern Africa @AU_WGDD @UNHumanRights @Refugees pic.twitter.com/pkJy8Iu7U3

— UN Women Ethiopia (@unwomenethiopia) June 18, 2021
Mr. Marcel Akpovo OHCHR's Director, Eastern Africa Regional Office Representative stated "It is important to recognize the importance of the full, equal and meaningful participation of women and girls, including female refugees, IDPs and returnees, in all efforts for the maintenance and promotion of peace and security" the director discussed the importance of not portraying Refugee, IDP and returnee women and girls as mere victims.
UNHCR's Representative to AU and UNECA, Mr. Cosmas Chanda mentioned, in the lead up to June 20th, World Refugee Day, that it is paramount to shine a light on the rights, needs and dreams of refugees. He emphasized "helping to mobilize political will and resources is necessary so that refugees can not only survive but also thrive."
The study on the just released "Status of Women's Rights in Refugee and Internal Displacement Settings in AFRICA: The Context of AGA and APSA" is now available online.
The study is available in English and French. Find the e-copy here-https://t.co/OX1ltjId9W pic.twitter.com/fYiCcdHVZW

— African Union (@_AfricanUnion) June 18, 2021
In the keynote speech delivered by Ambassador Salah on behalf of H.E. Ambassador Bankole Adeoye, he commended the valuable contributions of the women particularly women organizations in Africa who continue to play a key role in driving positive social change and social cohesion. He stated, "In reading the recommendations of this joint AU-UN study, I have no doubt that together we will continue to tackle this great challenge for our continent."
The study was presented by Ms. Nebila Abdulmelik, a co-author of the study, and was officially launched by moderator Ambassador Salah. The discussions also provided the platform for one refugee woman Ms. Rebecca Arwal a South Sudanese refugee woman based in Uganda to intervene. She appealed for the inclusion of women in the higher echelons stated that "so far, women have remained basically at the grassroots and community levels." She also reiterated the need for the expansion of safer spaces in IDP settlements and refugee camps to reduce the increasing incidence of SGBV cases.
Ms. Lehau Victoria Maloka, Acting Director of the AUC-WGYD closed the event outlining the need to recognize the role and place of the women and girls' refugees and IDPs among the stakeholders in peace processes stating that "they are the most affected during a crisis, and need specific protection".
Check out illustration of the study in this Infographic