Generation Equality: Take Five with His Excellency, Jules-Armand Aniambossou, Ambassador of France to Uganda
Date:
As Heads of State, leaders and activists join the Generation Equality Forum to take bold action to accelerate gender equality and address the consequences of COVID-19 for women and girls, UN Women Uganda spoke to His Excellency, Jules-Armand Aniambossou, the Ambassador of France to Uganda. The Generation Equality Forum in Paris is a landmark moment to accelerate progress on gender equality. Convened by UN Women and co-hosted by the governments of Mexico and France, in partnership with youth and civil society, the Forum will bring together governments, feminist leaders, youth and change makers from every sector, to announce trailblazing gender equality investments, programmes and policies.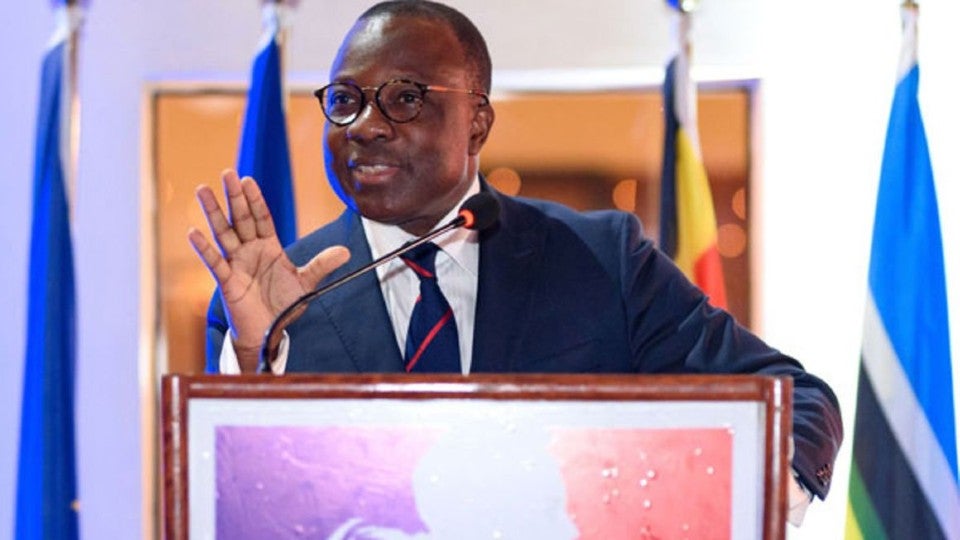 What is your message to the leaders convening at the Generation Equality Forum? 
As you know, France made a decisive commitment in favour of gender equality under the presidency of Emmanuel Macron. In 2017, gender equality became "the great cause of Emmanuel Macron's Presidency" and in 2018 France adopted a feminist diplomacy. This translated into concrete measures such as the creation of a 120 million euros fund to support feminist movements in the South from 2020 to 2022. I can ensure you that, during this Summit, as the host country, France will lead by example in proposing innovative and ambitious measures with a concrete impact on gender equality. We hope that the other leaders who will gather at the Forum Summit in Paris will be inspired and will dare to make bold decisions, especially in the current context of the COVID-19 pandemic that shed a new light on the burden of structural gender inequalities. 
What actions do you think are most needed to advance gender equality? 
First, I truly believe in the power of education to deliver game-changing opportunities for girls and women. Without access to education and vocational trainings for all girls and women, it is impossible to achieve economic justice and rights and to address the structural inequalities that they are still facing.  
Second, women's participation should not be a box to tick anymore. I think that this is a concrete and easy to implement measure for all of the summits and discussions. The relevant women experts should always be included, especially in the decision-making processes that will have an impact on the fight against climate change and innovation, which have a disproportionate structural impact on women's lives. This is why we hosted a webinar at the regional level (Kenya, Tanzania and Uganda) at the beginning of the month with key women activists working on environmental protection, including Ms. Hilda Flavia NAKABUYE, the founder of "Fridays For Future Uganda". That is also why we are currently partnering with the "Network Of Women In Politics" (NOWIP) in order to consult with women in leadership positions in Uganda and to gather their vision of gender equality by 2030, 2050 and 2063. 
 What for you is an ideal outcome of the Generation Equality Forum?
The first expectation I have is with regard to participation. During the first meeting in Mexico in March we have been positively surprised by the private sector's participation. The Generation Equality Forum is indeed a gathering of world leaders, but it is also as you know a multi-stakeholder platform, aiming at exchanging ideas and propositions for a brighter future and an inclusive recovery. In that regard, the goal is first of all, to create a sense of ownership by the civil society at large, because I am convinced that solutions should always come from the grassroots level. 
 As a result, from this process, I expect each of the six action coalitions to propose a targeted set of concrete, ambitious and immediate measures that could be applied within the period of 2020-2025 to deliver a tangible impact on gender equality and girls' and women's human rights. We now need to accelerate the movement and donors such as us are ready to listen in order to propose the most effective and impactful programming in favour of gender equality worldwide. 
 What actions are you most excited to stand behind to achieve progress on bodily autonomy and sexual and reproductive health and rights?
 As you probably know, France is a member of the Action Coalition on Bodily autonomy and sexual and reproductive health and rights. This theme is very key when it comes to teenage pregnancies or menstrual hygiene for example because of its impact on the right to education and women's economic empowerment. However, this is still too often a theme that we collectively fail to address, and I am quite curious to hear the measures proposed by the action coalition dealing with this topic to learn from the success stories in different countries. 
 What are the challenges that you anticipate still – what should we all be aware of and mitigate so that we can see real gains and progress? 
 I see three main challenges: inclusion, commitment, and financing.
One of our priorities should be to be more inclusive. For centuries we have heard almost exclusively voices coming from the Global North; today it is more than time to put  feminist movements from the Global South at the forefront. Including young people should also be our number one priority.  We have to make sure that the youth is in the driving seat of these galvanizing moments and can contribute to all stages of the global review process, the Generation Equality Forum and the Generation Equality campaign. That is what UN Women Uganda has been working for, with youth consultations conducted all over the country. We very much hope that these efforts will be fruitful. Finally, if we are aiming at building structural and transformative change, men have to be part of the conversation. On this topic, I also very much support the approach of UN Women Uganda, with the "high level network on positive masculinity" that I am part of, as well as the "men at work" campaign, which are essential steps to raise awareness on these topics.
Commitment is another challenge. Actors of this Forum must make sure that this commitment stays constant throughout the years. A lot can be done in 5 years but to make the most of it, people have to remain focused, motivated and active to achieve progress towards gender equality. 
 Lastly, I would expect the different stakeholders to support their commitment with financing (proportionate to their capacity). Having the private sector on board is a relevant step in that regard, as it will drive a new momentum followed by concrete actions, especially in the world of work.